Monday, August 12, 2019
Message from Our Lord Jesus Christ
To His Beloved Daughter Luz De Maria.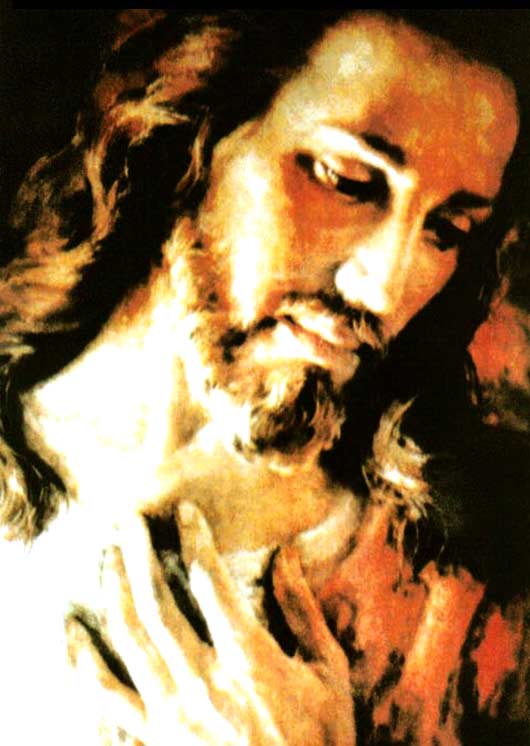 My most beloved people:
MY LOVE REMAINS OPEN FOR THOSE WHO WISH TO ENTER INTO MY WAY.
Children, you must be a living testimony of My Love, of My Charity, towards your brothers and sisters.
THIS IS NOT THE INSTANT FOR LAMENTS: THAT INSTANT WILL COME SOON. THIS IS THE TIME OF DECISION WHEN EVERY HUMAN BEING WILL BE BLESSED WITH MY MERCY, SO THAT ONE BY ONE THEY SEE THE SINS THEY HAVE COMMITTED DURING THEIR WHOLE LIFE, CONFESSED OR UNCONFESSED. THEY WILL SEE THE GOOD THAT THEY HAVE DONE AND WHAT THEY HAVE STOPPED DOING, THE EVIL THAT THEY HAVE COMMITTED, THEIR SINS OF OMISSION, THE WHOLE PASSAGE THROUGH LIFE.
Whoever works and acts in My Likeness towards their brothers and sisters and repents with all their strength, powers, senses and confesses their sins, with a firm purpose of amendment, that child of Mine will experience the WARNING (1) just as every human being, but not with the intensity with which it will be experienced by those who remain in the mud of sin out of disobedience, ignoring My calls, those of My Mother and those of My faithful Saint Michael the Archangel.
My people:
I WANT YOU TO BE TRUE, AND FOR THIS YOU HAVE TO LEARN FROM YOUR FALLS IN ORDER THAT YOU MIGHT RISE, IN ORDER THAT, IN THE SHELTER OF MY MERCY, FLOODED BY MY LOVE AND THE LOVE OF NEIGHBOR, YOU MIGHT BE SAVED, LIKE THE PENITENT THIEF; THEREFORE, IT IS ESSENTIAL THAT MY CHILDREN REQUEST FORGIVENESS AND LEARN TO FORGIVE.
The Human Creature is imperfect in some area of ​​its life; those who believe that they are upright and irreprehensible need to check themselves internally! My children tend to idealize themselves, ignoring that what they presume can become the goad that prevents them from getting closer to Me.
You cannot judge your brother before judging yourselves; you must decide to act promptly, My children, regarding the lack of charity towards your brothers and sisters.
IS ANYONE BEYOND REPROACH? LET THEM COME BEFORE ME AND TELL ME HOW THEY ARE IRREPROACHABLE, AND I WILL ANSWER THEM AT THE INSTANT OF THE WARNING WHEN THEY WILL SEE THEMSELVES.
My people: you have become spiritually blind with a heart of stone, you are sinners looking with hardened hearts at other sinners; you criticize, you murmur in secret about your neighbor, you believe that you are right and deny your brothers and sisters love and forgiveness, and so you draw near to receive Me with the arrogance of the one who slapped Me when the judgment against Me began in the palace of the high priest. (cf. Jn 18:2).
AND YOU, MY PEOPLE, WHOM HAVE YOU JUDGED AND CONDEMNED, GUIDED BY FALSE WITNESSES, WHO WILL LATER BETRAY YOU IN ORDER TO TRY TO SAVE THEMSELVES BEFORE ME?
You must look within yourselves, examining yourselves above all regarding Love, at the same time regarding forgiveness, charity, and you must ignite the flame of faith so that you do not lose it because of those who err and in their fall cause others to fall so that they do not get up.
MY PEOPLE, I WILL RETURN BEFORE YOU IN GLORY AND MAJESTY; YOU WILL SEE ME AS JUDGE.
HOW MANY ON THEIR DEATH BED DO NOT FORGIVE AND CONDEMN THEMSELVES? I am talking to the living, to My People, a People of the living, not of the dead: I speak to you so that you act and make amends promptly.
This disobedient generation that does not listen to Me, does not listen to My Mother, nor to My Envoy Saint Michael the Archangel, this is why you do not rise from the deathbed where you remain with your pride and disobedience, thus the great majority of youth act arrogantly, pointing their finger at will at their elders or those of their own age; you are living in the middle of "wolves in sheep's clothing", with no limits or frontiers.
The great events prophesied by My Mother in the places of true Apparitions are being fulfilled; My Faithful and True Instruments, those who are negated and misunderstood by My People and who have conveyed to you what will happen in this generation, are dismissed, and My people, without stopping to looking at their work and action, continues jumping little by little into a precipice of vices to which they have been brought by the minions of Satan, those who without concealment gather before humanity in order to decide the fate of the peoples, and humanity does not reason, finding itself mired in sins along with those who do not comply with the Divine Law. They are responsible for the fact that the smoke of Satan that penetrated My Church in the past now completely floods and obscures it.
Out of Love I repeat to you part of the truth so that you wake up; IT IS I (cf. Jn 4:26), YOUR LORD AND HIS GOD, JESUS ​​CHRIST, WHO AM SPEAKING TO YOU WITH THE TRUTH, BECAUSE I SEE THE HEARTS OF MEN.
You need to be saved, you need to save your brothers and sisters, you need to love Me, but first love yourself and your neighbor.
LIFT UP YOUR GAZE, LOOK UP AND CRY OUT IN PRAYER, CONFESS YOUR SINS AND RECEIVE ME IN ORDER TO BE STRENGTHENED, BUT RECEIVE ME IN PEACE.
My people, pray in order not to lose faith; pray and receive Me in My Body and My Blood; do not come to receive Me unworthily dressed; let the person who does not have clothes not attend in order receive Me as those who do have clothes and offend Me.
NOT EVERYTHING IS LOST, BUT YOU MUST WAKE UP IF YOU WANT TO BE SAVED; CHANGE YOUR LIVES, CHANGE YOUR ATTITUDE, LOVE AS I LOVE (cf. Jn 13:31) AND CONVERT. I suffer for your sufferings, for what you are experiencing and will experience, for your spiritual battles and for how much you fail in obedience.
I rejoice with My obedient children, with those who obey Me and at every instant struggle in order not to fall, with those who strive to get up. I am glad of those who remain available to help their brothers and sisters, and I rejoice with those who spread My Will, being a Flame that burns in the midst of the darkness.
THIS WORD OF MINE IS CHERISHED BY MY PEOPLE, AND AMONG MY PEOPLE ARE MY CHILDREN OF THE SACRED HEARTS, WHOM I LOVE, AND I BLESS THEIR PERSEVERANCE IN THESE PRAYER GROUPS.
My people, do not forget that at this instant the whole power of evil is being poured out upon humanity: each person must be a beacon illuminating the path to My Mercy so that your brothers and sisters are not afraid to repent or continue on My Way.
Pray, what has been revealed to you is being experienced by this generation. Pray, the great nations are increasingly insecure. Pray, the elements pounce on man, causing him to suffer what is undesirable. Pray, the earth shakes, and with this shaking geography changes.
My beloved people, do not fear, repent, do not fear, convert; DO NOT FEAR, I AM LOVE WITHOUT END, THE TRUE LOVE. "I AM THE TRUTH AND THE LIFE" (Jn 14:6).
I bless you with Infinite Love.
Your Jesus
HAIL MARY MOST PURE, CONCEIVED WITHOUT SIN
HAIL MARY MOST PURE, CONCEIVED WITHOUT SIN
HAIL MARY MOST PURE, CONCEIVED WITHOUT SIN
(1) Revelations and prophecies about the great Warning, read ...