Sunday, August 18, 2019
Message from Saint Michael the Archangel
To Luz De Maria.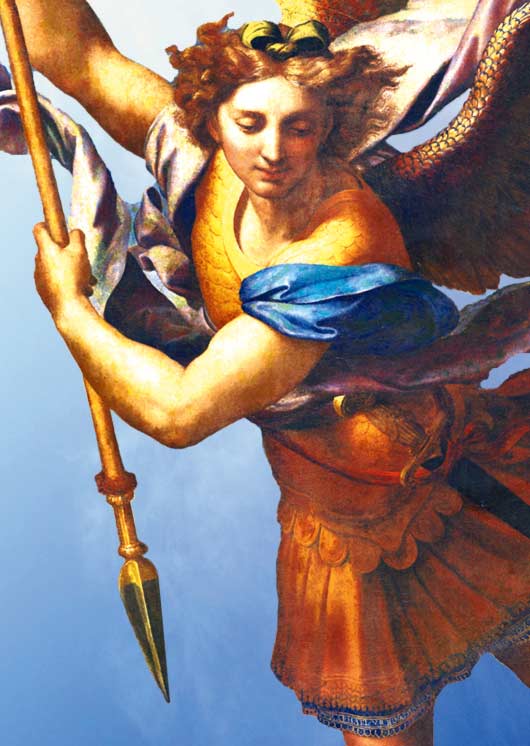 People of God:
THE BLESSINGS AND ASSISTANCE OF HEAVEN WILL NOT DELAY FOR THOSE WHO WITH HUMILITY REQUEST THE ASSISTANCE OF THE FATHER'S HOUSE AND OF OUR QUEEN AND MOTHER OF HEAVENS AND EARTH (Psalm 120), WHILE THE ENEMIES OF THE SOUL ARE MOVING IN COMPLETE FREEDOM THROUGHOUT THE EARTH, SEEKING THE PERDITION OF SOULS.
People of God, demons are moving so quickly that they manage to rob souls of their peace and confuse them in a matter of seconds, through the human being's self-love, in order to lead them away from our King and Lord Jesus Christ and from their brothers and sisters.
I invite you to be strong, to strive internally so that you are not easy prey for evil. As creatures of God you know the daily spiritual battles; at the same time, you are witnesses to the Divine Love that does not forsake you, but constantly helps you to perceive the Divine Company.
YOU ARE CHILDREN OF GOD, ONE AND THREE, YOU ARE CHILDREN OF OUR QUEEN AND MOTHER OF HEAVENS AND EARTH, AND AS CHILDREN OF GOD, YOU FORM HIS PEOPLE, WHO ARE CONSTANTLY CALLED NOT TO GO ASTRAY.
You remain on a part of the Way where you are being tested, shaken, passed through the crucible, with the goal of polishing you (cf. Sirach 2:1-5), in order to remove those selfish and self-centered particles that make the Spirit sick, contaminate the Soul and finish by making the physical body collapse with feelings and emotions that make the human being sick, preventing it from reasoning and thinking in the likeness of our King and Lord Jesus Christ.
I MUST DECLARE THIS TO YOU SO THAT YOU WOULD NOT FORGET IT:
People of God, the times of famine are approaching. It is important that you supply yourselves with non-perishable food, given the inclement advance of the climate that will attack crops.
Do not forget the medicines that Heaven has mentioned for the diseases of those times.
You need to have clothing for extreme heat and cold: the weather will vary from one extreme to another, to unthinkable levels.
Plagues will spread throughout the Earth, insects will invade everything in their path. Houses will need to be protected in their doors and windows, and you must not go out from where you are until the said plague ends - otherwise you will suffer serious lesions.
Man is no longer safe given the reaction of the elements: these change in a matter of moments.
DO NOT DISMISS MY WORDS, SO THAT YOU DO NOT SUFFER UNNECESSARILY.
When you hear of a strongly contagious respiratory illness, do not expose yourselves in crowds, or in places where you have to share several hours with your brothers and sisters, for example in airplanes and collective means of transport. Wait patiently for the said disease to abate.
People of God, be obedient and be patient, so that with due discernment and given My calls, you are cautious in undertaking trips that are not a priority.
The Earth is at boiling-point and in some places this will cause the closure of airports and roads for several weeks because of volcanic eruptions, earthquakes or fierce storms.
The human being has been modified in its actions and works, and being part of that daily process, has experienced it as something normal, being conformed to modifications in behavior, in morals and in social rules. HUMANITY HAS BEEN PROGRESSIVELY CONDITIONED TO ACCEPT AND SUPPORT BEHAVIOUR CONTRARY TO THE NATURAL LAW OF MAN. You can clearly see how humanity has taken its vertiginous course towards meeting a series of events that will purify it.
Children of our King and Lord Jesus Christ, pray for Mexico. This nation of our Queen and Mother will be fiercely purified. Faced with the sin that abounds in this nation, the volcano Popocatepetl will begin this purification without stopping the movement of the ground in various places in this nation.
Children of our King and Lord Jesus Christ, pray for Colombia, which, very rigorously tried due to its disobedience towards the Divine appeals and those of our Queen and Mother, will see the Galeras volcano burn, just as its ground will be shaken.
Children of our King and Lord Jesus Christ, pray for Ecuador and for El Salvador: they will be affected by nature.
Children of our King and Lord Jesus Christ, pray for the United States, it will shake forcefully. Man continues making his unforeseen attacks against his brothers.
Italy - what suffering, what sin, what lamentation!
Beloved People of God, be constant, pray and receive our King and Lord Jesus Christ properly prepared, not forgetting that the Divine Spirit resides in each person.
Pray for the coming of the Angel of Peace (1). Pray for due repentance and amendment of sins committed and be benevolent towards your brothers and sisters.
With firm faith, by and for God.
WHO IS LIKE GOD?
St Michael the Archangel
HAIL MARY MOST PURE, CONCEIVED WITHOUT SIN
HAIL MARY MOST PURE, CONCEIVED WITHOUT SIN
HAIL MARY MOST PURE, CONCEIVED WITHOUT SIN