Monday, August 26, 2019
Message from the Blessed Virgin Mary
To Her Beloved Daughter Luz De Maria.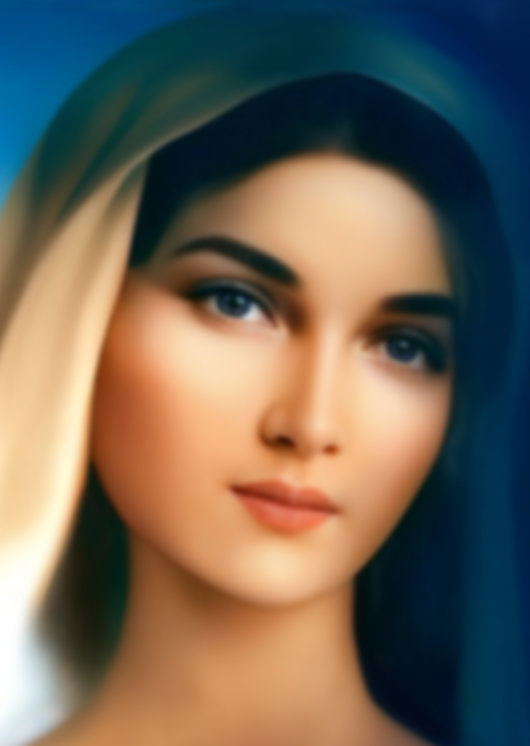 Beloved Children of My Immaculate Heart:
I AM THE GATE OF HEAVEN, THEREFORE I CALL YOU CONSTANTLY TO SAVE THE SOUL AND TO BE MESSENGERS OF THE LOVE OF GOD THE FATHER.
The People of My Son are the People who walk in fulfillment of the Divine Will, sharing with their brothers and sisters this Merciful Love that emanates from the Sacred Heart of My Son.
I see with sadness how some of My children who are faithful to My Son are turning away, separating, becoming cold, confusing, having been contaminated by quarrels, jealousies and modernist interpretations contrary to My Son, so that the snares of evil are spreading throughout the Earth in order to divide, since in division the Devil surrounds souls and separates them from My Son's Flock.
THIS GENERATION FINDS ITSELF SUBMERGED IN GREAT CONFUSION IN EVERY ASPECT OF LIFE, BUT ABOVE ALL, IT IS HELD IN A SERIOUS AND GROWING WAVE OF SPIRITUAL ERRORS THAT DRAGS YOU AWAY AND DISTANCES YOU FROM THE TRUE DOCTRINE.
YOU NEED TO MAINTAIN YOUR FAITH IN THE PROMISES OF SALVATION! that are neither ephemeral nor illusions, but are the great reality which the People of God will come to encounter.
I suffer for youth, who seek any pretext to flee from My Son's side, being captured by the subtlety of the Devil to keep them from fulfilling the Commandments and the Sacraments, denying sound doctrine and not distinguishing between good and evil.
Those who approach My Son with an authentic desire for salvation do not need explanations or excuses; for those who turn away from My Son, no word is enough, nor is any act or work credible.
I SUFFER FOR THOSE WHO, CALLING THEMSELVES CHRISTIANS AND RECEIVING MY SON IN THE HOLY EUCHARIST, ARE HAPPY TO CAUSE DIVISIONS IN THE WORKS OF THE PEOPLE OF GOD.
THESE CHILDREN OF MINE WILL SUFFER SO MUCH IN THE WARNING!
At this instant the Devil is attacking the thinking, sensibility and mind of man. The weapon of Satan is division in order to succeed in overcoming (Mt 12:25), which is why you are constantly called to UNITY AND LOVE.
You should remember that man has a spiritual body and this is where you must work hard in order to understand that you must exhale good, not becoming debased by the world's pleasures: these lead you away from true life in My Son.
YOU MUST BE MESSENGERS OF THE DIVINE TRUTH: LIFE AFTER DEATH EXISTS. SIN IS SIN AND YOU MUST CONFESS AND MAKE REPARATION FOR IT.
You are living through difficult instants and will live through more difficult instants in which, although you have money, you will not be able to buy food: you will remember when you used to throw food away and at that moment you will want it.
The Church of My Son will enter into darkness because of wrong behavior, and that will be when the prophecies will be fulfilled one after another without giving you time to breathe – therefore:
PRAY THE HOLY ROSARY IN SPIRIT AND TRUTH!
Beloved children of My Immaculate Heart:
In families, communities, inasfar as you can do so, you must prepare refuges which will be called REFUGES OF THE SACRED HEARTS. In these places, procure food and everything necessary for those who come to them; do not be selfish, protect your brothers and sisters with the LOVE OF THE DIVINE WORD IN SACRED SCRIPTURE, KEEPING THE COMMANDMENTS OF GOD'S LAW BEFORE YOU; THUS YOU WILL WITHSTAND THE FULFILLMENT OF THE REVELATIONS WITH GREATER STRENGTH IF YOU ARE UNITED IN FAITH.
The destruction reigning in Nature and among men increases. You are the cause and witnesses of it, living outside of the harmony of the Heavenly Father.
The winds blow with greater intensity; Nature has already changed - it is not that which looks benevolently at man, who lives, works and acts improperly, trampling himself and and the brother whom he must love.
Pray, My children, pray for Puerto Rico: cry out in unity so that beneath this clamor, it is the Divine Mercy that placates the elements.
Pray My children, pray for Argentina, chaos is fiercer, life is in danger, the people are stirred up.
Pray My children, pray for Bolivia, it will suffer more through Nature.
My children, you forget the spiritual life, ascent and the Divine Love that must be brought to life in you. You do not truly love as you believe that you love My Son, otherwise LOVE FOR MY SON WOULD OVERCOME ALL LIFE'S UNFORESEEN EVENTS AND YOU WOULD BE CONSTANT TOWARDS MY SON, FOR THE GOOD OF YOUR BROTHERS AND SISTERS.
I bless you with My love, I bless you!
Mother Mary
HAIL MARY MOST PURE, CONCEIVED WITHOUT SIN
HAIL MARY MOST PURE, CONCEIVED WITHOUT SIN
HAIL MARY MOST PURE, CONCEIVED WITHOUT SIN