Thursday, September 5, 2019
Message from Saint Michael the Archangel
To Luz De Maria.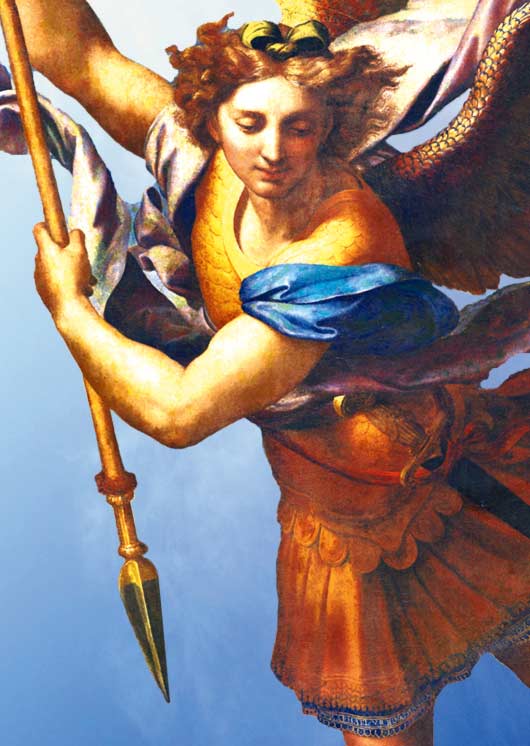 People of God:
OUR AND YOUR KING AND LORD JESUS ​​CHRIST, AND OUR AND YOUR QUEEN AND MOTHER ALERT YOU OUT OF LOVE.
Every act of Love performed by you is not kept within you, nor is it solely for your benefit, but for that of all humanity.
Divine Love is not static but rather shared, and in that sharing it spreads to where it is necessary when you pray, act, fast and wholeheartedly offer your powers and senses, since it is the Holy Spirit who acts when you work and act as Our King and Lord Jesus Christ acts.
YOU NEED TO ENTRUST YOURSELVES TO DIVINE LOVE WITHOUT DELAY, AT THIS GREAT STAGE THROUGH WHICH HUMANITY IS PASSING: "THE ERA OF THE THIRD FIAT, THE ERA OF THE HOLY SPIRIT" (Jn 16,13).
In this Age, the Devil is roving from one end to the other in search of the slightest opportunity to rule through division, that which is the cause of the downfall of every good purpose of man.
People of God, you need to understand that as humans, you are all walking a steep path, you are swimming against the current of the world, you are being formed to live within the TRUE WAY, before which you need to kneel and pray, to fast and offer up in order to find wisdom to work and act. You need to know that if you want to grow in the spirit, you must remain ready to give your all; you always have something new from which to learn.
IN THIS THIRD FIAT, YOU CANNOT CONSOLIDATE AND ENTER INTO THE CALL THAT THE MOST HOLY TRINITY MAKES TO YOU, IF YOU ARE NOT HUMBLE. WHAT THE DEVIL IS LOOKING FOR IS PRIDE IN ORDER TO SETTLE WITHIN CREATURES AND TO HARDEN THEIR HEARTS.
Prepare yourselves, beloved People of God, growing in the gifts of the Holy Divine Spirit (Is 11:1-4):
THE GIFT OF WISDOM: in which charity shines and the creature understands that God's Plan must be exalted above all things and must not be hindered.
THE GIFT OF UNDERSTANDING enlightens the human creature in order that it penetrates clearly within the truths revealed by God.
THE GIFT OF COUNSEL: with which you can discern among the options presented to you - for this you need to attain, with this gift, the knowledge of how to listen to and help your brothers and sisters. "He shall not judge by appearances, nor decide by what his ears hear. He will judge the weak with justice, and will decide with equity for the poor of the earth."(Is 11:3-4)
THE GIFT OF KNOWLEDGE is not what the world believes, but it is when, inside each person, God reveals to the human being what He knows about each one of you.
THE GIFT OF PIETY: this gift allows you to act towards your brothers and sisters in constant praxis towards your brother and sister. Fulfilling the Divine Will, man tirelessly looks to Jesus's action in order to resemble Him.
THE GIFT OF FORTITUDE is emphasized in the Faith, in living what happens to the child of God with the heroism of the martyrs themselves. This gift strengthens perseverance and firmness, trusting totally in God who does not turn away from man.
THE GIFT OF THE FEAR OF GOD endows the human being with the will necessary to turn away from what leads it to fall into evil, in order to work, live and act in the Divine Will.
I call you to take seriously My Words by Divine Will for your good and the salvation of souls.
The Devil makes pacts with man to assume new power over humanity and thus come to dominate the world. Keep yourselves constantly vigilant so that the strength of all is one and so that evil is not able to enter into the children of the Most High.
HOLDING ONTO THE HAND OF OUR AND YOUR QUEEN AND MOTHER OF ALL CREATION AT THIS INSTANT MEANS CONSTANTLY RECEIVING THE STRENGTH NOT TO GIVE IN. The world and its machinations have intensified their struggle to lead the People of God astray, since evil swarms throughout the Earth and man enjoys evil.
The People of God preserve DIVINE LOVE, not allowing human character to take the first place with its bad temper, selfishness and so much ballast that drags man the wrong way, but being molded in the MANNER OF CHRIST (Eph. 4:13). You know that evil delights in human weakness and shudders at strength in man, strength that does not allow him to depart from the right path in Our and Your King and Lord Jesus Christ.
Man has become materialistic, idealizing a sure tomorrow of comfort and abundance, forgetting that working and acting contrary to the Divine Will draws calamities to humanity, causing the elements to reject man, not acknowledging him.
People of God, war is still before you; it depends on a thought of a leader or some leaders of a power to act in anticipation out of fear of being defeated in order for this step to be executed, which will lead humanity to face THE THIRD WORLD WAR.
The turmoil in the spiritual, in the political, the material and the moral realms is highly destabilizing for humanity. One step and man will fall into the abyss of evil. Man needs to take a strong and firm decision in order to save his soul, a decision that has FAITH as its basis.
ALTHOUGH IT SEEMS THAT EVIL IS DOMINANT, EVIL WILL NOT TRIUMPH: THE MOST HOLY TRINITY IS ABOVE ALL AND IN ALL FOR EVER AND EVER, AMEN.
Vandalism and persecution grow against that which represents Our King and Lord Jesus Christ, against that which represents our Queen and Mother of all Creation and against God's faithful. This will become generalized; you must not fear this since you need to SAVE YOUR SOUL: this is why I AM SENT.
The power of Masonry and the Illuminati is extremely catastrophic for humanity, because they have infiltrated every human fields - you know it, the upper echelons of the world have knowledge about it and deal with them, pretending not to know about it in order not to be compromised, since they are not interested in the salvation of souls.
People of God, the struggle between good and evil begins with envy and division: be firm, keep the FAITH without allowing yourselves to be overcome with lukewarmness.
Persevere, remain attentive and observe that nature is rising up with great fury against humanity and yet man continues to be lukewarm and to mock our King and Lord Jesus Christ, whom they wish to banish from the Center of His Church.
Pray children, pray so that the Word of Our and your King and Lord Jesus Christ is not distorted.
Pray children, pray for Hawaii, nature causes the Kilauea volcano to erupt forcefully and the Mauna Loa and Kilauea volcanoes to be shaken.
Pray children, humanity is a spectator of the suffering of your brothers and sisters; it will cease being a spectator, with all entering as actors in the history of humanity. Prepare yourselves for the Warning.
People of God, you will suffer and because of that suffering the great Divine Mercy will send the Angel of Peace. Those who wait for Him will recognize Him. (*)
Be part of the communion of Saints.
WHO IS LIKE GOD?
Saint Michael the Archangel
HAIL MARY MOST PURE, CONCEIVED WITHOUT SIN
HAIL MARY MOST PURE, CONCEIVED WITHOUT SIN
HAIL MARY MOST PURE, CONCEIVED WITHOUT SIN