Wednesday, September 11, 2019
Message from Our Lord Jesus Christ
To His Beloved Daughter Luz De Maria.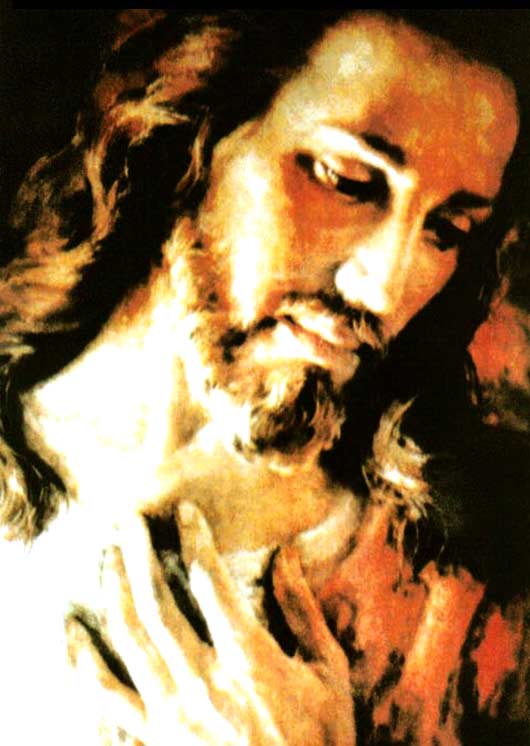 My Beloved People:
MY MERCY CONSTANTLY POURS ITSELF OUT UPON THOSE WHO REMAIN ATTENTIVE TO COMPLYING WITH BEING MY TRUE CHILDREN AND UPON THOSE WHO AMEND THEIR LIVES AND RETURN TO MY PATH.
There is no bending in My children; they know My Law, and in the Heart of My People DIVINE LOVE TOWARDS YOUR BROTHERS AND SISTERS must prevail, keeping the heart free from all harshness that impedes the constant flow of the relationship with our Will.
When MY LOVE for all your brothers and sisters does not flow within the human being, that creature is a cause of pain for Me, since you cannot stay in constant communion with My House, nor within the Communion of Saints, because obstacles keep you in between the "now" and the "not yet".
Humanity is in between darkness and the Light of My Love, being an imminent danger for those who do not have a firm FAITH, free from the human ego. The Devil attacks My children where he knows that it wounds them the most, in order then to whisper in their ears to turn away from Me, and in this way he causes them to be lost.
My Beloved People, facing a definitive instant in humanity's history and therefore in your personal life history, there should be one response: OBEDIENCE (Jn 14:23).
THUS MY PEOPLE NEED TO WORK AND ACT, NOT BY HALVES BUT BUT BEING IN FULL OBEDIENCE AS FULFILLERS OF MY WILL.
You do not believe in the Revelations given by My Mother, by Saint Michael the Archangel and by Me: otherwise, you would have already changed your work and action. You wait for time to pass without intending to amend your lives, ignoring the fact that time is at the Divine discretion and not that of man, and whoever waits in order to receive My Mercy, should not wait until tomorrow to convert, but should do so at this very instant.
You cannot continue being lukewarm, unmerciful, in envy, in the little or no charity that you maintain towards one another. You keep hoping in My Love, in My Mercy without making a definitive change, without striving to be better NOW! They are lukewarm who wish to travel My Way without detaching themselves from their human ego when the latter is saturated with the filth that keeps them in the mud.
They look for everything that contains water to quench their thirst, but they do not drink of the LIVING WATER OF MY SACRED HEART (cf. Jn 7:37), they resist total conversion, keeping their hearts covered by the pride from which come all evils.
My People need to ask themselves how much Love there is in their hearts, how much hatred, resentment, how much selfishness, how much willingness to be MY OWN LOVE with all that implies. Lukewarmness is not a good companion: it poisons the spiritual body, leading to presumption, to arrogance, to the obstacles that interfere between the human creature and My Will, becoming attached to error.
My people:
THIS INSTANT IS ONE FOR EXPIATION FOR THOSE WHO WISH TO DRAW NEAR TO ME. IT IS THE INSTANT OF REPENTANCE, OF CONVERSION, AS FACING SATAN'S POISON, IT IS URGENT FOR YOU TO REMAIN STRONG AND FIRM IN FAITH, OTHERWISE YOUR LAMENTING WILL BE GREATER WHEN YOU ARE UNABLE TO GET OUT OF SATAN'S CLUTCHES.
My People are infested with self-idolization, deafness, with blindness that has only encouraged them to stay where Satan tells them, being overcome every day by new demons who instill new errors, new acts of disobedience, new denials of the COMMAND OF LOVE FOR MY FATHER ABOVE ALL THINGS AND FOR NEIGHBOR (cf. Mk 12:28-30), from which new denials ensue at all instants- of My Word, of My Requests, of My Sacraments, until you come to enjoy the debauchery that Satan has offered man in order to lead him away from Me.
My Church is also infested with new errors in order to lead you away from the Center of Our Most Holy Trinity and to accept innovations that are not the Will of Our Most Holy Trinity but of men who, abusing power, have drawn lines in a direction opposed to My Will.
The human being's wickedness is emerging, striking all men. The seas unleash new and unknown forces against humanity, nature strikes the human creature severely because of having been oppressed, the air is contaminated and My children suffer. The shaking of the Earth intensifies and the force of the volcanoes is cause for humanity's astonishment.
The constant exposure of the Earth to attacks of the sun has brought forward the Earth's cycle, and the days are shortened so that man has less time to sin; whoever believes themselves to be righteous fair will see their evil at its apex, and the righteous will be contaminated with the sin that Satan presents to them, hence My constant Call to total conversion, not to the lukewarmness emanating from the majority, but to the true conversion where the human being keeps feeding on My Holy Spirit and not on itself.
Great events will arise in the atmosphere caused by the influence of the Sun. Disease scourges man due to the lack of faithfulness; society is a source where enemies of the soul swarm because of the spiritual emptiness in which you are living.
I CALL YOU TO UNITY, TO BE FAITHFUL AND TRUE, NOT TO SELL MY WORD, SO THAT IT IS NOT ABORTED BY HYPOCRITES.
Adhere to Sacred Scripture so that you would not walk tentatively (Jn 5:39; I Tim 4:3) but at a firm pace, Works of Mercy (Mt 25:31-46) being necessary at this instant in order to exercise Love, charity, kindness, in these instants when humanity is about to receive great chastisements such as it has never received before:
"MAN IS ATTRACTING HIS OWN CHASTISEMENT."
Pray My children, pray for Spain and Italy: serious conflicts grow afresh and My children plunge into total chaos.
Pray My children, pray: communism with its slow passage takes power as it pleases and will send its weapons...
Pray My children, pray: Bolivia, Mexico, Central America, the United States shake strongly.
Rains will increase to unthinkable levels: where drought remains, food becomes scarce.
Argentina, this beloved nation, suffers. Consecrate this Nation to the Immaculate Heart of MY MOTHER AND TO MY SACRED HEART, SO THAT DISTRESS DOES NOT MAKE YOU SUFFER EXCESSIVELY.
My Beloved People, do not lose faith, continue to be faithful to Our Most Holy Trinity and love My Mother: My Angel of Peace (1) will come to be a comfort for My People, and you will know My Power and Sovereignty over everything Created.
You are My children, I urge you to be faithful.
MY OPEN SIDE HAS GIVEN BIRTH TO YOU AND YOU MUST RETURN TO IT.
My blessing and My Love upon My People whom I love with eternal love.
Your Jesus
HAIL MARY MOST PURE, CONCEIVED WITHOUT SIN
HAIL MARY MOST PURE, CONCEIVED WITHOUT SIN
HAIL MARY MOST PURE, CONCEIVED WITHOUT SIN