Saturday, October 12, 2019
Message from Saint Michael the Archangel
To Luz De Maria.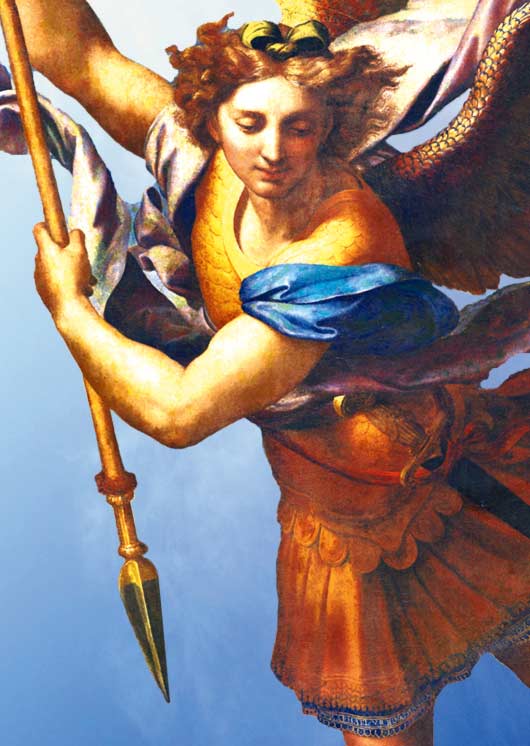 Beloved People of God:
Humanity is like a horse that runs where it is forced to. The one world government exercises its power in secret over men, circulating surreptitious instructions from institutions and agencies that were created with a good end, but as the human mind wishes to exercise dominion over what it can, so it does at this instant for humanity.
Men rebel against God: this is action against what represents THE POWER THAT IS ABOVE EVERY POWER (cf. Ps 2:2; Num 14:9; I Sam 12, -15).
Men rise up and demonstrate against what they know to be THE OMNIPOTENCE OF GOD, rebelling so as not to lose the feeling that they are masters of their lives, which is not true. They are masters of their destinies, but the CREATOR OF LIFE IS GOD (cf. Neh 9:8; Jn 1:3-4).
Men use the human will against the one who gave him life, in order to show that no one exercises power over them. They rise up against what represents the Creator of life and thus seal their destiny in the direction of unhappiness, towards evil, towards bitterness, towards misery, towards suffering, without seeing that behind everything is the great plan of the Devil to separate you from God and so that you would not be saved for eternal life.
The human will is agonizing in the hands of freemasonry that holds man prisoner through supposed advances that are accepted by human beings as a means of rebellion.
A SINGLE ACT BY MAN AGAINST THE DIVINE WILL SUFFICES IN ORDER TO LOSE ETERNAL GOODS, IF THAT HUMAN BEING DOES NOT REPENT FROM THE HEART AND IS NOT WILLING TO AMEND THE EVIL THAT IT HAS COMMITTED. ONE SINGLE ACT!
HOW MANY EVILS THAT YOU HAVE CONFESSED HAVE YOU MANAGED TO REPAIR?! HAVE YOU REPAIRED THEM?
Man ought to live happily, yet has rejected the happiness that GOD HAS OFFERED TO HIM, TAKING THE PATH TOWARDS UNIVERSAL SUFFERING.
People of our King and Lord Jesus Christ: it is not enough for man to see the reaction of nature that unleashes itself against the terrible acts of the human being against ITS KING AND LORD, while you continue to make evil grow. Nature does not want adoration, nature desires that man be in tune with the Divine Will and no longer offend Him, that he should not surrender to the Devil. That is why nature finds no affinity with humanity, because nature fulfills the function for which it was created by God, yet man does not recognize God as THE KING OF HEAVENS AND EARTH TO WHOM BELONGS ALL HONOR, POWER AND GLORY FOR EVER AND EVER, AMEN (cf. Gal 1:5).
YOU MUST UNDERSTAND THAT YOU CANNOT GO BACK ON THE DAMAGE THAT YOU HAVE CAUSED THE EARTH THAT CRADLES YOU…
BUT YOU CAN SAVE YOUR SOUL IF YOU AMEND YOUR PATH AND COMMIT TO SPIRITUAL ADVANCEMENT, FOCUSING ON A GREATER RECOGNITION OF GOD AS ALPHA AND OMEGA (cf. Rev 22:13), AS CREATOR AND LORD OF ALL THAT EXISTS…
AND HOW DOES MAN SET ABOUT THAT RECOGNITION? BY OBEYING THE WILL OF HIS LORD AND KING, FULFILLING HIS WILL.
People of God, creation does not want to be worshiped (cf. Lk 4:8), it wants to be respected in order to serve man in what man needs; creation wanted men not to destroy it, not to take advantage of it and almost make it disappear, so much so that the weather, food and what was given to you for your good, are deteriorating.
Creation obeys God, not man. Nature obeys God and pays HOMAGE TO GOD; IT DOES NOT WANT MAN TO WORSHIP IT, BUT TO RESPECT IT.
People of God, you must know THE WORD IN SACRED SCRIPTURE and must advance in that knowledge that leads you to ADORE THE MOST HOLY TRINITY AND TO BE FULFILLERS OF THE COMMANDMENTS AND PUT THEM INTO PRACTICE IN YOUR LIVES.
Humanity is expiring, turning against the SOVEREIGNTY OF THE MOST HOLY TRINITY, while Heaven, Earth, nature, the Sun, stars and all that exists continue to fulfill the Divine Will, maintaining the Order of creation; that is why man mustcontinue to ADORE THE MOST HOLY TRINITY in order to maintain this respect of creation towards GOD, ONE AND THREE.
Poorly exercised human will provokes disorder in what surrounds it, and provokes reactions against man, and man reacts wrongly against man himself, destroying himself, and this is not the Divine Will.
HUMANITY DRAWS TO ITSELF THE EVIL THAT IT EXUDES, THEREFORE CREATION REACTS AGAINST MAN, FACED WITH A CREATURE THAT HAS HARMED IT, BUT THAT ABOVE ALL IS DOING HARM TO ITSELF. MAN'S BAD CONDUCT IS A SIGN OF THE PROGRESSIVE FULFILLMENT OF REVEALED PROPHECIES.
Man lacks Love, humility, hope, charity, faith in the Word of God, and continues to be lost in the desert of his ego, without finding himself or finding God, because of the predominance of the HUMAN SELF.
Pray, children of God, pray for all humanity, since solely and uniquely by finding obedience within you will you be able to find true happiness, within the communion of saints.
Pray children of God, pray for Mexico. It is strongly shaken. This people suffer from the stench that the sin of crazed youth is pouring out upon this land.
Pray children of God, pray for the United States. The decisions of its leader and those who hold decisions in their hands are not consistent with the suffering of this nation.
Pray children of God, pray for Spain. Its land is shaken.
Pray children of God, pray. Spiritual people are needed in order to resist what is coming.
People of God, be aware that you will be examined by your own conscience, and you are not prepared (cf. Gal 6:4). The Devil makes minds and hearts sick in order that you would not be properly prepared.
Without the god of money, man loses his temper, he rises up against his brothers and sisters and looting becomes imminent: prepare for this. You must grow in love for God and neighbor in order not to lose your sanity because of it.
Do not wait in panic. Continue living in order to correct what is hardening your hearts and preventing you from readying yourselves definitively to enter into what for today's man is the Mystery of Love of the Most Holy Trinity. Come to our Queen, She is the Teacher of the Apostles of the Last Times.
Prepare yourselves, above all spiritually.
Do not fear, receive with faith what I convey to you by DIVINE LOVE.
WHO IS LIKE GOD?
Saint Michael the Archangel
HAIL MARY MOST PURE, CONCEIVED WITHOUT SIN
HAIL MARY MOST PURE, CONCEIVED WITHOUT SIN
HAIL MARY MOST PURE, CONCEIVED WITHOUT SIN