Sunday, October 20, 2019
Message from the Blessed Virgin Mary
To Her Beloved Daughter Luz De Maria.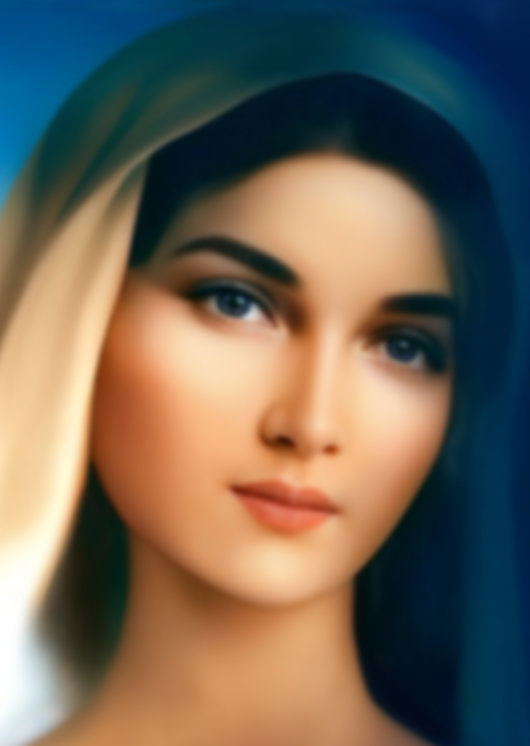 Beloved Children of My Immaculate Heart:
MY MATERNITY IS FOR ALL MY SON'S CHILDREN, WHOM I LOVE WITH ETERNAL LOVE.
RETURN TO MY SON, DO NOT SURRENDER TO EVIL SO EASILY.
I see the Earth inflamed by that violence which I warned you in the past would spread if you did not change and you ignored My Words.
As time passes, events will be spreading because of the spiritual stasis in which humanity is living. Because of the growing evil by which the Devil guides those who have a weak faith or do not have faith.
THE CHURCH OF MY SON IS AT ITS CROSSROADS, AS I TOLD YOU. YOU ARE SCANDALIZED BY WHAT I TOLD YOU PREVIOUSLY AND DID NOT BELIEVE; SO IT WILL BE WITH EVERYTHING THAT WILL BE OCCURRING, AND ONLY WHEN IT IS FULFILLED WILL YOU SAY: YES, HEAVEN ANNOUNCED IT TO US IN ORDER FOR US TO PREPARE WITH A FIRM FAITH BY CHANGING OUR LIVES, BY CONVERTING!
It is not too late: Divine Mercy awaits you. As a Mother, I wish that greater spiritual calamities due to wavering in the faith would be avoided, and I wish to prevent some from reacting like Judas or giving pearls to swine (cf. Mt 7:6).
How many of My Favored Sons have yielded to the power of My Son's enemies in order to gain human power, leading My Son's sheep to the precipice!
These are the appointed times when the Tribulation will be suffered by those faithful to My Son, when some Churches have been desecrated and seized for worldly, sinful acts, allowing the Devil freedom to take My poor children and corrupt them. WOE TO THOSE WHO HAVE ALLOWED IT!
Holiness has been modernized. The true saints are not loved within My Son's Church, they are removed so that they do not demand holiness.
Be creatures of faith, brave in the face of change, each one standing firm in their place. You know that you are continuing to fight constantly against those who do not love My Son, against the disobedient and those who do not want you to be part of God's People.
EACH ONE OF MY CHILDREN WILL SEE WHAT THEY HAVE DONE OR HOW THEY HAVE ACTED FOR GOOD, THE GOOD THAT THEY HAVE STOPPED DOING AND THAT THEY HAVE DONE. THE INTERNAL EXAMINATION WILL BE EXPERIENCED BY YOU, AND HOW YOU WILL REPENT FOR NOT HAVING OBEYED! (*)
There are blind people who separate My children from what is right, and My children fall into the trap, without thinking that at this instant the devil is attacking My children like a roaring lion (cf. I Peter 5:8-10) in order to take them away from the place that My Son has reserved for each person.
Do not nourish the Devil with hatred or resentment, with the disbelief that leads to lack of faith. Be assured that the Devil puts man's mind to sleep, he sedates it so that he would neither see the present nor reflect on the near future, in which you have to be strong and firm in the faith.
"WITH THE MEASURE THAT YOU USE IT WILL BE MEASURED TO YOU" (Cf. Mt 7:2), THEREFORE BE CAREFUL AT THIS INSTANT WHEN YOU ARE ACTING LIGHTLY, WITHOUT A TRUE, SOLID FOUNDATION.
You are not remaining attentive to the Calls of Heaven, you criticize the Revelations in order not to change your lives, living in this way in the pool of the foul waters of sin, disobedience and lack of faith.
YOU ARE LIVING IN THE INSTANT FORETOLD BY ME, WHEN CONFUSION IS TAKING HOLD OF MY SON'S PEOPLE, IN THE INSTANT WHEN INNOVATIONS WILL REPLACE THE TRUE DOCTRINE, WHEN THEY WILL WOUND THE SHEPHERD AND THE SHEEP WILL BE SCATTERED (Mt 26:31).
Pray, My children, pray for the Church so that, as the Mystical Body of My Son, she resists the onslaught of innovations that are not the Divine Will.
Pray, My children, pray for each one of you, so that you do not depart from faith, hope and charity.
Pray, children, pray for Bolivia. It is shaken.
Pray, My children, pray for the United States. It continues to suffer through nature.
Pray, My children, pray. Chaos is coming to Argentina.
Be brave, My children: remain united to the Cross of Glory and Majesty, be humble regarding the Call of My Son and maintain unity by coming to receive My Son in the Eucharist properly prepared and with the Holy Rosary in your hand.
EVEN IF YOU LIVE EXPERIENCING SUFFERING, DO NOT FORGET THAT THOSE WHO SUFFER BECAUSE OF LOVING MY SON WILL BE REWARDED IN HEAVEN. AS HUMANITY YOU ARE IN THE LABOUR PAINS OF THE FULFILLMENT OF THE REVELATIONS, THEREFORE YOU MUST BE MEN AND WOMEN OF FIRM FAITH, IN ORDER THAT YOU RESIST THE ONSLAUGHTS. AS MOTHER I CALL YOU NOT TO DECAY. THE ANSWER IS TO BE FOUND IN EACH ONE OF YOU.
I Protect you, I accompany you, I hold you by My Hand.
I bless you.
Mother Mary
HAIL MARY MOST PURE, CONCEIVED WITHOUT SIN
HAIL MARY MOST PURE, CONCEIVED WITHOUT SIN
HAIL MARY MOST PURE, CONCEIVED WITHOUT SIN
(*) Reference to the event of the Great Warning of God to humanity: read…