Saturday, October 26, 2019
Message from St Michael the Archangel
To Luz De Maria.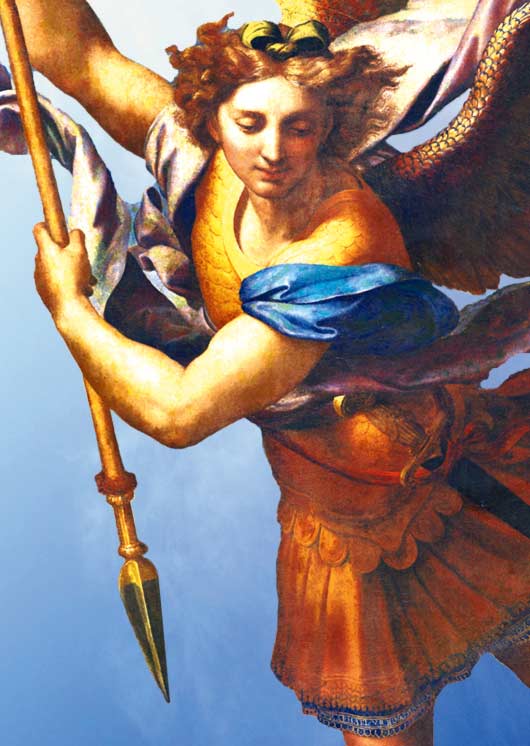 People of God:
THE PROTECTION OF OUR LEGIONS REMAINS OVER THE WHOLE PEOPLE OF GOD, BUT IT IS NECESSARY FOR YOU TO CALL US, INVOKE US, BESEECH US, TO ASK US FOR ALL THE ASSISTANCE THAT YOU LACK FOR WANT OF FAITH.
The earth is tinged with the blood of innocents: man has fallen into a serious loss of control by living in contempt of Divine Order and everything stemming from It, generated by scorning Our King and Lord Jesus Christ and Our Queen and Mother of Heaven and Earth.
CHILDREN OF OUR KING AND LORD JESUS ​​CHRIST, PLAGUE SPREADS BY THE HAND OF THE DEVIL, IT MOVES QUICKLY THROUGH THE DISOBEDIENT MINDS OF HUMAN BEINGS.
The present moment is extremely dangerous for man. Looking to create confusion, the Devil and his henchmen are taking advantage of the slightest carelessness on the part of man in order to cause serious and great divisions that will only cause him to move away from God and nearer to sin.
Before a great battle, in the midst of preparation, demonstrations of power lead to the creation of great tension, above all when the devil has the knowledge that his defeat is imminent.
For now, the Devil possesses the most invasive of all cancers. Cancer that contains pride, lack of love and division that he knows full well how to inject into those who have what is needed for it to stay and reproduce, those who come to believe themselves superior to their brothers and sisters. The Devil uses these proud human beings to distract the children of God who strive to stay on God's Paths in order to gain Eternal Life.
The tares have risen up and are in the midst of the wheat (cf. Mt 13:24-30). Imposing and false ideologies oppress the weak, dominating them and increasing in their escalation of power and serious evil.
COMMUNISM ADVANCES STEALTHILY; it gains strength because of man's distance from His King and Lord Jesus Christ. Man quickly forgets and will again be dominated, mocked, insulted as he has been in the past, until he sees how far he is from God. Oppression causes man to rebel without his being aware of the true reason, and this reason is the distance that he has assumed towards His Creator: YOU HAVE NOT OBEYED!
YOU HAVE DISMISSED THE REQUESTS OF OUR QUEEN AND MOTHER OF ALL CREATION IN FATIMA (1) YOU HAVE NOT FULFILLED ALL THE REQUIREMENTS THAT OUR MOTHER ASKED OF YOU TO AVOID THE CURRENT CHAOS AND THAT TO COME, WHICH IS WHY THE PEOPLE OF GOD WILL SUFFER FOR THIS DISOBEDIENCE, WHICH WILL CAUSE THEM TO REGRESS IN THE SPIRIT BECAUSE OF THE ACCEPTANCE OF DARK IDEOLOGIES.
You, People of God, need to unite in prayer and in action, without hiding the Honor and Glory that you profess for the Most Holy Trinity and Our Mother and Queen of Heaven and Earth. The People of God are living in confusion, as if the affairs of Heaven were about inanimate things for which good or evil are immaterial.
As in the past, the simple, poor and humble are the lovers of the true Magisterium of the Church: these are the seeds that bear fruits of eternal life, therefore Our King continues His sowing in souls, and each person knows what fruit they will give.
IT IS URGENT THAT YOU LOOK AT AND EXAMINE YOURSELVES, AND THOSE WHOSE HEARTS ARE INTOXICATED BY A LACK OF LOVE MUST URGENTLY SEEK THE MEDICINE OF GOD'S LOVE SO THAT THE DEVIL DOES NOT PROVOKE THEM TO COMMIT FAULTS OF WHICH THEY WILL HAVE TO REPENT.
The specter of war is moving from various points on Earth, distracting the children of God so that they do not remain attentive and are confused.
PEOPLE OF GOD: WHATEVER HAPPENS, DO NOT DEVIATE FROM THE TRUE MAGISTERIUM - GOD IS THE SAME YESTERDAY, TODAY AND FOREVER (cf. Heb 13:8).
People of Our King and Lord Jesus Christ, pray for Argentina and its sister countries that are suffering. Human irritability is reaching its peak: brother rises up against brother and peace will belong to yesterday. Argentina will be shaken.
ARGENTINA MUST BE CONSECRATED TO THE SACRED HEARTS.
Pray and make reparation before Our Queen and Mother so that minds inflamed by the thirst for power would yield and so that in the end peace would return to the nations.
People of Our King and Lord Jesus Christ, pray for Latin America. It is being attacked by communism, a "tentacle of the antichrist." Freedom is the great obstacle for this tentacle, but it is not complete, so the poor countries are being transformed into captives of the great single power that oppresses the peoples in order to hand the children of God over to the antichrist.
People of Our King and Lord Jesus Christ, pray. This generation does not know God but rather petulance, arrogance and the greatness of those who, with speeches and elaborate words, gain ground for evil, causing the masses to demonstrate against morality, religion, truth, righteousness.
People of Our King and Lord Jesus Christ, this generation suffers and will suffer for its own pride, in instants when the Earth has gone into convulsion.
Do not let evil intoxicate your heart or lead your mind astray: you are in the final stretch of great events. Center your lives on the Most Holy Trinity, do not let yourselves be deceived by those who wish to separate you from Eternal Life. Maintain faith, hope and charity.
RECEIVE OUR KING IN THE EUCHARIST. PRAY, PRAY WITH LOVE, PRAY IN FAITH, PRAY BEING AWARE OF EVERY WORD THAT COMES OUT OF YOUR HEARTS, NOT JUST FROM YOUR LIPS.
People of Our King, at this instant you have to love as God Himself Loves, act as God Himself acts, work as God Himself builds: IN UNITY.
Children of Our King and Lord Jesus Christ, do not oppress one another; afterwards you will seek those whom you despise at this instant, as you will not be able to walk alone.
We protect you; the heavenly legions protect you; do not depart from prayer, pray the Holy Rosary with fervor and love for Our Queen and the Mother of Heaven and Earth.
WHO IS LIKE GOD?
NO ONE IS LIKE GOD!
St Michael the Archangel
HAIL MARY MOST PURE, CONCEIVED WITHOUT SIN
HAIL MARY MOST PURE, CONCEIVED WITHOUT SIN
HAIL MARY MOST PURE, CONCEIVED WITHOUT SIN