Sunday, November 3, 2019
Message from the Blessed Virgin Mary
To Her Beloved Daughter Luz De Maria.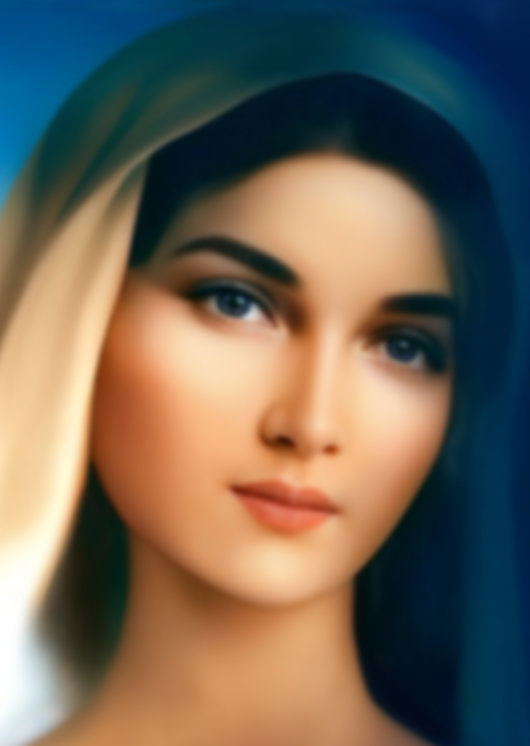 Beloved Children of My Immaculate Heart:
EACH ONE OF MY CHILDREN FORMS PART OF MY CROWN.
YOU, WHOM I GUIDE TOWARDS MY SON AND THE FINAL TRIUMPH, WHEN 'THE DIVINE WILL BE DONE ON EARTH AS IT IS DONE IN HEAVEN' (cf. Mt 6:10), ARE "THE APOSTLES OF THE LAST TIMES."
Therefore, you must remain faithful, firm and converted so that the storms of this moment does not lead you to other waters through confusion. The Devil is making haste in order to introduce his mistrust, intrigue, division and above all, to enlarge the human ego in My children; He knows that he wins that way.
MY WORDS ARE DIRECTED TO THE WHOLE OF MY SON'S PEOPLE SO THAT THEY REMAIN ALERT FACING THE IMMINENT PROXIMITY OF THE WARNING, AND I DO NOT WANT YOU TO BE SEPARATED FROM THE PATH TO WHICH YOU HAVE BEEN CALLED FOR THE SERVICE OF MY SON IN VARIOUS MINISTRIES. The Devil has caused those whose lives are centered on My Son to erode, so that in one way or another they merge with the world and find comfort in the world, which absorbs them until he attains his goal.
Do not quench the thirst for souls within you, children of My Immaculate Heart. Continue to focus on the Love that flows from Our Sacred Hearts, while the hosts of evil are invading the mind of humanity in order to make you live contrary to the work and action of My Son. The trials are not easy, but remaining in the service of My Son will cause the demons to move away more quickly from those who remain in a state of Grace and who are a means for Divine requests to reach a greater number of souls that are confused at this instant. My Divine Son wants you to stay by His side, BEING MESSENGERS OF PEACE AT ALL TIMES.
Beloved children of My Immaculate Heart, you need to live in My Son, not in other concerns that are temporary: not in distractions - you have been summoned to call your brothers to the TRUE WAY: THE WAY TO MY SON. YOU ARE CALLED TO ADORE GOD, ONE AND THREE (cf. Jn 4:24). Do not depart from prayer, do not forget My requests, do not be lukewarm creatures at this crucial instant; do not allow yourself to be judges of your brothers and sisters - be humble and wise.
You need to bend your knees with humility before My Son if you wish to be free, but truly free; you will find that freedom in My Son.
Confusion is spreading, and My Son's people falter for lack of FAITH AND WISDOM. Not a few are separated from the TRUE WAY.
HOW MUCH PAIN THERE IS IN MY SON'S SACRED HEART AT THE ABANDONMENT INTO WHICH HE IS PLUNGED BY THOSE WHO ACCEPT SENSELESS INNOVATIONS! MY SON LIVES IN YOU, HE IS THE GOD OF THE LIVING, NOT OF THE DEAD (Lk 20:38).
This is why the earth continues to shake more and more, given man's confusion that has made him decay spiritually.
CHILDREN, FAST - NOT ONLY FROM FOOD, BUT FROM YOUR SENSES, PRINCIPALLY THE TONGUE, AND DEVOTE YOURSELVES TO USING IT FOR PRAYER: THIS IS URGENT FOR MY SON'S PEOPLE - PRAYER AND THE PRACTICE OF THAT PRAYER: DO NOT FORGET WORKS OF MERCY (Mt 25:35-46).
You cannot give what you do not have; you cannot be love if you do not have love; you cannot bring forgiveness if you do not forgive; you cannot bring consolation if there is no inner peace within you: you are what you are and you give what lives and throbs inside you.
PLAGUE IS ADVANCING, MY CHILDREN, IT IS ADVANCING AND CHANGING INTO A PANDEMIC, CAUSING TERROR AND FEAR. You have been warned by the Father's House and have the teachings about natural medicines for combating these contagious diseases. PREPARE THE OIL OF THE GOOD SAMARITAN TO PREVENT CONTAGION.
Pray, People of My Son, pray. The volcanoes continue becoming active one after another. Pray for Mexico: its ground is shaken, My children suffer. This People of Mine is being shaken: I want them to stay alert, prepared spiritually as well as with food and medicine: its volcanoes awaken furiously.
Pray, People of My Son, pray for Chile. This nation goes from the convulsion of man by man to being convulsed by nature.
Consecrate Chile to OUR SACRED HEARTS; YOU, MY CHILDREN, CONSECRATE CHILE.
Pray, People of God, pray for Colombia. It is threatened by the force of armed men. It is urgent for you, children, to CONSECRATE THIS NATION TO OUR SACRED HEARTS; ASK MY FAVORED SONS TO HELP YOU WITH THIS REQUEST.
This nation suffers, it is fiercely shaken on its soil.
Pray God's People, pray and Consecrate every nation in the world to Our Sacred Hearts. It is imperative that each country be protected by Consecration. Evil advances with ease; the Church of My Son must not falter but remain strong in faith, hope and charity.
The mystical body of My Son should not be satisfied with being a lukewarm people: you must grow, be spiritual so that faith is solid; nourish yourselves with spirituality; do not live a false religiosity, but be true and grow as My Son invites you to do.
Receive MY MOTHERLY LOVE.
BE FIRM IN THE FAITH.
THE TRIALS ARE HEAVY, MY CHILDREN, BUT YOU FORGET THAT GOD IS OMNIPOTENT.
PRAY THE HOLY ROSARY AND DO NOT FORGET TO ADORE MY SON AND RECEIVE HIM.
I love you.
Mother Mary
HAIL MARY MOST PURE, CONCEIVED WITHOUT SIN
HAIL MARY MOST PURE, CONCEIVED WITHOUT SIN
HAIL MARY MOST PURE, CONCEIVED WITHOUT SIN