Sunday, November 10, 2019
Message from Saint Michael the Archangel
To Luz De Maria.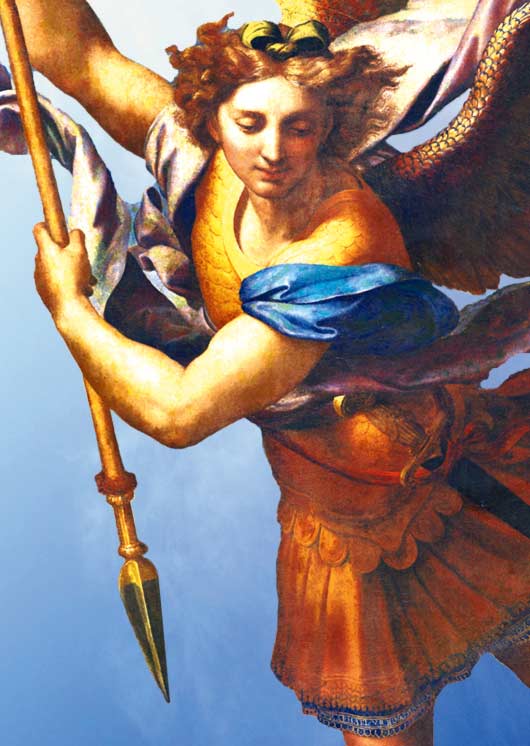 People of Our King and Lord Jesus Christ:
AS PRINCE OF THE HEAVENLY LEGIONS I AM SENT FROM THE TRINITARIAN THRONE TO WARN YOU.
The Devil is sending all his minions to Earth, so that they tempt weak souls and those strong in the FAITH, all alike.
EACH ONE OF YOU FIGHTS THE BATTLE BETWEEN GOOD AND EVIL, THUS TRANSLATING THE TRUTH OF WHAT YOU PROFESS WITH YOUR MOUTH AND WHAT REALLY EXISTS IN YOUR HEART.
Human appetites for gaining honors on Earth and each person's inflated "ego" will be unveiled before their brothers and sisters; the intransigence and the so-called perfection of some men will fall: ONLY OUR KING AND LORD IS PERFECT.
Human creatures continually grow or fall according to their acts, according to their works; nothing is of worth before our King and Lord Jesus Christ if it is not worked out and enacted by the Love that proceeds from the Bosom of the Most Holy Trinity.
The demons are enflaming human beings, not only in the streets, in the villages, but within each person; there are too many men who look at the outside, feeling clean and right within, while being a continual fetid sepulchre of pride within.
The souls that walk in search of holiness are those who love despite ... who forgive despite ..., do not hold grudges despite ..., since they live out the Gospel that calls to DIVINE LOVE ACTING AND OPERATING IN HUMAN CREATURES.
Countries are in convulsion, Demons infest human beings who are lukewarm or have no faith, so that they attack what reminds them of THE POWER OF GOD. This is what enrages evil: that its power will never be above the Power of God.
Evil acts in man's psyche, leading him to states of pride where he is an expert, and it goes inside man until it reaches the "ego" and infests him with diabolical ambitions, diabolical pretensions, diabolical judgments, diabolical ideas and thoughts, so that he fights against his fellow men and against God himself.
The Devil tempts men, and within free will man either falls into temptation or fights against that temptation. In moving away from God, the human creature is exposed to being seized and bent by the enemy of the soul, showing the power of evil through man.
People of God: you must know that the Devil has focused his evil power on man, enraging you in order that men would rise up against men. That is his delight.
Understand that the infestation of evil is not possession, but sadly the possessed increase as evil increases.
You, people of God, be zealous in your relationship with God; pray, be fulfillers of the commandments, the sacraments, practise works of mercy, maintain your sacramental life, receiving our King and Lord Jesus Christ properly prepared: in this you need to be strict. Do not draw near to receive our King and Lord Jesus Christ if you are not at PEACE with your brothers and sisters, if you have not confessed your sins; pray the Holy Rosary and do other acts of piety.
THE CHILDREN OF GOD NEED TO FAST FROM FOOD IF THEIR HEALTH ALLOWS IT; OTHERWISE, OFFER UP ANOTHER FAST. DO NOT ATTEMPT TO FIGHT EVIL WHILE BEING LUKEWARM; THIS IS AN INSTANT FOR YOU TO GROW IN THE SPIRIT; YOU WILL NOT BE ABLE TO ADVANCE IN FAITH IF YOU ARE NOT SPIRITUAL, IF YOU DO NOT MAKE REPARATION, IF YOU DO NOT GRIEVE OVER EVIL COMMITTED, IF YOU ARE NOT CHRISTIANS WHO KEEP THE COMMANDMENTS.
I therefore urge you to obey St. Paul's exhortation to the Ephesians in chapter 6, verses 11 to 16: "Put on the whole armor of God, so that you may be able to stand against the wiles of the devil.For our struggle is not against enemies of blood and flesh, but against the rulers, against the authorities, against the cosmic powers of this present darkness, against the spiritual forces of evil in the heavenly places.Therefore take up the whole armor of God, so that you may be able to withstand on that evil day, and having done everything, to stand firm.Stand therefore, and fasten the belt of truth around your waist, and put on the breastplate of righteousness, with Zeal for the gospel of peace as shoes for your feet, always taking up the shield of faith, with which you will be able to quench all the flaming arrows of the evil one."
People of God, the spiritual struggle is fierce, and the man who is separated from our King and Lord Jesus Christ is an easy prey: you therefore need to put on the armor of your King and Lord Jesus Christ and live as those who fulfill the Divine Will.
You must have Holy Fear of God. Therefore fear falling into sin, fear accepting ideologies that lead you away from the center of the Christian's spiritual life, fear opening the door to the Devil, fearing turning away from the Most Holy Trinity, fear not maintaining a Christ-centered life.
LOVE OUR AND YOUR QUEEN AND THE MOTHER OF ALL THAT IS CREATED; STRETCH OUT YOUR HANDS TO YOUR MOTHER; AT HER NAME HELL IS AFRAID, THE DEMONS FLEE IN TERROR AS LONG AS YOU ARE LIVING IN GOD.
Invoke me! I will come ipso facto, My Legions protect you. The People of God are not helpless. Do not fear, do not fear, do not fear the Devil, stay far from everything that leads you to offend Our and your King and Lord Jesus Christ; do not turn away from sound doctrine; do not distort the Scriptures - there is no God apart from God (cf. Is 45:5; Lev 18:21 and 20:5; Acts 7:43), do not accept errors, as at the end of the times errors will cause souls to fall: the DIVINE WORD IS ONE.
People of God, man's madness emanates darkness, and this leads creation to disavow the man who wishes to worship creation (cf. Rom 1:25). Man needs to grow in the spirit, not to regress. Faced with this human doing, suffering continues to increase for the human being due to an accelerated passage of time that brings it closer to greater calamities, which will cause the earth to shake with greater force; the inclement Sun and the unpredictable rain ruin crops and Famine draws closer.
Pray, children of God, pray for Canada. The earth shakes forcefully, the rains are unexpected, causing great losses.
Pray, children of God. The growth of satanic groups has drawn turmoil to Latin America. Pray and be determined against evil, remain united as ordained by Our King and Lord Jesus Christ; put into action what you preach so that you might ward off evil.
Pray, children of God, Chile continues to suffer. The earth shakes forcefully.
Pray children of God, pray. In Italy the earth shakes.
Pray children of God, pray for Spain. This nation suffers through its own inhabitants.
Calamities reach Germany and this nation weeps.
People of God, humanity is pushing the Most Holy Trinity aside; you are deceived by evil, accepting a gospel that is not the true one (cf. Gal 1:6-9). The true faith is being extinguished, evil is beginning its way with men.
The expected Angel of Peace will come and by Divine disposition you will be assisted. (1)
Pray the Holy Rosary, cover yourselves with the Precious Blood of Our and your King and Lord Jesus Christ, staying in peace, being Love for your brothers, staying united, so that you stand without perishing in the spirit.
BE UNITY AS THE MOST HOLY TRINITY COMMANDS FROM YOU; BE CHARITY, BE LOVE, BE STRONG AND HUMBLE, PROGRESS IN FAITH.
Do not fear, you are not alone, Our and your Mother is with Her children.
WHO IS LIKE GOD?
NO ONE IS LIKE GOD!
Saint Michael the Archangel
HAIL MARY MOST PURE, CONCEIVED WITHOUT SIN
HAIL MARY MOST PURE, CONCEIVED WITHOUT SIN
HAIL MARY MOST PURE, CONCEIVED WITHOUT SIN