Monday, November 18, 2019
Message from Saint Michael the Archangel
To Luz De Maria.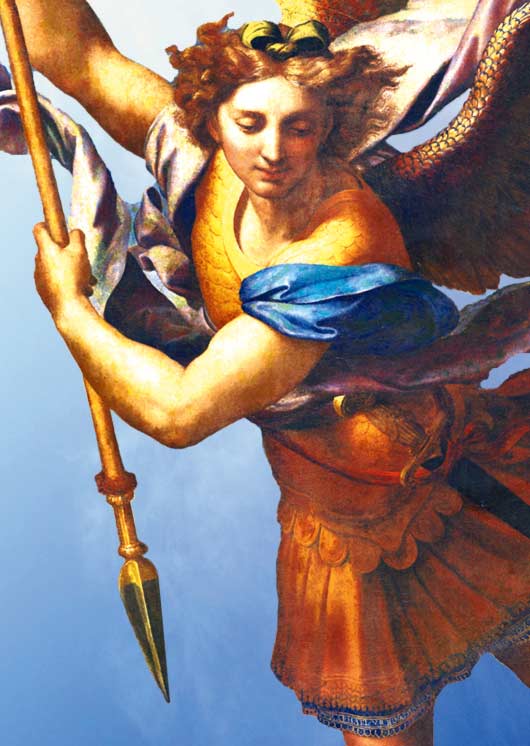 People of God:
AS CAPTAIN OF THE ARMIES OF HEAVEN, IN OBEDIENCE TO THE MOST HOLY TRINITY AND TO OUR AND YOUR QUEEN AND MOTHER: I WARN YOU.
The People of God are a cause of pain for the Sacred Hearts.
The course that humanity has decided to take is dark; it leads you to what is contrary to the Divine Will and the eternal goods.
When agitated, man does not think coherently: he turns away from the elementary principles of a good child of God, and evil incites him to act, in the first instance forgetting the human creature's filiation with Our Lord and King Jesus Christ and therefore scorning Our Queen and Mother, as well as forgetting everything that represents a limit, restraint; humanity is prepared to break the rules, all the rules, norms and correct principles.
The misfortunes of evil such as envy, distrust, intolerance, pride, enmity, lies, lack of love and with it human thought, have mutated, and the "ego" in the human being reigns over your brothers and sisters. Humanity, a puppet at the whim of the powerful, humanity without spirituality, is fertile ground for the Demon to sow uncertainty, which will continue to occur throughout the world, uncertainty in the men who govern the nations and in the governed, in the same way as in everything that man carries out.
People of God, at present you think one way and in the morning you change as you change their clothes.
UNTIL MAN RETURNS TO HIS SPIRITUAL REALITY, TO UNION WITH OUR KING AND LORD JESUS ​​CHRIST, THE HUMAN CREATURE WILL NOT REGAIN PEACE, NEITHER WITHIN NOR IN THE WORLD.
The increase in natural disasters is amplified in a human creature empty of TRUE LOVE AND FAITH towards Our King and Lord Jesus Christ. The Devil is loved and celebrated by man.
WOE TO THOSE WHO AT THIS MOMENT ARE CELEBRATING HAVING BROUGHT DOWN A CHURCH; SO WILL THOSE WHO ACT IN THIS WAY BE BROUGHT DOWN!
GOD'S ANGER WILL FALL ON THEM; IF THEY DO NOT REPENT IN TIME, THEY WILL CONTINUE TO BE WORKERS OF THE DEVIL.
THE EARTH IS IN GREAT DANGER, THE COMET MENTIONED SO OFTEN IS DRAWING CLOSE TO THE EARTH AND WILL NOT BE DETECTED UNTIL IT DRAWS EVEN CLOSER. THE MAN OF SCIENCE WILL NOT SUCCEED IN GOING BEYOND WHERE GOD ALLOWS.
STATE COUPS WILL CONTINUE ONE AFTER ANOTHER; THE CHILDREN OF GOD ARE AND WILL BE PERSECUTED, BEING HATED BY THE HORDES THAT SUPPORT EVIL.
Natural disasters are and will be increasing in strength; humanity will see it and be amazed, but will not bow to OUR KING AND LORD JESUS CHRIST, BUT ON THE CONTRARY, THEY WILL UNLEASH THEIR ANGER AGAINST THE MOST HOLY TRINITY AND THEIR FAITHFUL.
The antichrist is readying his appearance, the ground is being prepared. When most of humanity is in turmoil and war becomes present, the antichrist will appear.
Pray, People of God, creatures of God. Pray for Spain: its people will rise up again against power, like France and Ecuador.
Pray, People of God, creatures of God. Pray for Paraguay, this people will suffer painfully.
Pray, People of God, creatures of God, Pray for Chile, it will be strongly shaken on its soil.
Pray, People of God, creatures of God. Pray for Nicaragua and Venezuela.
The rejection and suffering of the People of God are causing the protection of Our and your Queen and Mother for Her children to increase.
Venezuela, evil continues against the People of God. Through these countries terror will be launched towards other countries in times of war.
Pray, People of God. Pray for Mexico. Sin abounds in this nation. Pray: this nation is shaken forcefully and its children suffer excessively. Dormant volcanoes awaken and those awakened cause destruction.
Pray, People of God, creatures of Our Queen and Mother of Heaven and Earth. Pray, the waters rise strongly. Asia is fiercely shaken and the waters reach other coasts. Pray for the coastal areas of El Salvador, Guatemala and Mexico.
Pray, People of God, creatures of Our Queen and Mother of Heaven and Earth. Pray for the United States, the suffering of this nation increases.
HUMANITY, VIRUSES ARE APPEARING WITH RELENTLESS MUTATIONS: I HAD ALREADY MADE THIS KNOWN TO YOU BY DIVINE ORDER. THIS PART OF MAN'S HISTORY IS ONE OF DESOLATION FOR ALL HUMANITY, JUST AS SUCCESSIVE EVENTS WILL BE CRUEL. THEREFORE, THE UNITY OF THE CREATURE WITH ITS CREATOR IS INDISPENSABLE, AS IS THE UNITY OF THE CHILDREN OF GOD.
THE CHURCH WILL BE BLOWN ABOUT: CHAOS IS COMING AND THEN SCHISM. DO NOT FORGET THAT THE CHILDREN OF GOD ARE NEVER ABANDONED, IT IS MAN WHO TURNS AWAY FROM HIS LORD AND GOD. OUR QUEEN AND MOTHER OF HEAVENS AND EARTH NEVER ABANDONS HER CHILDREN, IT IS HER CHILDREN WHO ABANDON HER. DIVINE MERCY IS GREATER THAN HUMAN MISERY. RETURN TO THE RIGHT PATH.
Humanity is bleeding on Earth in anticipation. The Devil has taken hold of key positions in order to exalt the appearance of the antichrist. People of God, you have to strengthen yourselves spiritually, do not yield to innovations, do not accept what is contrary to the TEACHINGS OF OUR AND YOUR KING AND LORD JESUS ​​CHRIST, be true. Unite and protect yourselves, being faithful to the Sacred Hearts, and thus in the midst of humanity's confusion, you will obtain the assistance for you not to fall completely; be unity in order to be fortresses that resist evil.
WE THE ANGELIC CHOIRS ARE GUARDING YOU; WHETHER WE CAN FULFILL OUR LABOR DEPENDS ON YOU. YOU ARE NOT ALONE, DIVINE PROTECTION IS IN EACH ONE OF YOU. DO NOT TAKE BACKWARD STEPS, MAKE HASTE AND BE LOVE, PRAY AND BE THE REALITY OF PRAYER. FAST AND OFFER UP WHAT CAUSES YOU THE MOST SACRIFICE - IN THE MIND, IN THOUGHT.
We protect you.
WHO IS LIKE GOD?
NO ONE IS LIKE GOD!
Saint Michael the Archangel
HAIL MARY MOST PURE, CONCEIVED WITHOUT SIN
HAIL MARY MOST PURE, CONCEIVED WITHOUT SIN
HAIL MARY MOST PURE, CONCEIVED WITHOUT SIN