Wednesday, December 4, 2019
Message from Our Lord Jesus Christ
To His Beloved Daughter Luz De Maria.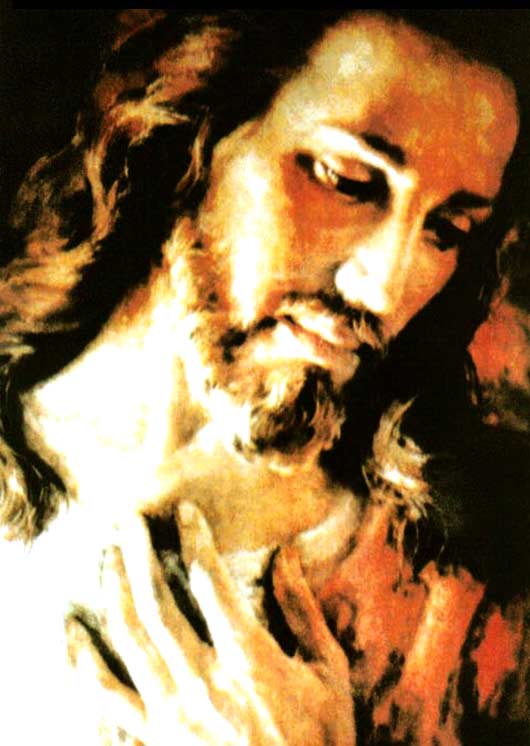 My Beloved People:
MY HEART DESIRES TO KEEP YOU WITHIN, SO THAT NOTHING WOULD SEPARATE YOU FROM ME.
I constantly call you to be messengers of My Love, of My Peace, and yet the greater My calls are, the greater the distractions and the greater the lethargy in which My own are living. That is why I call you again to prayer, to receive me in the Eucharist properly prepared, I call you to KNOW ME and enter into the Love of My Mother, into Her Word given throughout the world, anticipating the pain of this generation because of the disobedience and pride with which they have rebelled against Me.
I call you out of Love; man's time is not My time, and you find yourselves facing the sea of ??sins that Satan is constantly pouring out and injecting into the human being's mind, thought and heart, in order that you would refuse to follow me and refuse to recognize yourselves as sinners, looking to your brothers to bear the burden of your wrongful, imprudent, arrogant and hasty actions.
EACH ONE HAS BEEN CALLED BY NAME SO THAT YOU MIGHT FOLLOW ME! (cf. Lk 18:22).
MAN HAS NOT BEEN OBEDIENT AND HAS BECOME DISTRACTED, TAKING OTHER PATHS, ENCOUNTERING EVIL THAT, DUE TO SPIRITUAL WEAKNESS, DESTROYS MY CHILDREN, ENJOYING LEADING THEM TO CHAOS, DIVISION AND TOTAL SEPARATION FROM MY WILL.
Thus evil penetrates within weak human creatures due to little or no prayer, due to those who do not repent or make amends for their sins, those who do not receive Me and are far from My Mother, with a lukewarm faith that only needs a word in order to deny Me or justify disobeying me.
This is My People and more.
I CALL YOU GIVEN THE URGENCY OF THIS MOMENT IN WHICH EVIL IS TAKING MY CHILDREN AND SIFTING THEM, CAUSING THEM TO COMMIT CONTINUAL OFFENSES AGAINST OUR SACRED HEARTS, AND SATAN ENJOYING FROM THE PRECARIOUS FAITH OF MY CHILDREN.
You are a People walking towards the precipice, due to the persistent indifference with which you act; you SUFFOCATE ME, HANDLING ME BETWEEN THE FINGERS OF YOUR HANDS, TREATING ME WITH IRREVERENCE AND TOTAL DISRESPECT, WITHOUT AWARENESS OF WHO I AM AND WHAT I AM. MY ANGELS SHED TEARS ON SEEING HOW YOU ARE FORGING YOUR OWN CONDEMNATION WHEN YOU RECEIVE ME WITHOUT TRULY REPENTING OF YOUR SINS, WITHOUT REPAIRING THE HARM DONE. It is for this and other reasons that I am desecrated; I therefore make My Word reach you so that you might convert urgently.
CHANGE YOUR LIFE!
Seek me without the misdirected human ego. My children are the simple and humble of heart, those who repent and, like a child, do not hold grudges in their hearts (cf. Mt 11:29).
I have called you to keep the faith - how many will follow me? And how many of those who call themselves My faithful followers remain on the road without advancing because of arrogance or lack of forgiveness, or conceit, or because of pride, reflecting their internal sickness.
I see My Church with so many children who are waiting for their brothers and sisters to act so as not to become engaged in the eyes of society. I see My Church accepting practices outside My Will and thereby rushing into the abyss and pleasing Satan, committing heresies, profanations and denials of My Divinity.
HOW MANY ARE THOSE WHO ADVANCE AND HOW MANY THOSE WHO FALL ASLEEP ALONG THE WAY DUE TO DISTRACTIONS, AND WHO ARE IMMERSED IN THEIR SORROWS WITHOUT SEEING MINE!
My sorrows are the souls that are lost, My sorrows are the worshipers of Satan, My sorrows cause me to watch My People rejecting me, offending me, disobeying me, committing sacrileges and thereby staying on the way.
I have called all to salvation - how many were on the right path and have deserted!
MY PEOPLE, DARKNESS ADVANCES UPON MY PEOPLE, THE RAVAGES OF EVIL AGAINST MY CHURCH WILL NOT BE LONG IN COMING, AND WITH THEM SUFFERING WILL AUGMENT. THE PERSECUTION AGAINST MY CHILDREN WILL INCREASE UNTIL YOU WILL HAVE TO HIDE IN ORDER TO WORSHIP ME.
When you pray you should offer prayer with your heart in Peace, with a contrite spirit and with Love towards yourselves and your brothers and sisters; otherwise the words are empty.
My Beloved People: this is an instant for decision, for courage, for dedication, for faith, for Love, for Charity, for Hope, for crying out due to the tribulation in which you are living and which is increasing all the while, due to a human creature devoid of My Love by its own will.
The Earth is subject to constant changes, which have arisen at all times in the history of humanity, but such changes did not attain the magnitude that they are attaining and will attain for humanity at this time throughout the Earth. The scourges arrive one after the other without stopping, without allowing one people to help another, and they will make you experience harrowing pain. I am warning you, not so that you should be afraid of Me, but so that you would entrust yourselves to Me and My Mother as no generation has entrusted itself before. Pray at all times, in season and out of season (cf. Eph. 6:18), putting prayer into practice.
Pray, My children, pray for Mexico, it shakes in its soil, making volcanoes become active.
Pray, My children, pray for Costa Rica, it suffers because of the shaking of its soil.
Pray, My children, pray for weakened Italy, it is shaken and My children suffer the invasion of idolatry.
Pray, My children, pray for Spain. Turmoil returns, agitation runs through the streets. Man, dominated by the orders of those who keep humanity on edge, rises up against anything.
Pray, My children, pray. Albania weeps.
Pray, My children, in unity, pray for each other, this instant has ceased being instant. It is imperative that My People offer up without ceasing.
MY HEART BLEEDS AT THE PAIN THAT IS LOOMING OVER MY PEOPLE.
I bless you with My Love, I bless you with My Peace.
Your Jesus
HAIL MARY MOST PURE, CONCEIVED WITHOUT SIN
HAIL MARY MOST PURE, CONCEIVED WITHOUT SIN
HAIL MARY MOST PURE, CONCEIVED WITHOUT SIN