Monday, December 23, 2019
Message of Saint Michael the Archangel
To Luz De Maria.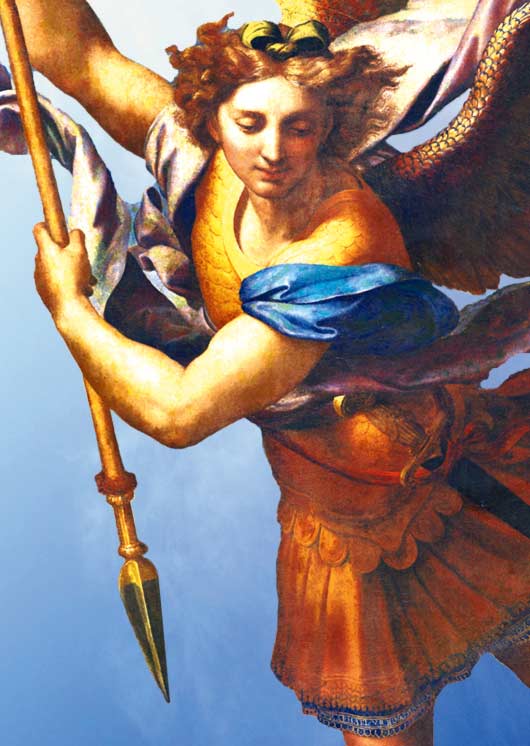 People of God:
AS CAPTAIN OF THE HEAVENLY ARMIES, ESTABLISHED BY THE MOST HOLY TRINITY, I CONVEY TO YOU:
People of God, you will be celebrating the Birth of Our King and Lord Jesus Christ, born of Our Queen and Mother of the Divine Will, Pure and Unstained by Original Sin.
EVERY HUMAN BEING SHOULD OFFER THE DIVINE CHILD A NEW HEART IN ORDER TO LOVE WITH RENEWED FEELINGS, SO AS TO STAY WELL SPIRITUALLY.
People of God, the desire to be more, in every aspect of life, is now almost a duty that man has imposed on himself in general, and yet no human being who does not transform themselves internally will grow in the spirit, since this requires a heart free from worldly filth, especially PRIDE.
Humanity has grown in uncertainty; it is inflamed and this is a contagious disease spreading over the world like a pandemic.
TO WHAT WILL THIS BE DUE?
To the fact that men in their spiritual poverty are easy food for evil spirits that roam the world. This is not an invention; evil is roaming the world prior to the imminent arrival of the deceiver.
You see the change in the behavior of nature and deny it, BLIND ARE THOSE WHO WITH THEIR EYES DO NOT WANT TO SEE REALITY; you see the convulsions in various countries and deny that humanity is infected and inflamed: BLIND ARE THOSE WHO WITH THEIR EYES DO NOT WANT TO SEE REALITY; you see abortion and do not take responsibility for being the new Herods of this century: BLIND ARE THOSE WHO WITH THEIR EYES DO NOT WANT TO SEE REALITY (cf. Ps 135:16; Mk 8:18).
You live as you want; men dress with silk and with women's attire, women with men's attire, and you deny that humanity is heading towards the precipice: BLIND ARE THOSE WHO WITH THEIR EYES DO NOT WANT TO SEE.
WHAT HAPPENED TO SODOM AND GOMORRAH?
WHAT WILL HAPPEN TO THIS GENERATION THAT WILL NOT REMAIN IN A STATE OF IMPUNITY ON ACCOUNT OF SO MUCH SIN!
You celebrate the birth of the Child Jesus, King of Heaven and Earth, but you have already condemned Him to suffer outrages and aberrations, heresies and desecrations, the errors with which you want to modernize and take out the Divine and replace it with idols. Where is the sacrifice of the cross?
LAMENTS IN HEAVEN, LAMENTS ON EARTH!
AN INNOCENT CHILD, SON OF THE LIVING, TRUE GOD WHO CAME TO EARTH, "THE CHILD GOD, KING OF HEAVENS AND EARTH", WANTS YOU AGAIN TO GIVE OVER TO HIM THAT WHICH IS HIS: A NEW SPIRIT SO THAT YOU WOULD LOVE AS HE LOVES AND NOT GO ASTRAY IN FORMS OF MODERNISMS THAT HAVE SATAN INSIDE.
People of God, praying, offering sacrifices and fasts: you prayer groups who fast and pray, who remain sentinels and do not fall asleep but watch so that evil does not continue to steal simple and unsuspecting or hard souls, and whom you through fasting and prayer manage to bend in the name of God. People of God who pray and offer up, offer up and pray, you are beacons of light in the midst of the darkness; do not falter, look up, for God sees you and we protect you, so that if it is your will, we might guide you to the right path, where you will not go astray.
Creatures of the Man-God, everyone carries in their heart that Child whom you must awaken and cause to be reborn so that you would surrender without thinking of yourselves but of the salvation of souls.
A CHILD HAS BEEN BORN, A CHILD WHO CAME TO SAVE SOULS, A CHILD WHO, BEING GOD, COMES TO ASK YOU TO DRAW NEAR TO HIM AND TO GIVE HIM THE GOLD OF YOUR SOUL, THE INCENSE OF THE SACRIFICE OF EACH PERSON, IN ORDER TO STAY ON THE TRUE PATH, AND THE MYRRH OF CONTINUING TO GUARD THE TRADITION THAT HE BROUGHT TO YOU SO THAT YOU WOULD REMAIN UNTIL HIS SECOND COMING.
TODAY THIS CHILD, OUR KING, WANTS THE GIFT OF FAITHFULNESS, OF SACRIFICE, OF THE HUMAN WILL FUSED TO HIM.
United, let us worship the one who came to the world to be King. Forever and ever. Amen.
GLORY TO GOD IN THE HIGHEST AND ON EARTH PEACE TO MEN OF GOOD WILL.
WHO IS LIKE GOD?
THERE IS NONE LIKE GOD!
Saint Michael the Archangel
HAIL MARY MOST PURE, CONCEIVED WITHOUT SIN
HAIL MARY MOST PURE, CONCEIVED WITHOUT SIN
HAIL MARY MOST PURE, CONCEIVED WITHOUT SIN