Monday, December 30, 2019
Message from Our Lord Jesus Christ
To His Beloved Daughter Luz De Maria.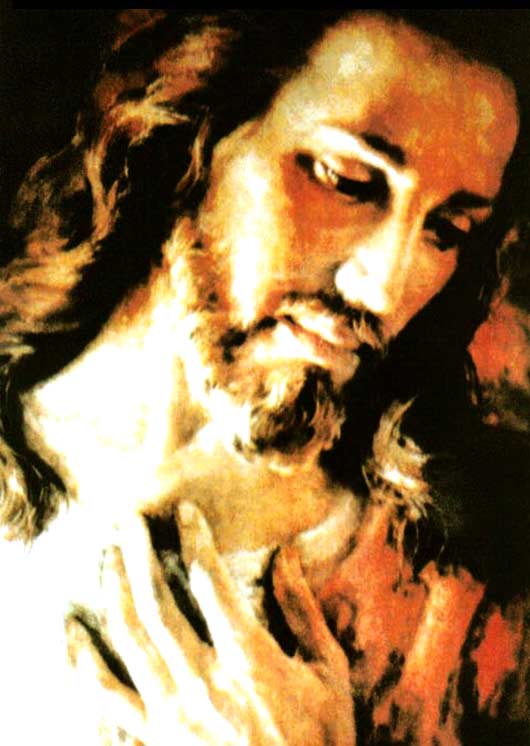 My Beloved People:
I CARRY YOU IN MY HEART.
You are My People, I love you.
I call you constantly because I do not want to lose you. I am in front of each one of you; only give me your hand and allow me to guide you: I WILL BE THE LIGHT OF YOUR EYES.
United to our Hearts, you are beginning this period of spiritual blessings for those who wish to accept them. Taking steps on a steep path is not easy: you must be in good spiritual condition in order to reach the goal. Advancing on the way, perhaps you will be offered abundant water so as not to suffer thirst, or shelter from the sun or rain, or you may be shown succulent food so as not suffer from hunger, and some may even tell you to climb aboard a means of transport so that you would descend and not exhaust yourselves. The world offers you so much in order that you, My beloved children, would not reach the goal and would be distracted by the offers that apparently facilitate your reaching the goal by other means, yet in the end you will be able to see that everything was a lie, merely a deception in order to lead you down wrong paths and separate you from Me.
This, My People, is the story of this generation!
You are living in a time when evil uses all its tricks to confuse you and to present you with another god who "I AM NOT". But you must not forget that "I AM WHO I AM" (Ex 3,14).
My people, you will see what you have not seen until now; all My Own must strengthen themselves in the Faith, so that you would not withdraw from My side.
My children hate Me, they lacerate Me, they reject what I offer them and keep me being a King without His Kingdom; faced with so many false gods that they accept, there is no place for Me - this is the result of the great spiritual struggle in which you find yourselves.
Each one of you is My Child and I Love You with Eternal Love.
You flee before those who discredit you, and before THIS BEGGAR OF LOVE, YOU ARE FACED WITH PROFANATIONS; YOU BELIEVE THAT I AM DEAD, THAT I AM NOT GOING TO COME TO THE ASSISTANCE OF MY PEOPLE, BUT THE WOLVES WHO WANT TO DESTROY MY CHURCH ARE ONLY ENJOYING A MOMENTARY FEAST. YOU, CHILDREN, DO NOT FEAR.
My People know that I AM A GOD OF THE LIVING (cf. Lk 20:38) AND THAT MY TEACHINGS ARE AN ETERNAL PRESENT, AND FACED WITH THOSE WHO INTEND TO DISTORT THEM, MY PEOPLE MUST BE FIRM AND NOT YIELD, BUT REMAIN WITHIN MY LAW.
My People are shaken, trampled down and will be so all the more; therefore you must remain firm, strong in the Faith, protected by My Word; do not fall down - no one is greater than Our Most Holy Trinity. I call you to LOVE MY MOTHER, I HAVE ENTRUSTED MY PEOPLE TO HER AT THIS TIME.
Each one of you is a light that can be seen from the vast Universe, and that light is a barrier of Mine on Earth. Be firm, children, be firm. You will not be disappointed; you suffer and will suffer, but you will not be disappointed.
IT IS URGENT THAT MY PEOPLE KNOW ME, SO THAT THEY DO NOT FALL INTO TEMPTATION!
I HAVE GIVEN YOU THE ABSOLUTE TRUTH, AND ANY OTHER APART FROM ME IS NOT THE TRUTH BUT THE SHORTCUT OF EVIL SO THAT MY CHILDREN WOULD LOSE ETERNAL LIFE.
WAIT, WAIT WITH PATIENCE, WITH HOLY PATIENCE, AS WHAT HAS BEEN REVEALED WILL BE FULFILLED. WHEN MEN ARE CELEBRATING, REJOICING, LAUGHING AND DO NOT REMEMBER ME, I WILL SEND MY ANGELS TO EXECUTE WHAT I HAVE ANNOUNCED.
My People do not want to hear My Word but only what attracts them as sensationalism; later they will look for My Words and will no longer find them, because they have not been copied out and technology will not last forever.
Man has reached the stars, but he has not succeeded in believing in ME, he has overcome plagues, but he has not overcome himself in his "ego", he has created vaccines in the first instance to fight diseases, but he has not managed to create a vaccine against pride. Man has exceeded technological expectations, but he has not created FAITH, man has sumptuous mansions and luxury cars, but he has not succeeded in giving me the INNER TEMPLE OF HIS HEART, he has not succeeded in bringing me WITHIN HIMSELF AND INSTALLING ME THERE. Man creates voices through technology, but he will not make any of those voices move his conscience if I do not dwell within man himself.
Attention, My children, My People; this is the moment of truth, and in that Truth that I AM, I WILL KEEP YOU IN MY HEART AND IN THAT OF MY MOTHER IF YOU OBEY AS MY TRUE CHILDREN. MY PEOPLE ARE NOT A STRANGE PEOPLE EVEN IF THEY WILL BE CALLED heretical, reclusive, hypocritical.
Evil is good for those who do not love Me.
My people, support one another, be united. Remain vigilant: humanity suffers from one place to another, sometimes through nature, sometimes by the hand of man, sometimes because of ideologies.
Yet My People are the Apple of My Eyes and I am with My People; My Mother protects you, and when you are tired, My Angel of Peace will be the encouragement for you to continue.
DO NOT FEAR, OUR SACRED HEARTS WELCOME YOU.
I BLESS EACH ONE OF MY CHILDREN WHO RECEIVE THIS WORD OF MINE WITH LOVE AND RESPECT.
I love you.
Your Jesus
HAIL MARY MOST PURE, CONCEIVED WITHOUT SIN
HAIL MARY MOST PURE, CONCEIVED WITHOUT SIN
HAIL MARY MOST PURE, CONCEIVED WITHOUT SIN