Sunday, January 12, 2020
Message from Our Lord Jesus Christ
To His Beloved Daughter Luz De Maria.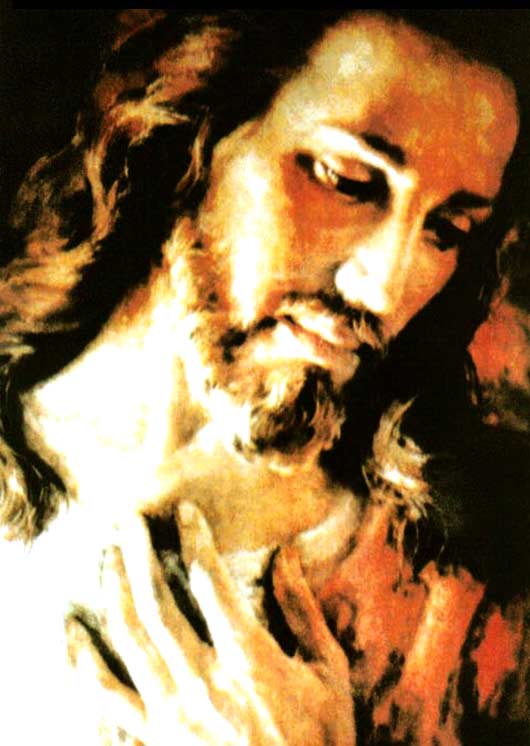 My Beloved People:
I LOVE YOU WITH ETERNAL LOVE.
My Beloved, devoting human time to calculating the date of the fulfillment of My Revelations and those of My Blessed Mother is the result of the impatience of man and not of Faith.
Everything that I have revealed to you, that My Mother has revealed to you, that My Beloved Saint Michael the Archangel has revealed to you, EVERYTHING WILL BE BROUGHT TO FULFILLMENT.
ARE YOU ASKING YOURSELVES HOW YOU ARE SPIRITUALLY?
HOW MANY RAGS HAVE YOU LEFT ALONG THE WAY?
RAGS OF THE HUMAN EGO THAT TAKES PRECEDENCE OVER MY REQUESTS, PREVAILING OVER LOVING ME AS YOU SHOULD.
My people, there are so many signs at this moment and you are so blind that subsequent laments will be heard throughout Creation.
Come back to Me urgently: you are living so far from Me! Blinded by what does not concern you, you broaden your daily lives with a multitude of obligations that are not yours as you are carrying foreign crosses, without properly carrying what applies to you, and due to this the weight bows you down.
BE AWARE THAT IN ORDER TO LOVE ME YOU HAVE TO KNOW ME IN MY WORD, IN PERSONAL RELATIONSHIP INSTANT BY INSTANT, IN RECEIVING ME IN THE EUCHARIST, IN BEING "ALONE WITH ME", IN PEACE AND LOVE FOR YOUR FELLOW MEN.
My Beloved People: you need FAITH, like "a mustard seed" (cf. Lk 17:6) so that you do not despair while waiting. You need to strengthen your spirit and promptly, not leaving for tomorrow anything that has to do with the salvation of the soul – tomorrow belongs to Me.
My people, pay attention: the Earth moves from its axis and will continue to do so; the waters of the seas will invade a large part of the coasts and inexplicable phenomena will occur in the water; the whole earth shakes at the relentless sun, volcanoes erupt and man does not pay attention, he tries to minimize what is happening and says that the wait is long; instead you ought to thank My Mother, who intercedes for humanity.
As the earth shakes, so shakes My Church, welcoming modernist trends that are not My Will. Looking at Me from afar, they try to cancel Me out in My own house, They will allocate Me a distant place and then deny that I AM ALIVE, PRESENT AND BEATING IN THE EUCHARIST, DENYING MY TRANSUBSTANTIATION; My Mother will be denied even more.
MY PEOPLE MUST BE STRONG, RESIST AND NOT LOSE FAITH.
They will hurl themselves against My Own and like wolves they will pursue them.
My people, persevere and do not forget that "I AM WITH YOU" (cf. Mt 28:20).
MY PEOPLE, IN THE CALAMITIES, IN THE ONSLAUGHTS OF NATURE, IN THE PERSECUTIONS, IN THE CALUMNIES, IN THE INSULTS, AND WHEN THEY TURN YOU AWAY FROM SOME PLACES, DO NOT FORGET THAT "OUR MOST HOLY TRINITY IS WITH YOU AND MY PEOPLE WILL NOT SUFFER FOR EVER".
My beloved people, threats among the nations will continue, deaths will continue, terrorist acts will continue; man is mounting in his eagerness for revenge, one side and another will mortally wound each other on repeated occasions.
MY PEOPLE, MY INNOCENT CHILDREN WILL NOT SUFFER WHAT THE MAJORITY WILL SUFFER, I WILL PROTECT THEM.
Gather in groups, whether family groups or ones of prayer and of firm friendships, and ready yourselves to prepare places where you will be able to stay united in times of strong persecution or war. Store what is essential in order so you can stay there until My Angels let you know. These REFUGES will be protected against invasion; remember that in union there is strength: if one weakens in the Faith, another will lift him up, if one becomes sick, another brother will assist him, IN UNITY.
Wait in FAITH, so that the latter, fortified, would prepare you for when you are persecuted.
My Beloved People, I guide you by the hand, I AM YOUR FATHER AND I WILL NOT LEAVE YOU ALONE.
I AM WHO I AM (cf. Ex 3:14; Jn 8:58; 4:26), DO NOT DESPAIR.
MY PEACE IS IN EACH ONE OF YOU.
I love you, I bless you, my faithful.
Your Jesus
HAIL MARY MOST PURE, CONCEIVED WITHOUT SIN
HAIL MARY MOST PURE, CONCEIVED WITHOUT SIN
HAIL MARY MOST PURE, CONCEIVED WITHOUT SIN