Saturday, February 29, 2020
Message from the Blessed Virgin Mary
To Her Beloved Daughter Luz De Maria.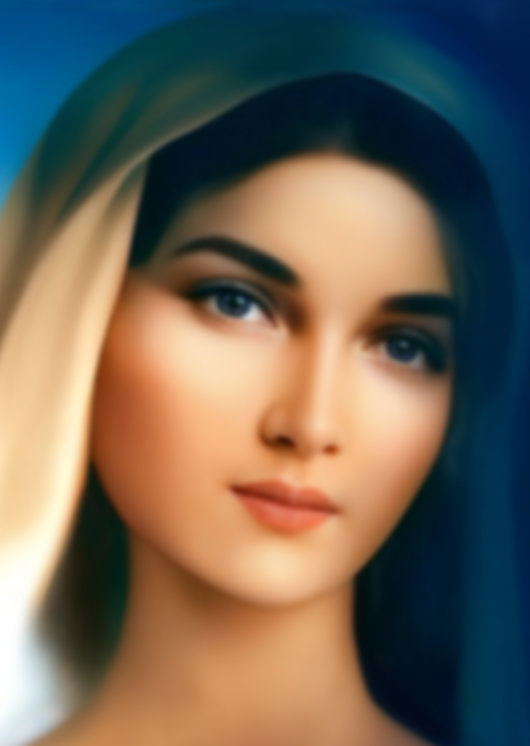 Beloved children of My Immaculate Heart:
PEOPLE OF THE MOST HOLY TRINITY!
ARE YOU LOOKING FOR MY SON? THEN WHY IS IT THAT YOU ARE TAKING OTHER PATHS?
ARE YOU PERHAPS TRYING TO REACH HIGHER THROUGH OTHER MEANS?
You want to lighten your steps and are going astray, going further away than you are already are. THERE ARE NO SHORTCUTS FOR ATTAINING ETERNAL LIFE, THERE ARE NO SHORTCUTS; ALL MUST TRAVEL THE SAME WAY, AND THAT IS THE WAY OF HOLINESS (cf. I Tim 2-4).
All walk the Way of Calvary at some point, but you should not walk it complaining, or anchored to human desire, but on the contrary, live it as My Son walked it, LOOKING AT THE END, THE CROSS OF GLORY AND MAJESTY.
In that same way the Church of My Son is going along that Way, and she is entering more deeply into the Way all the time. As the Mystical Body of My Son you must redouble your efforts so that the Devil would not take you to waters that are not those of My Son. You must remain in the Tradition of the Church. The great novelty of the Gospel is that My Son forgives and loves, loves and forgives those who with true repentance come before Him and decide to live a new life and, with humility and contrite heart, do so. This is the great novelty:
FORGIVENESS, MERCY, AND THE DIVINE JUSTICE THAT OPENS THE DOORS TO THOSE WHO REPENT FROM THEIR INMOST BEING (cf. Jn 3:16).
This Divine Mercy is not found BY CHANGING THE DIVINE LAW, NOR BY MODERNIZING IT. MY SON LOVES ALL HIS CHILDREN AND ALL HUMAN BEINGS ARE HIS CHILDREN, BUT TO GAIN ETERNAL LIFE YOU HAVE TO FULFILL THE DIVINE LAW AND LIVE ACCORDING TO THAT LAW (cf. Heb 4:16; Dt 10:12-13).
I see so many human beings living within their human ego, without forgiving those that My Son may have forgiven: this is not truly Christian.
I see so much commotion in humanity, ignoring the GREAT HUMAN TRAGEDY AT THE HANDS OF EVIL!
I see many of My children caught up in temptations and stagnating in them, forgetting that My Son was tempted by the Devil, and in My Son was each one of you being tempted, but My Son overcame temptation and gave the victory to all those who fulfill the Divine Law (cf. Mt 4).
I see so many of My children calling and crying out to My Son, and My Son offers you the LIVING WATER THAT QUENCHES THIRST, and you reject it time and again, because you do not see what you want to see. YOU LACK FAITH!
BECAUSE THE WORLD DOES NOT SPEAK OF FAITH, THE WORLD DOES NOT SPEAK OF DIVINE LOVE, BUT OF THE FLESH AND SIN, WHOSE NAME HAS BEEN CHANGED, AND YOU CALL IT MODERNISM.
However, I must tell you that you are going down the wrong paths; My Son calls you to repentance, I call you to repentance, to penance, deep fasting, the fasting of the physical and spiritual senses.
Noah preached repentance and penance. Jonah called for penance and announced to the Ninevites that their city would be destroyed. Some did not listen and perished, others listened and were forgiven.
This generation has received more calls to conversion than previous generations, and yet the response is constantly negative, because of being attached to worldly life, being unrestrained and in other cases, attached to the "ego" that does not allow the forgiveness that My Son does not deny them.
HOW FAR HAS THE CRIME OF THIS GENERATION GONE? PRIDE, CHILDREN.
Man has developed the sciences, but has not developed spiritually, because for you the Spirit and Eternal Life represent - on Earth, in the present, at this moment - neither accolades, nor popularity, nor great monetary awards, nor public recognition, and this is what is most coveted by man today.
I see human beings who are proud, arrogant, who glory in themselves, in their wealth, their intellect, their abilities, and yet in the depths of these people I see anxiety, discontent, sadness, unhappiness.
Children of My Immaculate Heart:
WAKE UP, YOU SHOULD NOT LIVE THIS LENT COMPLYING WITH A TRADITION THAT IS NOT ONLY TRADITION BUT COMMEMORATION; IT IS ABOUT AWAKENING AND LIVING LIFE, THE TRUE WAY, THE ETERNAL TRUTH.
So much pain for foolish humanity, so much human tragedy going unrecognized, so much contempt for the Calls of the Father's House, and when you recognize your disobedience you will have suffered so much due to your foolishness that humanity's lament will be boundless.
YOU ARE LIVING IN THE PURIFICATION, AND YET YOU DO NOT KNOW IT?
Look at the state of the Church of My Son, look at the decisions of governments with norms and laws that are totally contrary to life and morals.
Look at the reaction of nature everywhere, look at the famines of the peoples.
Look at the advance of communism and the oppression to which peoples that do not declare themselves openly communist are being subjected. Oppression in favor of a single government, a single religion, a single currency, a single teaching in favor of the death of the body and the soul.
THIS IS THE PASSION TO WHICH THE CHURCH OF MY SON IS BEING LED, THIS IS THE PASSION THAT IS CONSTANTLY BEING LIVED BY MY SON'S MYSTICAL BODY; THIS IS THE ANTICHRIST'S ENTRANCE INTO HUMANITY.
Be aware, My children, that within prayer, fasting, penance during this Lent, you should include the fasting of the senses and especially the fasting of the mind that sets you against your brothers and sisters.
CLEAN YOUR INNER HOUSE, SO THAT PURITY WOULD BE BORN WITHIN YOU AND NOT BE SOMETHING EXTERNAL THAT DOES NOT LAST.
My Son desires contrite, willing and hearts, not the simulations of a false religion.
Children, do not panic in the face of pandemics (1): be obedient and prepare what I have given you to fight them; (2) do not allow yourselves to be deceived, and prepare; men will not speak the truth to you - I will.
DO NOT FORGET THAT MY SON IS THE WAY TO ETERNAL LIFE (Jn 14:6).
DO NOT FORGET THAT I AM HERE, THAT I AM YOUR MOTHER.
LIVE WITHIN THE DIVINE LOVE THAT DOES NOT END.
I bless you with my love.
Mother Mary
HAIL MARY MOST PURE, CONCEIVED WITHOUT SIN
HAIL MARY MOST PURE, CONCEIVED WITHOUT SIN
HAIL MARY MOST PURE, CONCEIVED WITHOUT SIN
(1) Revelations about plagues and pandemics...