Sunday, March 8, 2020
Message of St Michael the Archangel
To Luz De Maria.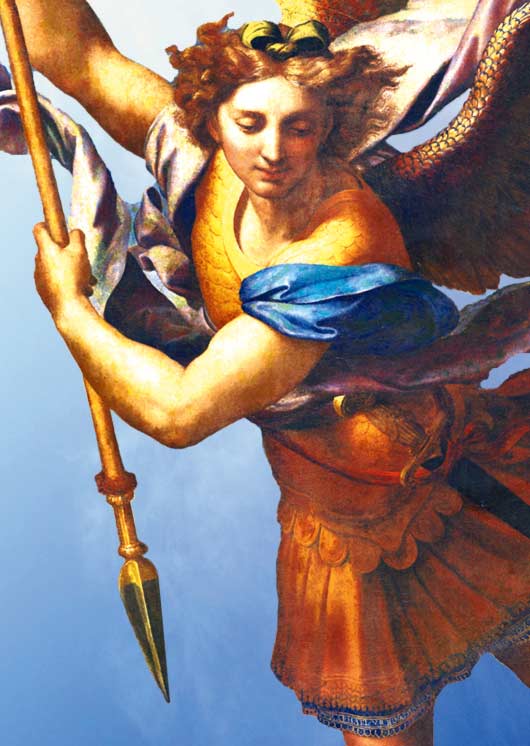 Beloved children of Our King and Lord Jesus Christ:
I AM SENT BY THE MOST HOLY TRINITY AS PRINCE OF THE ARMIES OF HEAVEN.
In this time of Lent, in which each person should ready themselves to be renewed spiritually, and therefore, externally, to change their manners and expressions towards their brothers and sisters, you need to understand that Lent is more than a commemoration: it is Divine Mercy permitting the human being to choose definitive conversion for the rest of your lives.
LENT IS FOR EACH ONE OF YOU TO REFLECT ON YOUR ACTIONS AND WORKS, MAKING THE FIRM RESOLUTION TO CONVERT AND CONTINUE CONSTANTLY LIVING OUT THIS FULL DECISION AT EACH MOMENT OF YOUR LIVES, IN EVERY SITUATION.
Faced with the current generation that has decided to turn away from Our King and Lord Jesus Christ, I call you to be transformed, to live out this transformation not with anxiety or pain, but with the joy of Eternal Salvation and gratitude towards the Most Holy Trinity.
Everyone needs to examine themselves without masks and in minute detail.
REVISE YOUR CHARITY - it is not only about helping one's neighbour regarding food, clothing, necessities – which are indeed quite important and urgent – it goes beyond this.
CHARITY CONDUCTS THE SOUL so that it would not leave Our King and Lord Jesus Christ.
CHARITY IS JUST, BENEVOLENT, SINCERE; IT LOVES IN DIVINE LOVE, IT IS DELICATE, it does not demand reciprocity, it understand one's brother and sister.
CHARITY IS THE LIFE OF MORALITY.
CHARITY COMES FROM GOD IF IT IS GUIDED BY GOD, not by human interpretation.
Beloved children of Our King and Lord Jesus Christ, exert yourselves to the maximum and make a firm purpose of amendment, to the maximum. This Lent is not like previous ones: it is special.
Live Lent to go where you previously only passed by or were completely oblivious, like most of humanity that lives immersed in false ideologies, personal desires or in the sects that the Devil has formed so that you would worship him and thus be taken by him to the abyss. You are not aware of the struggle that is continuing above you, a struggle between good and evil (cf. Gen 3:15; Eph 6:11-12), a struggle for souls, which Our King and Lord Jesus Christ has charged us with rescuing.
RETURN, PEOPLE OF GOD, RETURN: DO NOT KEEP GOING ASTRAY, SO THAT YOU WOULD BE ABLE TO RECOGNIZE TRUE LOVE, THE DIVINE WORD.
People of God, the Holy Rosary contains within it a continuous offering to the Divine Call and is the Mother's response to that Divine Call. Therefore pray with such Faith that you light up the entire Universe. With the prayer of the Holy Rosary, prayed with special love, you mitigate so much that you yet have to suffer: so much grief, so much horror, so much evil that man has created with his own hands and from which he has become distracted at this time when he will be surprised.
Do not take the Announcements of Heaven lightly. Times will come times when borders will close in vain, because then the air will be the carrier of contagion and not man directly.
Beloved, repent before grief breaks you! Suffering is coming to humanity, great suffering is coming, pandemics are coming. Because of this, the Father's House has allowed Our Queen of Heaven and Earth to be the one who with Her Love gives you means of protection from the diseases that are coming to humanity.
DO NOT FORGET THAT EVERYTHING MUST BE USED WITH FAITH, FAITH IS THE MAIN INGREDIENT FOR MIRACLES TO BE ACCOMPLISHED. (cf. Mk 11:24; Heb 11:1; II Cor 5:7).
The earth will not stop shaking: you know it, just as the fact that from the Universe threats will arrive for the Earth. You are alerted by Divine Love, even if you do not respond.
HOW THEY WILL LAMENT, THOSE WHO HAVE MOCKED THE DIVINE APPEALS, EUCHARISTIC CELEBRATIONS AND THE DIVINE LAW WHICH IS UNTOUCHABLE!
HOW THE HUMAN RACE WILL LAMENT FOR NOT HAVING RESPONDED, AND BECAUSE OF THIS IT WILL SUFFER MORE!
DO NOT CONTINUE BEING DISTRACTED: LOVE GOD ABOVE ALL THINGS (cf. Mt 22:36-40): GOD IS THE SUPREME GOOD AND SO YOU
MUST LOVE HIM, WITHOUT FORGETTING THAT FOR LOVING GOD THERE ARE NO MEASURES – YOU NEED TO GIVE EVERYTHING.
Persevere: you are loved from on High. You will receive the fruit of perseverance, firmness, surrender, sincerity. You will receive the fruit from the Divine Hands, the fruit of true faithfulness, the faith that renounces lukewarmness.
You are loved by Our Queen and the Mother of Heavens and Earth; be prompt to take hold of Her Hands.
YOU ARE LOVED BY THE MOST HOLY TRINITY: KEEP THE FAITH AND BE TRUE.
BE CREATURES OF GENEROSITY IN LOVING YOUR NEIGHBOUR (cf. Lk 6:38)
Beloved children of Our King and Lord Jesus Christ, be messengers of peace. We the Heavenly Legions hasten to protect you.
LIVE WITH CHRIST IN THE EUCHARIST!
WHO IS LIKE GOD?
NOBODY IS LIKE GOD!
St Michael the Archangel
HAIL MARY MOST PURE, CONCEIVED WITHOUT SIN
HAIL MARY MOST PURE, CONCEIVED WITHOUT SIN
HAIL MARY MOST PURE, CONCEIVED WITHOUT SIN