Friday, March 20, 2020
Message from Our Lord Jesus Christ
To His Beloved Daughter Luz De Maria.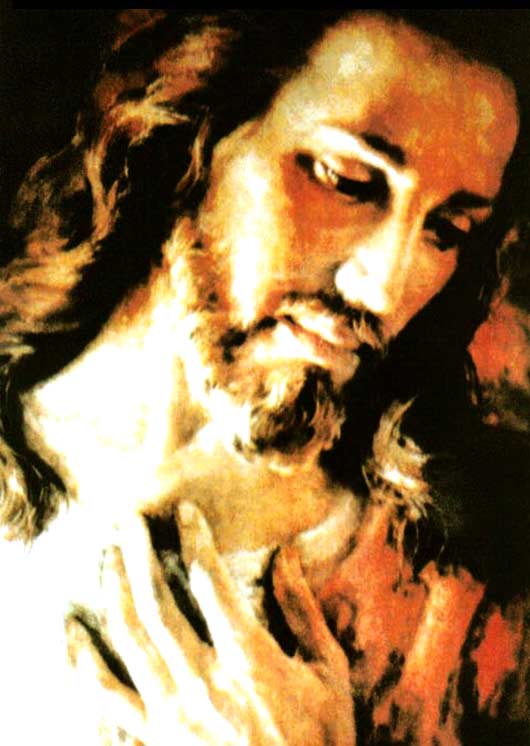 My beloved People:
YOU ARE THE APPLE OF MY EYE.
RECEIVE MY BLESSING, WHICH AS A LOVING FATHER
I COME TO IMPART TO YOU.
My beloved People:
YOU DO NOT WALK ALONE; YOU ARE ON THE PATH CHOSEN BY EACH ONE OF YOU, AND ON THAT PATH I ACCOMPANY YOU.
Open the door of your hearts to me, so that I might hold you in My Arms and free you from the chains of the oppression of evil.
My beloveds, you have entered stormy waters, the waters that humanity itself has attracted like a magnet.
For forty days and forty nights the water from Heaven caused the flood ...
For forty years the People of Israel walked in the desert ...
For forty days and forty nights I was in the desert ... (Gen 7,17; Jos 5,6; Mt 4,1-11), AND TODAY, THIS GENERATION MUST GO INTO SECLUSION FOR FORTY DAYS AND NIGHTS, IN THE MIDST OF LENT.
My Wish is that this would be a time for reinvigorating love in families.
May this time be one of unity, of charity, of forgiveness, of understanding, since the spirit of evil is prowling in order to tempt you and to cause division among those who strive for the common good.
May this Lenten season, which will be extended, be conducive for families to look each other in the eye again, and to share anew what they have stopped sharing, since toing and froing has separated them.
May this be a time for you to examine yourselves internally, to value life, to reorient yourselves in a direction opposite to that in which this generation is going, and may this not be something momentary, as THIS TIME HAS BEEN WRITTEN WITH INDELIBLE INK.
YOU HAVE SEEN EVENTS ADVANCING BEFORE YOUR EYES AT A QUICKENED PACE. WITHOUT A WORD, YOU HAVE BOWED YOUR HEADS AND HAVE OBEYED INSTRUCTIONS COMING FROM THE HEIGHTS OF HUMAN POWER. YOU ONLY SEE THE PRESENT MOMENT, YOU ARE INCAPABLE OF SEEING BEYOND IT.
You must obey faced with the plague: fiercer ones will come, but at the moment, the world elite has been testing humanity's reaction, and those who dominate will use this virus for establishing their power over humanity.
I gave myself on the Cross (cf. Lk 23,46; Eph 5,2), and I have called you through My Love; I have called you through My prophets, yet for you nothing is valid, only that which comes to threaten life, in the face of which even Faith is vain.
I have called you to give everything out of love, but you do not forgive (cf. Mt 6,14; Eph 4,32). You are still locked in your human ego, and it will be this ego that will cause you to fall, to become infected, because if the heart is not clean, the body is vulnerable.
I HAVE CALLED YOU NOT TO TURN AWAY FROM ME, IN ORDER THAT YOU WOULD NOT BE EASY PREY FOR EVIL. I CALL YOU TO BE TRUE, TO SURRENDER OUT OF LOVE, THROUGH MY LOVE, THROUGH THAT LOVE THAT DISTINGUISHES YOU AS MY CHILDREN.
I call you to prepare in the spirit; do not go other ways, be righteous in your work and action. Whosoever harbours resentments remains chained to their "ego", and in their "ego" they perish.
You do not understand the seriousness of My Words ...
You do not understand that you need to prepare for the WARNING ... (1)
You do not understand that I am both Mercy and Judge at the same time ...
You do not understand that humanity's suffering will continue.
The earth shakes from one extreme to the other, and suffering will not only be caused by a virus, but by various events, and My Word will be fulfilled. Continuous events will occur that will not allow you to assist one another.
YOU HAVE NOT BELIEVED, BUT AT THE MOMENT WHEN YOU EXPERIENCE WHAT I HAVE ANNOUNCED TO YOU, YOU ARE MOVED, YOU FEEL FEAR, FEAR OVERWHELMS YOU, AND THE FAITH THAT YOU DO NOT HAVE CANNOT SUSTAIN YOU.
I suffer with the suffering of My children, yet you are not meek or humble, but conceited and disobedient; you look for predictions, not My Word in order for you to convert.
The events will not delay, you will experience them one after another. Man will know poverty, even those who feel safe because of money - it will be of no use, and I will tell them:
"GIVE TO CAESAR WHAT IS OF CAESAR, AND TO GOD WHAT IS OF GOD" (Lk 20,25).
AND WHAT WILL YOU HAND OVER TO ME? WHAT HAVE YOU GIVEN ME? DOUBTS, LIES, SCORN, UNBELIEF, PRIDE, DISOBEDIENCE.
Pray, My children. Pray for all humanity that each person might see themselves, and with love for neighbor, would respect their brothers and sisters at this time in which they are experiencing the plague.
Pray, My children. Pray that you would be aware of the power that has been demonstrated by those who move humanity. This is the easy way to dominate you; later the Antichrist will come as the savior of humanity.
Pray, My children. Pray, war is coming and will shake humanity.
Pray, My children. Pray about the earthquakes that are approaching.
Pray for the United States, Italy, Japan, Puerto Rico, Central America, Chile. Pray for one another; all will suffer.
Children, My Mother has given you the medicines of Our Will. You continue to seek what is human and not what we have given to man by Divine Will. Do not expose yourselves unnecessarily, be cautious and do not expose yourselves: instead, pray in your homes at the moment.
I bless you with My Love.
I bless each one of you.
I bless you with My Cross of Glory.
Your Jesus
HAIL MARY MOST PURE, CONCEIVED WITHOUT SIN
HAIL MARY MOST PURE, CONCEIVED WITHOUT SIN
HAIL MARY MOST PURE, CONCEIVED WITHOUT SIN