Tuesday, April 14, 2020
Message from Our Lord Jesus Christ
To His Beloved Daughter Luz De Maria.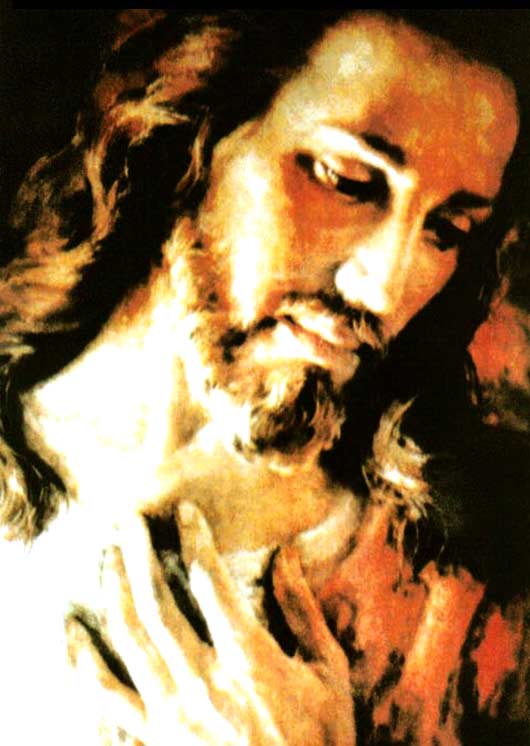 My beloved People:
RECEIVE MY BLESSING AT THIS MOMENT WHEN HUMANITY IS BEING SCOURGED BY SICKNESS.
It is not for nothing that man is scourging himself through sickness, about which My House told you in advance so that you would not be found unprepared.
EVEN SO, SICKNESS CAME SUDDENLY, UNANNOUNCED, AND IT CAUGHT HUMANITY UNPREPARED. I WILL DO THE SAME:
I WILL COME WITHOUT WARNING AND WILL FIND YOU IN THE AFFAIRS OF THE WORLD, HAVING REJECTED ME AND THROWN ME OUT OF MY KINGDOM.
Some will have been deceived by evil and others will continue in My ways; some will not have borne fruit and others will have borne fruit of Eternal Life (cf. Jn 15:3-5).
I have called you to unite with My Victory on the Cross, but you turn away from Me and accept innovations presented to you by the devil, with which he is deceiving you.
In the last times of this generation, rebellion will be a daily event in the world: rebellion against the Faith, against everything spiritual, against Hope, against Charity, against what is communal, fraternal and true.
MY NAME WILL BE DESPISED, EVEN BY MY OWN; I WILL BE REMOVED FROM THE ALTARS AND YOU WILL BE INVITED TO FORGET MY MOTHER, DENYING THAT MY MOTHER INTERCEDES BEFORE OUR TRINITARIAN THRONE.
YOU WILL FIND YOURSELVES IN A NEW CHURCH, WITH INNOVATIONS FOREIGN TO THE TEN COMMANDMENTS AND THE SACRAMENTS, INNOVATIONS COMING FROM FREEMASONRY, WHICH, IN UNION WITH THE EARTHLY POWERS, WILL SPEW ABOMINATIONS.
There are so many blanched sepulchers (cf. Mt 23:27) lurking in My Church, so many wolves that no longer wear sheep's clothing, clearly distinguishing themselves from those who are faithful to Me!
My beloved People, I call you urgently to remain within My Love and all that flows from it.
My beloved People, do not depart from the Gospel, do not accept false doctrines that lead you to perdition, covered and reinforced by the inevitable apostasy within My Church.
You have been warned about the sickness of the body and the sickness of the soul, so that you would not allow yourselves to be deceived; you can see that the forces serving Satan are seeking to uproot My Church in order to SPEW THEIR ABOMINATIONS (cf. Mt 24:15-35; Dan 11:31; 12:11). My People have complacently permitted delving into false ideologies, setting out on paths that offer you rapid spiritual elevation without penance and mystical experiences as if I were selling them in some market to the highest bidder.
YOU DO NOT REALIZE THAT YOU HAVE BEEN EXPERIENCING A REVOLUTION OF THE DEVIL'S INFILTRATION WITHIN MY CHURCH, WITHIN SOCIETY, EDUCATION AND POLITICS - passively, softly, gradually leading you astray through false experiences which easily take root in human beings of little Faith and docile acceptance, due to ignorance.
THE DEVIL'S DOMINATION OF HUMANITY STANDS BEFORE YOU, THIS IS WHAT MAN HAS DRAWN TO HIMSELF, AND THEREFORE IT IS NECESSARY TO HOLD IT BACK A LITTLE MORE.
YOU KNOW FULL WELL WHAT IS HOLDING IT BACK! YOU KNOW FULL WELL WHO IS HOLDING IT BACK!
My people, look at yourselves truthfully; the apostasy comes from among you, from My Church. I have therefore called you to remain vigilant, being strong in the Faith, being faithful to Me, so that you would not go astray, and without forgetting that My Mother is your Mother.
Strengthen yourselves in the Faith, pray in season and out of season (cf. Eph 6:18), pray while practising My Word, remain faithful. You are growing weak because of an illness, weakening in body and spirit, My children. WHERE IS THE FAITH THAT YOU PREACH?
Greater plagues and pandemics are coming, as announced by My House, but you had no ears to hear and now you are demanding the healing of your bodies.
The shaking of the Earth is increasing: because of its orbit that is affected and sick, My children, Earth's magnetism has been altered (1) and you have not been alerted to it. Forces are coming from space that have altered the magnetic field surrounding the Earth, therefore the fire that remains inside the Earth is coming out, drawn by this external magnetic force. (2)
Be careful, My children, serious earthquakes await humanity.
MY PEOPLE, I AM NOT ABANDONING YOU, I AM NOT ABANDONING YOU!
HUMAN CONSCIOUSNESS WILL NOT REMAIN THE SAME, BUT WILL CHANGE IN THE DIRECTION OF ACKNOWLEDGING THIS BEGGAR OF LOVE WHO CALLS AT THE DOOR OF EACH ONE OF YOU.
Be patient, do not despair, be Love and focus on Me. My Holy Spirit is kindled when My children open themselves to His Action.
MAY NO EVENT LEAD YOU TO DESPAIR: MY HOUSE REMAINS ATTENTIVE TO MY PEOPLE.
I love you with Eternal Love.
Your Jesus
HAIL MARY MOST PURE, CONCEIVED WITHOUT SIN
HAIL MARY MOST PURE, CONCEIVED WITHOUT SIN
HAIL MARY MOST PURE, CONCEIVED WITHOUT SIN
(2) Magnetic changes to the Earth: read…