Thursday, July 2, 2020
Message from our Lord Jesus Christ
To His beloved daughter Luz de María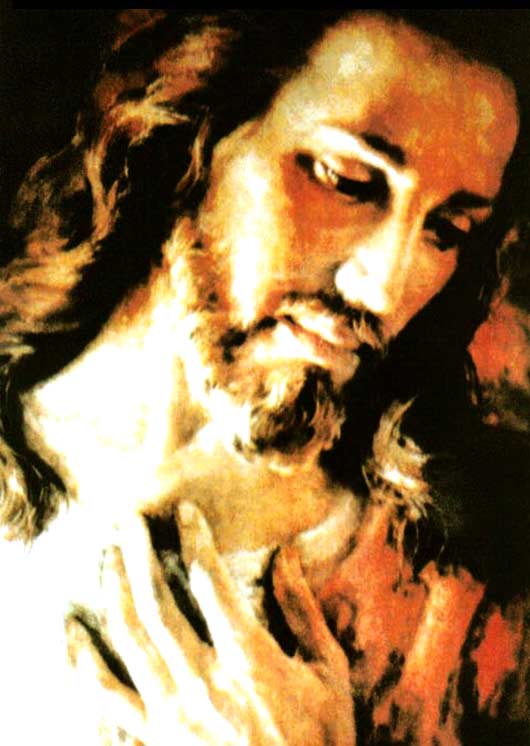 My beloved people:
MY MAGNIFICENT AND GLORIOUS CROSS IS THE PULSATING HEART AND THE MIDDLE OF MY PEOPLE. EVERY OF MY CHILDREN IS PART OF MY CROSS OF LOVE. EVERY SINGLE OF MY CHILDREN WHO STRIVE FOR CONVERSION STIR MY MERCY.
My people stand firmly in me, live in me and unite with me in holiness.
My people, I call you tirelessly, but you are just as tireless in your disobedience to me and insulted me again and again.
You despise My word without knowing me, you are mentally blind and refuse to see with new eyes. You forget that "HUMAN DOESN'T JUST LIVE ON BREAD ALONE, BUT EVERY WORD THAT COMES FROM GOD'S MOUTH" (cf. Mt 4,4).
My children went the wrong way and decided to go the way I warned them so they wouldn't get lost; now they love the secular more than anything else and despise Our Most Holy Trinity and My Most Holy Mother.
My people:
YOU WILL NOT FIND A GREATER SPEAKER THAN MY MOTHER; I RECEIVE LIFE IN HER BODY AND SATAN WILL NOT TRIUMPH OVER MY MOTHER.
You have forgotten that Satan exists and that Satan rises against man to betray him and throw him into the eternal fire (cf. 1 Peter 5: 8-9).
IN THIS "NOW" it is imperative that My people unite with My Blessed Mother, with her holiness, with her purity, with her humility; the humility that opened up heaven to you: "SHE WHO HAD NOTHING AND NOW OWNS EVERYTHING". My Immaculate Mother was taken to Heaven with body and soul, which is why Satan fights so relentlessly against My Mother and against each one of you, Your children, Satan is tireless in his struggle, which is intensifying at this crucial moment.
You have forgotten that the hellish dragon releases its power to cause wars, confusion, discord and division; primarily due to THE FAITH DROP WITHIN MY CHURCH (see Eph 6.11-13).
The signs are not long in coming, but you do not pay attention to them. They completely bypass this generation driven by evil and become controversy for them in all areas of life, while the world is caught up in intrigue, persecution, hunger and uncertainty.
YOU WILL NOT FIND PEACE AND YOU WILL NOT FIND IT IF YOU DO NOT APPROACH ME. IF YOU DON NOT CONVERT YOU, EVIL WILL SEE ITS SPIRITUAL SCOURGES AND SCOURGES THAT ALREADY HAVE SPREAD OVER HUMANITY; Humanity, on the one hand, is concerned, but, on the other hand, the current epidemic is suspicious of it.
MY PEOPLE, NOT ONLY NATURAL DISASTERS ARE COMING TO YOU; THE MAGNIFICATION OF MY MOTHER WILL HURN TO HELP. SO LOVE THE PRAYER OF THE HOLY ROSARY, PRAY AND PUT HIM INTO ACT, IN ALL OF YOUR DOING AND ACTING.
You are on a scale, but you are not sensible; evil tilts the scales in its favor and you still do not see the pain you are approaching.
MY PEOPLE DO NOT SEE BREEDING IN MY HOUSE; THE DOUBLE SPLIT THAT DIVIDES MY SHEPHERD AND MY PEOPLE. THEREFORE THIS IS A TIME OF GREAT CONFUSION FOR MY CHURCH.
Pray, My children, pray; the earth trembles with great strength and a loud roar can be heard. Pray for the United States, Mexico, Puerto Rico, Central America, especially Guatemala.
Pray, My children, the volcanoes activate the tectonic plates and sleeping volcanoes awaken.
Pray, My children, pray; give the Church strength and strengthen it!
Pray, My children, the elements bring suffering to you.
MY CHILDREN, REPENT, COME CLOSE TO ME AND DO NOT DESPITE THE MAGNIFICENCE OF MY MOTHER. IT IS NECESSARY THAT MY MOTHER IS RECOGNIZED TO BE A MOTHER OF HUMANITY, A REDEEMER, AND A MEDIATOR OF ALL GRACE.
Evil will flee as soon as My mother is recognized by her children in all her splendor!
Do not be afraid, My children; do not be afraid. My mother is with you, you are not alone.
DO NOT BE AFRAID, CHILDREN!
I AM YOUR GOD, I WILL NOT LET YOU DOWN.
Keep the faith in me in you.
I bless you.
Your Jesus
HAIL MARY MOST PURE, CONCEIVED WITHOUT SIN
HAIL MARY MOST PURE, CONCEIVED WITHOUT SIN
HAIL MARY MOST PURE, CONCEIVED WITHOUT SIN