Saturday, July 18, 2020
Message from Our Lord Jesus ​​Christ
To His Beloved Daughter Luz De Maria.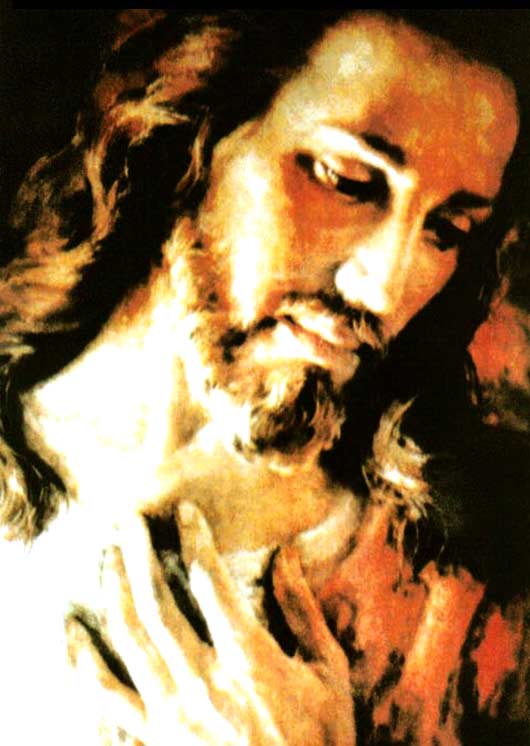 My beloved people:
I KEEP YOU CONSTANTLY PROTECTED, SHELTERED UNDER MY LOVING GAZE.
You pray asking me for protection, help and shelter without having Faith, walking in fear of everything except of offending me.
THIS GENERATION, ABANDONED TO ITSELF WITHOUT LOVE OR CHARITY, WITHOUT TRUTH OR HOPE, LIVES IN PRIDE AND FALSEHOOD, WEAVING ITS FUTURE WITH ITS OWN RAGS.
Children, you are not listening to Me. I WISH TO HAVE A FAITHFUL AND TRUE PEOPLE WHO ARE NOT EMPTY INSIDE WHILE APPARENTLY FULL. You must return with a contrite heart to the path leading to Me, intent on truly being My People whom I love, who are faithful and true in My likeness. (cf. Dt 10:12-13)
Humanity:
WHERE ARE YOU GOING WITHOUT ME?
My people, facing what is to come, you need to know Me in order to love Me and thus be more of the spirit than of the flesh. Forms of human security nourish you neither with Wisdom nor Truth: they cause you to be governed by your "ego", and the latter judges according to its own criteria.
My People must keep themselves prepared for the SPIRITUAL CONFLICT in which you are living; you must not be distracted even for a moment; the perfidious serpent, Satan (cf. Rev. 20:2), is continually tempting you so that you would fall and be lost due to the confusion and insecurity in which humanity finds itself.
My beloved people, the waters of the seas will be forcefully stirred up, just as evil is stirring you up, darkening your minds and hardening your hearts. You will experience serious events: the Earth is moving in an unusual way and will shake, drawn by the force of the celestial body that is approaching. (1)
DO NOT DEPART FROM THE LIGHT THAT FAITH PROVIDES FOR YOU...
YOU ARE MY CHILDREN, THOSE WHOM I HAVE CALLED TO PREPARE, TO BE STRENGTHENED, TO KNOW MY LOVE, SO THAT WITHOUT STRAYING FROM MY PATH, YOU MIGHT CONTINUE TO GROW IN MY WILL.
Unbelief drags My children away just as a mudslide carries away everything in its path. You have become hardened and have renounced My Will, heading by your human will towards confusion, doubts and spiritual dryness.
I hear My children repeating phrases and prayers by memory. I AM THIRSTY FOR SOULS OF CONTINUOUS PRAYER IN THEIR WORKS AND ACTIONS IN MY LIKENESS, being active and living testimonies of My Commandments, of My Love, without which you will not reach total fusion with My Will.
At this moment My People need to be aware that in order to draw closer to Me, they have to come without strife between brothers, but with My Sacred Heart and the Immaculate Heart of My Mother in their words, their thoughts, their mind, their heart, their ears, their hands, their feet - "I AM THE NEIGHBOR, AND THE NEIGHBOR IS THE MIRROR OF EACH ONE OF MY CHILDREN". In this way you prepare to journey on My Path.
Pray My children, pray with your heart, powers and senses.
Pray My children, pray for Taiwan: it will suffer greatly.
Pray My children, pray for Nepal: its people will suffer.
Pray My children, pray for Central America: it will be shaken.
Children, this is not a fleeting moment; you are living in the time of humanity's great suffering. Plagues, pestilences and pandemics, which not only infect the body, but also the spirit, will not stop. Therefore, more than at any other time.
IT IS NECESSARY FOR MY PEOPLE TO LIVE IN UNITY (cf. Rom 12:16); STAY ON SPIRITUAL ALERT AND DO NOT BE SEPARATED FROM MY MOTHER, PRAYING THE HOLY ROSARY WITH TOTAL DEVOTION AND PREPARED IN THE SPIRIT, IN THE LAW OF LOVE. MY LEGIONS GO WHERE THE HOLY ROSARY IS PRAYED WITH DEVOTION.
Keep peace in your hearts, and your spirit will taste My Peace.
DO NOT FEAR, CHILDREN!
COME TO ME!
My people, I will not abandon you: I remain in My children.
I bless you.
Your Jesus
HAIL MARY MOST PURE, CONCEIVED WITHOUT SIN
HAIL MARY MOST PURE, CONCEIVED WITHOUT SIN
HAIL MARY MOST PURE, CONCEIVED WITHOUT SIN
(1) Announcements about heavenly bodies that threaten the earth...