Monday, May 3, 2021
Message of St. Michael the Archangel
To Luz De Maria.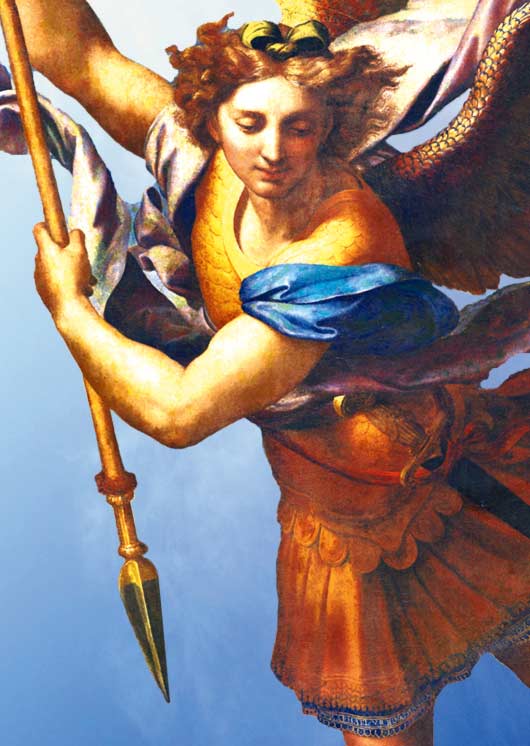 Receive the blessing of the Father's House.
YOU ARE CREATURES SHOWERED WITH DIVINE MERCY, WHICH WILL NOT ABANDON YOU.
You are heading rapidly towards the encounter with what so many of you have been expecting for years. ASK THE MOST HOLY TRINITY AND OUR QUEEN AND MOTHER FOR HELP, FOR CONTINUOUS ASSISTANCE, SO THAT YOU WOULD NOT DESERT AT THE LAST MOMENT.
Wield your spiritual defenses so that the temptation of an apparent cessation of the pandemic would not make you fall prey to the evil actions of those who wish to exterminate part of the world's population.
This had already been announced!....
Events will give no respite and countries will not be able to help each other quickly. Remain vigilant.
The stench of the Earth rises up to the Bosom of the Trinity; the Angelic Choirs raise up their voices:
"HOLY, HOLY, HOLY IS THE LORD GOD OF HOSTS".
Human beings have turned away from their duties as children of Our Lord and King Jesus Christ. Indifference and disrespect towards Our Queen and Mother is a most grievous sin of this generation, on which its own contempt for the Divine will fall.
The execution of evil's plans for extermination will not be long in coming. The war that you were silently experiencing has become public with this plague and the use of weapons is approaching for this generation, due to the arrogance of those who wish to mediate using their power.
The invasion of food plantations by diseases is coming and with it the specter of famine will advance upon the Earth. Do not forget to prepare blessed grapes (1): I warn you that Faith is required.
People of God, I invite you to pray for Chile and Bolivia: they will make news. People of God, pray, pray for Puerto Rico and Central America, they will shake.
People of God, confusion has penetrated within the Church of Christ: the institution continues to vacillate.
People of God, pray for India and do not forget to pray for Argentina: danger is lurking.
People of God, pray for Italy: it will experience terrorism.
People of Our Lord and King Jesus Christ:
Chaos comes through the sickness of body and spirit; you have forgotten the leaven of life - love.
EXAMINE YOURSELVES, IT IS URGENT THAT EACH ONE OF YOU LOOK INSIDE YOURSELVES; THIS IS NOT A GAME, FOR IN DOING SO YOU ARE DECIDING BETWEEN CONVERSION, SALVATION OR CONTINUING TO DECEIVE YOURSELVES AND LOSING YOUR SOULS.
BE SINCERE WITH YOURSELVES. AT THIS MOMENT YOU CANNOT BE THE SAME SPIRITUALLY IRRESPONSIBLE PEOPLE AS YESTERDAY: IT IS URGENT THAT YOU COMMIT TO INNER CHANGE NOW!
The ageing Earth will shake forcefully, like one straining not to collapse. Great cities that have harbored the unbridled free will of the human creature will be strongly shaken.
Do not tire of waiting: prepare yourselves, as the arduous work of the soul, the sufferings and shortages accompanying the fall of the world economy, will lead this generation to total Purification.
DEDICATE A SPECIAL MONTH TO OUR QUEEN AND MOTHER.
THIS MONTH, GIVE THE MOTHER OF OUR KING AND LORD JESUS CHRIST THE LOVE THAT SHE DESERVES.
Pray and put prayer into practice. Our Mother intercedes for you: dedicate this month in a special way and be constant for the rest of your life.
May the Most Blessed Sacrament of the Altar be forever adored in Heaven and on Earth.
I bless you.
St Michael the Archangel
HAIL MARY MOST PURE, CONCEIVED WITHOUT SIN
HAIL MARY MOST PURE, CONCEIVED WITHOUT SIN
HAIL MARY MOST PURE, CONCEIVED WITHOUT SIN
(1) About blessed grapes... (Pdf)