Saturday, May 22, 2021
Message of our Lord Jesus Christ
To His Beloved Daughter Luz de Maria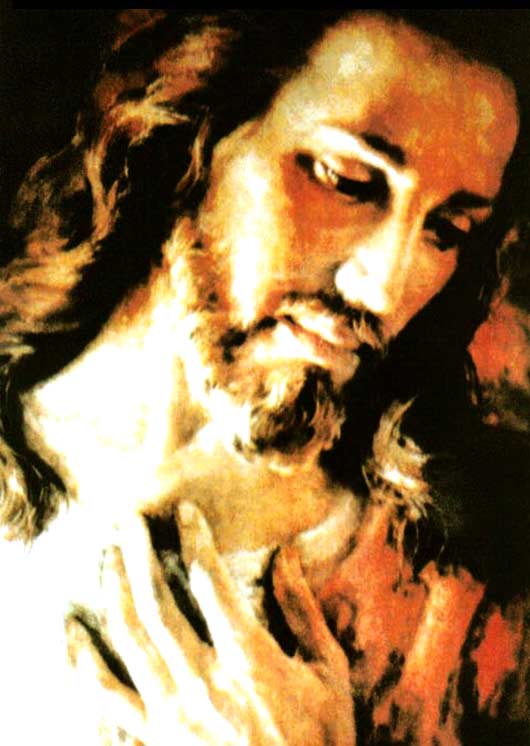 My Beloved People:
FOR YOU I GAVE MYSELF ON THE CROSS TO REDEEM YOU FROM SIN, OUT OF LOVE.
YOU ARE MY PEOPLE, THE ONE I GAVE TO MY MOTHER, WHOM YOU MUST LOVE.
My children have lost their senses, dedicating themselves to continually committing sins with which seriously offend My Heart, using the Gift of the word to reject Me and to accept the orders of evil as a manual of life.
You remain blinded, you are spiritually blind leading other blind people, thus you go towards the abyss.
YOU ARE LIVING AT THIS CRUCIAL, DECISIVE AND CRUCIAL MOMENT FOR HUMANITY, A MOMENT THAT THE HUMAN CREATURE HAS NOT LIVED THROUGH IN THE HISTORY OF MANKIND.
You are at the moment when some:
Claim to know Me and do not fulfill My Precepts.
Others claim to know Me and live giving death to their brothers with the sword of the word.
Others claim to know Me without knowing My Word in Sacred Scripture.
Others claim to know Me and receive Me in mortal sin, crucifying Me continually by receiving Me in that condition.
There are so many who continually crucify Me!
There are so many who profane My Body and Blood!
There are so many who from within My Church deeply wound Me by belonging to various evil organizations!
I AM CRUCIFIED BY A GREAT PART OF MANKIND WITHOUT ANY QUALMS WHATSOEVER. I WARNED OF THIS AND IT HAS BECOME A REALITY.
I AM STRIPPED OF WHAT IS MINE IN ORDER TO HAND IT OVER TO THE SON OF PERDITION.
They advance upon My Mystical Body, trampling on it, imposing themselves, implanting great heresies and profanations in the middle of the day, without hiding under the shadows of the night as they used to do; those who, calling themselves My ministers, have already come out of their dens and have unveiled the hiddenness of their grave sin. (Ezek. 34, 1-11)
My people, My Will is:
THAT MY PEOPLE BE DOERS OF MY WILL AND DO NOT ACCEPT FALSE DOCTRINES OR FALSE GUIDELINES OF THOSE WHO BETRAY MY WILL AND DISTORT MY WORD. (Col. 2,8)
This is the moment in which the son of perdition acts through his vassals in order not to be seen, he knows that humanity is approaching the Warning (1) and before the trials that he faces and those that he will face soon, he is permeable to sin and tempts him to lead them to forget about Me.
My People must be careful, the vultures that prowl at this time are attacking to hurt them, divide them or give them death. Do not neglect personal prayer and the practice of the Corporal and Spiritual Works of Mercy, without which prayer is incomplete.
ACT, MY CHILDREN!
MY WORD MUST BE MADE KNOWN TO ALL MY CHILDREN, NOW!
WITHOUT LOSS OF TIME.
The wolves have left their sheep's clothing and attack without dissimulation; there are few who still remain as lambs, being wolves. These will suffer severely at the time of the Warning.
The son of perdition (2) maintains power on Earth through his elite, waiting to appear before My People, although My People do not desire it. He will invade the minds of all through his worldwide presentation at the same moment, all over the Earth.
My children, the disease continues, the famine comes sooner than you think, (3) the reduction of the world population started with the present disease and they will continue with that demonic plan.
You must convert NOW! before the next event arrives without My children making the decision for real change. You cannot continue to be the same men who walk in rags. Surrender yourselves to Me out of love, stop looking at yourselves as creatures without errors, when these are continuously transpired by the skin.
GET READY, GET READY, GET READY!
Pray for the United States, it is suffering a great earthquake.
Pray for Bolivia, it trembles, Argentina, a rebellious people, it trembles.
Pray for Japan, it trembles.
Pray for Central America, its soil is shaking.
Pray, the volcanoes continue to awaken, My children do not obey, they continue in their turmoil and receive the fruit of disobedience to My House.
My Mother and My beloved St. Michael the Archangel have given you the medicines to combat present and coming illnesses.
Bless the food you put in your mouth. The contamination of the fruit of the earth is serious for the organism of the human creature.
My people:
BE ATTENTIVE! Danger lurks, do not lose the moment.
ATTENTION! Conversion is urgent. It is urgent that you remain attentive to the events of My Church.
Do not fear, My People, be faithful to My House and to My Mother, do not fear.
Seal your homes and be true.
MY BLESSING IS FOR EACH ONE OF YOU WHO RECEIVE THIS CALL WITH RESPECT AND ATTENTION.
Your Jesus
HAIL MARY MOST PURE, CONCEIVED WITHOUT SIN
HAIL MARY MOST PURE, CONCEIVED WITHOUT SIN
HAIL MARY MOST PURE, CONCEIVED WITHOUT SIN
(1) Revelations about the Great Warning to mankind ...
(2) Prophecies about the world famine, read...