Thursday, May 27, 2021
You must plan a Worldwide Day of Prayer for June 15!
Message of Saint Michael the Archangel to his Beloved Luz de Maria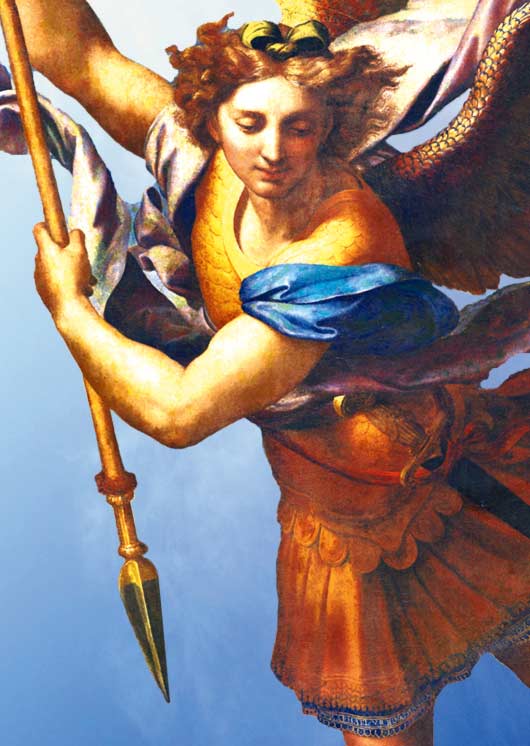 I COME TO THE PEOPLE OF OUR KING AND LORD JESUS CHRIST TO ALERT THEM.
I COME WITH MY SWORD HELD HIGH, UNITED WITH MY HEAVENLY LEGIONS TO PROTECT HUMANITY.
This generation must transform its work and actions, it must enter into friendship with Christ, it must know and recognize Him not in the whims of man, but in the Divine Will so that the Evil One does not deceive them with his cunning.
Unite yourselves to Christ, unite yourselves to our Queen and Mother, it is urgent that you fulfill this request. Do not postpone it, do not forget it, help one another, live in Christ, breathe Christ, feed on Christ, you cannot wait any longer.
HE WHO HOLDS BACK THE "MYSTERY OF INIQUITY" WILL CEASE TO BE A HINDRANCE. The Church of Christ is left desolate and mankind suffers the indescribable.
The power of the beast will reside in some current Sanctuaries, the profanation will be total, the children of God will return to the catacombs, the desolation in the center of Christianity arrives, the images are exchanged for idols and the Body and Blood of Our Lord Jesus Christ hidden.
You do not understand that the end of the world is not this, but this generation is purified. Evil uproots the children of God from the right path, that is its main objective: to enlarge its booty of souls.
THEY ARE STRONG MOMENTS, FAITH IS CONTINUALLY TESTED: EVERY HUMAN CREATURE MUST USE THE DISCERNMENT FOR THE SALVATION OF ITS SOUL (Cf. Mk. 8:36), NOT THE DISCERNMENT PROVING FROM ITS EGO, BUT ASKING FOR THE HELP OF THE HOLY SPIRIT. PAY ATTENTION, THE ENEMY SETS TRAPS FOR YOU.
Pray for Ecuador, Guatemala suffer because of their volcanoes.
Pray for Mexico, California, Italy, they are shaken.
Pray for India, these people suffer.
Pray for France, instability is coming.
Pray for Argentina, chaos takes it.
The diligent work of the People of God is necessary at this time.
YOU MUST PLAN A WORLDWIDE DAY OF PRAYER FOR JUNE 15.
I bless you, do not fear, be one. Act, do not fear, be converted.
In the unity of the Sacred Hearts,
St. Michael the Archangel
HAIL MARY MOST PURE, CONCEIVED WITHOUT SIN
HAIL MARY MOST PURE, CONCEIVED WITHOUT SIN
HAIL MARY MOST PURE, CONCEIVED WITHOUT SIN