Saturday, July 3, 2021
The Unity of the People of God is Essential at This Time More Than at Other Times!
Message of Saint Michael the Archangel to His Beloved Luz De Maria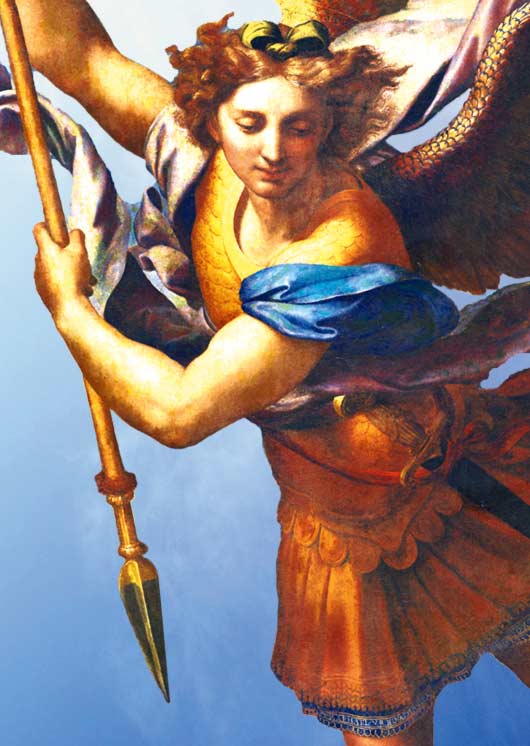 Beloved People of God:
I bless you, remain faithful to the Sacred Hearts, asking for the Gift of Love.
PROCLAIM THE GREATNESS OF OUR KING AND LORD JESUS CHRIST, WORSHIP HIM, REVERENCE HIS NAME, EVEN IF THOSE AROUND YOU DO NOT BELIEVE, DO NOT BE AFRAID TO PROCLAIM YOUR FAITH IN THE ONE AND TRIUNE GOD.
The UNITY OF THE PEOPLE OF GOD is essential at this time more than at other times, in view of the acceptance in the Church of all that is pagan, diverting with these modernisms the true Magisterium in exchange for shamefully profane acts.
Be true, be creatures who do not accept modernisms , be lovers of the Divine Blood of Our King and Lord Jesus Christ, knowing that you have nothing to fear because you are protected by My Heavenly Legions.
You must pray with your heart, you must pray for your conversion and that of your brothers so that they may come out of the darkness in which they live.
So many whited sepulchers who go from failure to failure, before their own "ego" that prevents them from doing good!
So many spend their days without stopping to meditate on what they will experience at the Warning (1), being disobedient and not having decided to restructure their life towards the good!
There are so many whited sepulchers, imposing, demanding, who boast of themselves, looking at their self!
People of Our King and Lord Jesus Christ, the Earth is shaking strongly, you must keep provisions of what is specifically necessary for survival, not only personal and family, but of the brethren. Store honey, this food is beneficial. At the same time store what is possible for each of you.
The purification of humanity continues. Great events come from water, wind, volcanoes, and so many other products of man himself. Hunger spreads in the countries (2). The sun continues to send its effects on the Earth, which will make humanity go backwards.
The prayer of the Holy Rosary is important, Our Queen and Mother listens to those who pray it with the heart.
People of God, pray for the unforeseen and devastating effects of nature on Earth.
People of God, pray that the awareness of this critical moment may grow in the children of God.
People of God, pray, France suffers. The United States, Indonesia, Costa Rica, Colombia and Bolivia are strongly shaken.
People of God, pray, the Church welcomes innovations, Our King and Lord Jesus Christ, bleeds; Our Queen, weeps.
PEOPLE OF GOD, YOU WILL LOOK AT THE FIRMAMENT AND WITH WONDER YOU WILL CRY OUT TO THE NAME OF GOD, ONE AND TRIUNE.
ADORE, REPAIR, LOVE GOD, ONE AND TRIUNE, BE FAITHFUL, WITHOUT HIDING THE FAITH YOU PROFESS.
Our Queen and Mother carries you in Her Heart.
Our King and Lord Jesus Christ has your names written in His Heart with His Divine Blood.
Receive peace, blessings.
St. Michael the Archangel
HAIL MARY MOST PURE, CONCEIVED WITHOUT SIN
HAIL MARY MOST PURE, CONCEIVED WITHOUT SIN
HAIL MARY MOST PURE, CONCEIVED WITHOUT SIN
(1) On the Great Warning, read...