Saturday, July 31, 2021
I Speak to You and You Are Indifferent.... You Offend Our King and Lord Jesus Christ with Such Indifference and Irreverence.... and You Continue Without Stopping!
Message of Saint Michael the Archangel to His Beloved Daughter Luz De Maria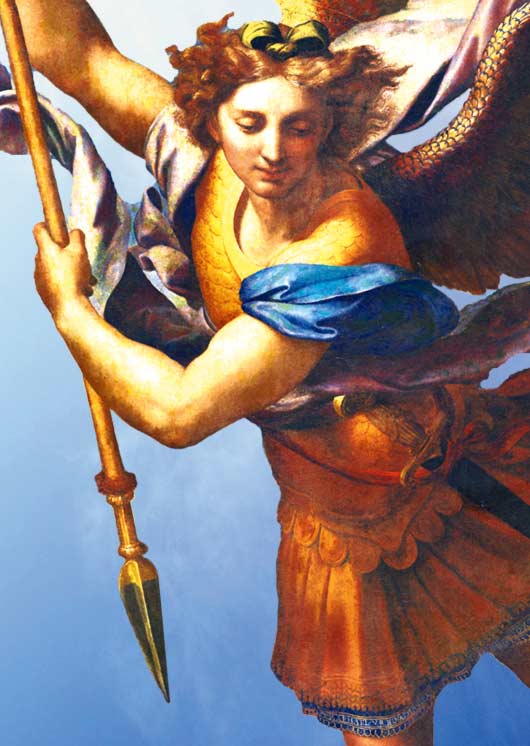 People of God, beloved People of God:
I come with the Word from on High by Trinitarian Will.
I SPEAK TO YOU AND YOU ARE INDIFFERENT....
YOU OFFEND OUR KING AND LORD JESUS CHRIST WITH SUCH INDIFFERENCE AND IRREVERENCE.... AND YOU CONTINUE WITHOUT STOPPING.
See how much other human creatures live on Earth and they are immutable! The devastations ride from place to place until they run all over the Earth, in the face of uncontrollable mankind giving themselves over to evil, like sheep to the slaughter.
People of God, the purpose of evil to reduce the number of inhabitants on Earth is underway.
What persecution are you waiting for, People of God?
Persecution has begun (1) and it is more incisive and visible against the children of God.
YOU MUST CONTINUE TO GROW SPIRITUALLY. Do not be satisfied with what you have achieved; the works and acts are what lead you to grow, but what drives you to ascend is the conscience in working and acting within the Trinitarian Will.
You know that it is not fear that I transmit to you, but the knowledge of what you must know so that you do not lose your soul: this is the Divine Will. (I Pet. 2:15)
Pay attention to every announcement you receive as the People of God so that you will not be deceived. The knowledge and practice of the Faith will keep you firm, without giving up.
HEED THE CALLS OF YOUR FATHER'S HOUSE!
You are witnesses of the fulfillment of what you have received and what has already been unleashed, until you reach the moment of the Warning.
Be persevering in the Faith towards the Holy Trinity, in the love and devotion towards Our Queen and Mother under the title of Queen and Mother of the End Times. (2)
Persevere, grow and at the same time, be humble.
People of God, keep in mind that you have been warned about the war, which will surprise you without great previous announcements. (3)
Pray children of God, pray, you will hear roars in the Balkans.
Pray children of God, pray, Turkey is suffering to the point of exhaustion.
Pray children of God, pray, betrayal is in Italy, the Church suffers.
People of God, do not disperse in the banal, be aware of this moment.
Pray, Italy will be invaded in yellow when in different countries social revolts abound.
People of God:
COME TOGETHER NOW!
DO NOT DELAY IN ACCESSING GRACE, DO NOT FEAR, KEEP THE FAITH. YOU ARE GOD'S PEOPLE AND YOU WILL NEVER BE ABANDONED.
This is the crucial moment for the human creature. In difficult moments the greater is the assistance of Our Queen and Mother and even greater is Her Help for the People of Her Son. You must keep active the close relationship with your Guardian Angels, My Legions will help you to remain faithful.
AS GOD'S PEOPLE, AT THE HEIGHT OF TRIALS, YOU WILL BE FURTHER ASSISTED BY MY LEGIONS. FOR THIS YOU NEED FAITH IN THE DIVINE WILL, ABSOLUTE FAITH, NOT HALF FAITH.
As Prince of the Heavenly Legions, I bless and protect you.
Long live Christ the King!
St. Michael the Archangel
HAIL MARY MOST PURE, CONCEIVED WITHOUT SIN
HAIL MARY MOST PURE, CONCEIVED WITHOUT SIN
HAIL MARY MOST PURE, CONCEIVED WITHOUT SIN
(1) About the Great Persecution, read...
(2) Advocation Queen and Mother of the End Times ...