Monday, August 9, 2021
Wake Up, Children! You Are the Generation I Have Called to Be the Doers of My Will.
Message of Our Lord Jesus Christ to His Beloved Daughter Luz De Maria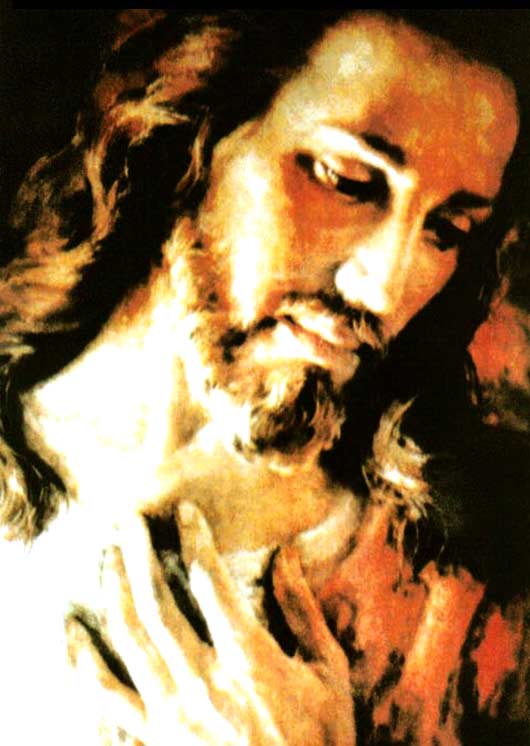 My beloved People, I bless you.
AS MY CHILDREN I HOLD YOU IN MY SACRED HEART.
YOU ARE THE GENERATION I HAVE CALLED TO BE THE DOERS OF MY WILL.
How much you have yet to live before you come face to face with the Warning! (1)
What they will live, they will bear it with growing Faith, with love, unity, fraternity and obedience, being human creatures with a generous, contrite and humiliated spirit (Ps. 50:17). The proud will be consumed in their own pride, as the unjust in their own injustice.
My People will be put to the test in Faith, in morals, in social matters, in education, in the economy, in health and in technology because humanity is a challenge for Freemasonry (2), which set out to keep My People bound and is succeeding.
WAKE UP, CHILDREN!
AWAKEN, DO NOT CONTINUE TO SLEEP.
I have revealed so much to you about this moment which has already arrived and most of My children do not believe nor wish to accept that great catastrophes occur, for fear of their spiritual state.
Mankind desires to live as in the past and will not succeed. They will continue to live but with fear because they knew everything that happens in advance. I announced it to them, My Mother announced it to them, My beloved St. Michael the Archangel announced it to them and they did not believe.
They are in world chaos. Much of it is a consequence of the lack of spirituality in the human creature.
They move in lies, in self-pity, in denial and this is leading them to self-destruction.
My beloved People, the earth continues to tremble.
Pray for Chile and Peru.
Pray for France and Germany.
Pray for Japan.
Pray for Mexico.
Pray for China.
The plague continues as a manifestation of the evil plan of evil.
Pray for Africa.
Pray for Israel.
Pray for Holland.
Communism (3) advances without being stopped; it obfuscates My People with an iron hand, it persecutes and oppresses them. This will have its end and the Immaculate Heart of My Mother will triumph.
I urge you to take into account the signs and signals. What is happening will lead you to the fulfillment of the Warning.
PREPARE, REPENT, BE CONVERTED!
My people, even some of you deny the Warning..... To deny the Warning is to deny that My Mercy gives you an opportunity.
YOU WILL LOOK AT THE FIRMAMENT WITH FEAR AND WILL NOT KNOW WHAT TO DO. CALL UPON MY NAME, AND UTTER:
HAIL MARY MOST PURE, CONCEIVED WITHOUT SIN
Persecution increases... (4) Do not be partakers of the blood of an innocent, collaborating.
Do you find yourselves fearful?
Where is your faith?
AM I not your God (Ex. 20:2), who protects you and defends you from your oppressors, keeps evil away from you, if you show your faith in Me?
HEED MY CALLS, DO NOT DESPAIR, STAND FIRM.
I DO NOT ABANDON MY PEOPLE, WHOM I HAVE CALLED, I WILL SEEK THEM WHERE I HAVE CALLED THEM.
I bless My People, My faithful People. I love you children.
Your Jesus
HAIL MARY MOST PURE, CONCEIVED WITHOUT SIN
HAIL MARY MOST PURE, CONCEIVED WITHOUT SIN
HAIL MARY MOST PURE, CONCEIVED WITHOUT SIN
(1) The great WARNING of God is coming, read ...
(4) On the great persecution, read ...
COMMENTARY OF LUZ DE MARIA
Brothers, at the end of this Call Our Lord Jesus Christ has spoken to me, leading me to look at what He says to me:
My daughter, you must strengthen My People so that they may keep the Faith, so that they may be strong and firm.
I looked at a number of brothers who mocked the announcements that Heaven has given us and those that it continues to give us.
He says to me:
This moment brings you closer to the Warning and you must repent of the evil committed and the good that you have failed to do. You must prepare yourselves, examine yourselves and not lie to yourselves. This moment is urgent for them to look at themselves without reserve and repent.
I watched a number of brothers around the world repenting of their wrongdoings. But I was allowed to look at the end at the separations in families due to some telling on others and separating them.
Then I watched as Our Blessed Mother poured water in the form of drizzle on the People of God and the sick were healed.
Amen.