Sunday, August 15, 2021
Rise Up, People of God! Rise Up with the Strength Emanating from the Holy Spirit!
Message of Saint Michael the Archangel to His Beloved Luz De Maria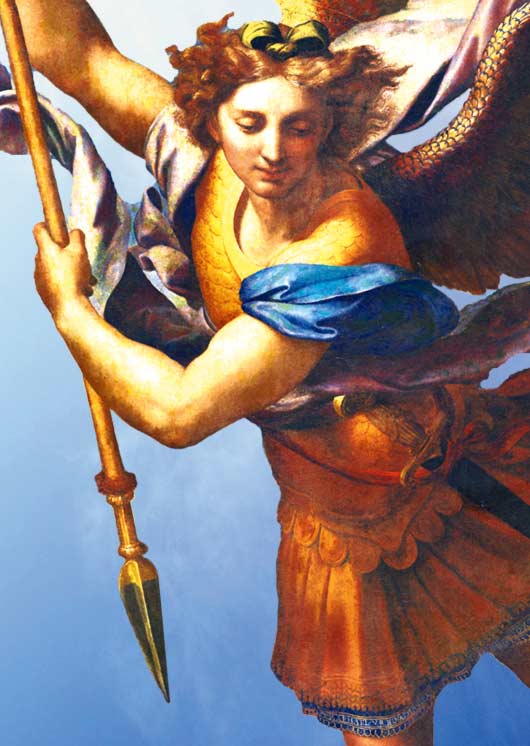 Beloved People of Our King and Lord Jesus Christ:
ADORED BE OUR KING FOR EVER AND EVER
AND MAY OUR QUEEN AND MOTHER BE FOREVER VENERATED IN EVERY PLACE.
Beloved People, the darkness that spreads evil wherever it passes makes human creatures permeable to the insinuations of the Devil. It is because of this that from the Paternal House we warn you in a constant and urgent call to conversion.
Humanity is dominated, it is constantly dragged along by the elite, without having yet implemented any controller in the body of the human creature. Every item you purchase or the technology with which you communicate with your brethren is used to maintain control of your every move.
The elite stalk you from all sides without you wanting or seeking it. You are in the hands of the greatest manipulators of this generation who maintain one goal: to take you captive, to make you their captives, their vassals, and to persecute you in an attempt to break you.
You will once again subsist by exchanging food and other items to feed or clothe yourselves. It will not be easy for the People of God to continue, although it will not be impossible for them, before the Divine Help, the intercession of Our Queen and Mother and Our defense.
YOU ARE NOT ALONE, YOU MUST HAVE MORE FAITH AND FOR THAT YOU MUST KNOW OUR LORD AND KING JESUS CHRIST. (I Cor 2,2)
Human creatures get upset very easily, aggressiveness is uncontrollable in mankind and evil takes care of it.
It is necessary for you to grow spiritually so that you will not be confused when you receive greater news that will shake you in the Faith. Those who keep the Faith firm, trusting in Our King and Lord Jesus Christ and His Promises, will continue on the path.
You continue in the face of the fury of the elements. Humanity is going towards the earth shaking with greater intensity and the geography of the Earth is changing.
KEEP FIRM FAITH WITHOUT DESPAIRING. OUR QUEEN AND MOTHER KEEPS HER MANTLE OVER THE PEOPLE OF HER SON.
At this time you must pray for all mankind. Those who are safe are those who remain with firm Faith, even if the Church itself wishes to lead them into other stormy waters.
Our King and Lord Jesus Christ sees with pain that the spiritual life of the majority of His children is wandering aimlessly....
RISE UP, PEOPLE OF GOD!
RISE UP WITH THE STRENGTH EMANATING FROM THE HOLY SPIRIT.
The Church is intimidated to open its doors to novelties that are profanations and to welcome other pseudo religions.
Beloved of Our King and Lord Jesus Christ be faithful, do not give up, continue faithful without declining in the Faith in these critical moments for the Church of Our King and Lord Jesus Christ.
Pray for Bolivia, pray promptly.
Pray for Central America, pray without declining.
Pray for Mexico, it is purified in great measure.
Pray for Argentina, it is shaken and its people are inflamed.
The sun is strongly affecting the Earth; you will see its effects on both sides of the globe with such frequency that it will be difficult for countries to help one another.
Beloved People of Our King and Lord Jesus Christ: stay in your country if it is not of extreme necessity to leave it, the trials will continue, being difficult for you to return before the new measures that the elite as a whole order to be imposed globally.
Volcanoes erupt, anguish grips humanity.
YOU ARE NOT ALONE, BE TRUE CHILDREN OF THE KING.
THE POWER OF GOD IS ABOVE ALL HUMAN POWER.
Believe in Almighty God, in the Mystery of the Holy Trinity and love Our Queen and Mother.
Call us, we are here to help you.
HOLY, HOLY, HOLY IS THE LORD KING OF HOSTS,
THE HEAVENS AND THE EARTH ARE FULL OF HIS GLORY.
I bless you.
St. Michael the Archangel
HAIL MARY MOST PURE, CONCEIVED WITHOUT SIN
HAIL MARY MOST PURE, CONCEIVED WITHOUT SIN
HAIL MARY MOST PURE, CONCEIVED WITHOUT SIN