Tuesday, September 14, 2021
As Commander of the Heavenly Host I Call You to Commit Yourselves to Our Queen and Sorrowful Mother.
Message of St Michael the Archangel to His Beloved Luz De Maria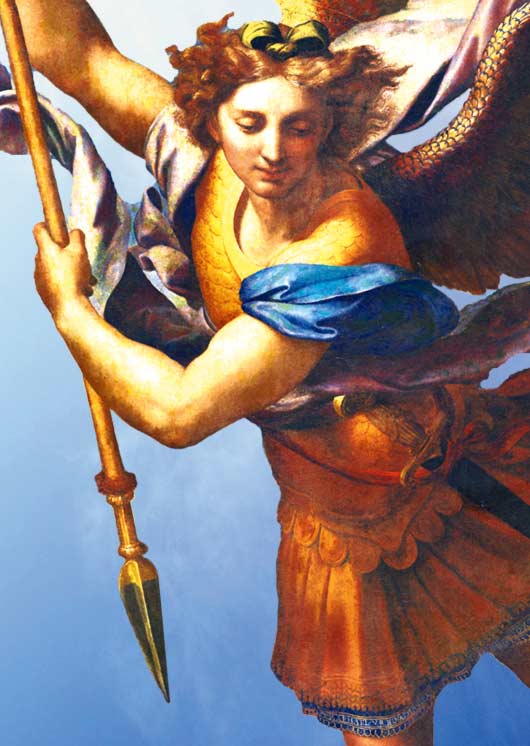 Beloved People of Our King and Lord Jesus Christ:
AS COMMANDER OF THE HEAVENLY HOST I CALL YOU TO COMMIT YOURSELVES TO OUR QUEEN AND SORROWFUL MOTHER.
Every human being is an expression of Divine Love and Motherly Love. Our Queen and Mother calls you in order to lead you to Her Son, who gave Himself on the Cross as the Gentle Lamb for the sins of humanity.
Our Queen and Mother does not rest:
SHE INVITES AND EXHORTS YOU CONTINUALLY TO CONVERSION, TO PRAYER, TO PENANCE...
Have you repented of your wrongful works and actions so that, having repented, you might set out on the path to Salvation?
There are those who are still indifferent to what they see before their eyes. They wish to ignore the truth of this time in order not to think and not to change their lives. Creatures of delusion! Without changing your lives, without the desire and readiness for conversion, you will not be able to save your souls.
The flames of hell (1) are a terrible torment and our Queen and Mother suffers due to the disobedience of humanity.
ON THIS DAY, MAKE REPARATION FOR HAVING MADE THE IMMACULATE HEART OF OUR QUEEN AND MOTHER SUFFER.
WITHOUT WASTING TIME, MAKE REPARATION, REPARATION...
BEFORE IT IS TOO LATE.
Pray, pray for France: it is in danger.
Pray, pray: Mount St Helen's will bring calamity - pray.
Pray, pray: Turkey needs conversion - it will cause pain for humanity.
Beloved People of Our King and Lord Jesus Christ, prepare yourselves spiritually, be fraternal, protect yourselves, keep the Commandments and examine them.
BE THE PEACE that humanity does not have....
BE THE BLESSING that humanity does not offer...
BE OBSERVANT regarding what I convey to you by Divine Will.
May peace be the instrument within you for overcoming evil.
Do not fear: Heaven protects you at all times, do not fear.
I bless you, I defend you from all evil.
Honor the Queen and Sorrowful Mother.
St Michael the Archangel
HAIL MARY MOST PURE, CONCEIVED WITHOUT SIN
HAIL MARY MOST PURE, CONCEIVED WITHOUT SIN
HAIL MARY MOST PURE, CONCEIVED WITHOUT SIN
(1) Read about the existence of hell…
COMMENTARY OF LUZ DE MARIA
Brothers and sisters:
In this successive wave of events in which we find ourselves, giving our hand to the Blessed Mother and trusting in Her Maternal Help is what St. Michael the Archangel is calling us to today, so that the Sorrowful Mother would lead us to Her Son.
Brothers and sisters: conversion, prayer, fasting and penance.
On this day especially let us unite ourselves with Our Lady of Sorrows, let us meditate on each one of them:
First Sorrow - The affliction caused to her tender heart by the prophecy of the aged Simeon when he said to her, "a sword shall pierce your soul." (Hail Mary)
Second Sorrow - The anguish suffered by her most sensitive heart during the flight to and stay in Egypt because Herod wanted to kill the Child. (Hail Mary)
Third Sorrow - The grief experienced by her kind heart on losing her Son Jesus [in the Temple]. (Hail Mary)
Fourth Sorrow - The dismay felt by her motherly heart when she found her Son Jesus carrying the Cross. (Hail Mary)
Fifth Sorrow - The martyrdom of her generous heart in assisting her Son Jesus during his agony. (Hail Mary)
Sixth Sorrow - The wound suffered by her pious heart when the spear opened the side of her Son Jesus. (Hail Mary)
Seventh Sorrow - The grief and helplessness suffered by her most loving Heart at the burial of her Son Jesus. (Hail Mary)
Pray for us, most sorrowful Virgin, that we may be worthy of the promises of Christ.
Amen.