Tuesday, September 21, 2021
Children, Once Again I Come to You to Call You to Reject Sin and to Know Me Properly So That You Will Not Be Confused So Easily.
Message of Our Lord Jesus Christ to His Beloved Daughter Luz De Maria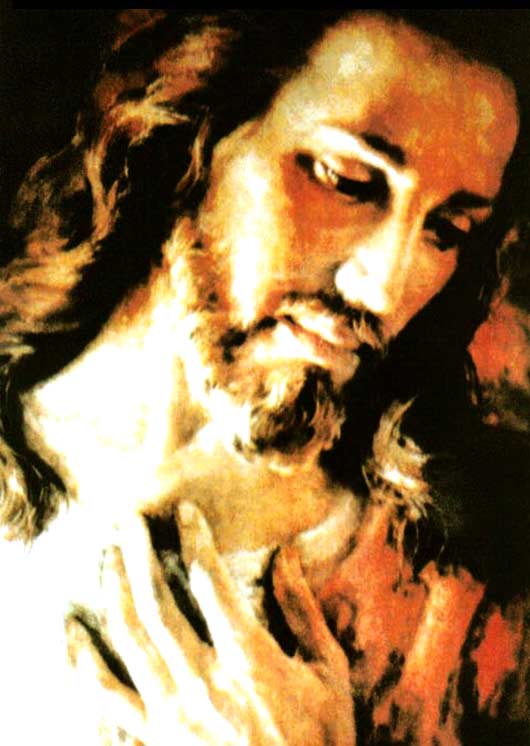 Beloved children, receive My Blessing. You are My People, whom I love.
CHILDREN, ONCE AGAIN I COME TO YOU TO CALL YOU TO REJECT SIN AND TO KNOW ME PROPERLY SO THAT YOU WILL NOT BE CONFUSED SO EASILY.
They have refused to KNOW ME, because of this they do not RECOGNIZE ME, they despise the Commandments, the Sacraments, the Eucharistic Celebration and receiving ME properly. This is for a great part of Mine, a symbolism, a waste of time in which they receive Me for appearance's sake.
Without listening to the Calls of the Paternal House, they continue You create laws to favor the slaughter of innocents, among other laws, which lead humanity to suffer for this most grievous sin.
THEY ARE UNKNOWN BY CREATION....
IT IS THE GENERATION THAT REBELS AGAINST THEIR LORD AND THEIR GOD.
The conceited human ego is ignorant of Charity for the neighbor....
Disobedience is the nourishment of many human creatures....
Loyalty is an absurdity, therefore My People are in great danger before the lack of sincerity and fraternal love with which they would survive if they would protect one another.
These are critical moments for My People in which, by allowing with extreme gentleness to be led astray, the human creature has given itself over to the wolves, like sheep without a shepherd. (Mk 6:34)
Greater and terrible sufferings await you, crises of all kinds, persecutions for being My children, for being different from the rest who plunge into sin and disobedience.
THE MOMENT HAS COME.... Social uprisings are growing, communism (2) is poised to attack mankind and plunge them into war. (3)
You are closer to the Warning. (4)
THINGS WARNED BY MY HOUSE ARE BEING FULFILLED IN YOUR EYES AND WILL CONTINUE TO BE FULFILLED. THE WHEAT IS BEING SEPARATED FROM THE TARES.
NOT ALL WHO ARE CALLED MY CHILDREN COME TO THE END.
Store up food, it will be scarce. Prepare the Blessed Grapes (5) and store honey.
Have with you the Oil of the Good Samaritan (6) and the Medicines (7) that My House has made known to you.
Have with you the Geranium, called by My children the Oil of Saint Michael the Archangel in honor of My beloved Archangel.
YOU ARE CLOSER TO THE WARNING....
EXPECTED EVENTS AND EVENTS PRECEDING THE WARNING MAY HAPPEN IN A FEW DAYS. HUMANITY'S SPIRITUAL MISERY IS LEADING IT TO THE ABYSS.
You are ashamed to pray, to bless and to be fraternal before the heart of stone that many of My children possess.
LOVE IS EXTINGUISHED ... The Devil extinguishes it before an empty humanity, devoid of Me and devoid of feelings.
My Children must not fear, My Mercy protects them and My Most Holy Mother keeps them covered by Her Mantle.
GO FORWARD MY PEOPLE! Go forward with Faith, with Hope, with the assurance of the New Heaven and the New Earth (Rev. 21:1).
MY ANGEL OF PEACE LOOKS AT YOU CONSTANTLY WITH INFINITE LOVE AND FROM NOW ON! HE PROTECTS YOU.
Go forward without fear, you are My People, do not stop, I carry you in My Heart.
With Eternal Love,
Your Jesus
HAIL MARY MOST PURE, CONCEIVED WITHOUT SIN
HAIL MARY MOST PURE, CONCEIVED WITHOUT SIN
HAIL MARY MOST PURE, CONCEIVED WITHOUT SIN
(4) About the Warning, read...
(5) On the Blessed Grapes, read...
(6) On Good Samaritan Oil, read...
(7) On the Medicines given by Heaven, read... (orignal PDF)
COMMENTARY BY LUZ DE MARIA
Brethren:
Our Lord Jesus Christ has expressed that the time hastened.
He said:
"You enter into an accelerated time of events, the Faith is tested.
Tell them that I Am Infinite Mercy.
Tell them that each one pray for himself, not forgetting his neighbour."
Amen.