Sunday, September 26, 2021
Our King and Lord Jesus Christ, Infinite Mercy, Asks His Mother Not to Stop the Arm of God Any Longer Before More Children Are Lost.
Message of Saint Michael the Archangel to Luz De Maria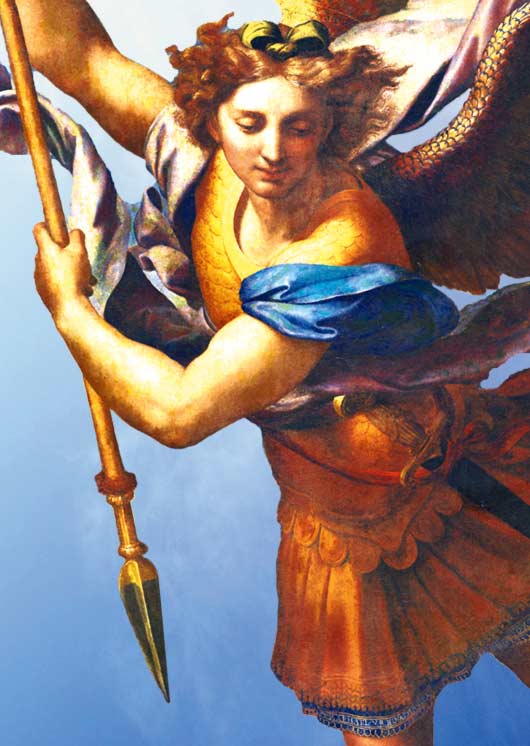 Beloved People of Our King and Lord Jesus Christ:
UNITED AS CHILDREN OF THE SAME KING , I SUMMON YOU TO JOIN MY HEAVENLY LEGIONS, THAT TOGETHER WITH THEM, YOU MAY FIGHT AGAINST SIN AND THE INIQUITY OF THE DEVIL. (2)
Signs in Heaven and on Earth mark the path of humanity, without the People of God raising their gaze to Heaven.
It is because of mankind's indifference and their great unbelief that they will continue to suffer. They do not fear God, they live in immorality, in disobedience, in the mire of sin.
OUR KING AND LORD JESUS CHRIST, INFINITE MERCY, ASKS HIS MOTHER NOT TO STOP THE ARM OF GOD ANY LONGER BEFORE MORE CHILDREN ARE LOST.
As this moment accelerates, suffering doubles and sin grows. Disobedience, ungodliness and unbelief are driven by the majority of mankind to scourge the People of Our King and Lord Jesus Christ.
In defense of the children of Our King and Lord Jesus Christ we advance in expectation of the sign given by Our King to come to the aid of the souls who continue to be faithful.
HAVE YOU FORGOTTEN THAT THIS GENERATION WILL BE SEVERELY SCOURGED BY FIRE?
HOW THEY CONTINUE TO SIN!
They will see the very Earth itself burn when it cracks....
Increased volcanic activity will let out fire, smoke and gases that will prevent the survival of much of humanity.
In the shuddering of the earth I see so many fall prostrate in fear and then continue into sin.
The sun will be darkened and the moon will not be seen to shine before the smoke of volcanoes.
It must be you yourselves, who have offended Our King and Lord Jesus Christ, who make reparation, pray and love for all that the Divine Will has given you and you have despised.
You continue in human folly until the great Chastisement comes upon this perverse generation.
Prepare provisions, according to the possibilities of each.
Pray children of God, pray for Argentina, the people revolt.
Pray children of God, pray for Brazil, it suffers to be purified.
Pray People of God, pray for the Balkans, strategies for war are prepared.
Pray children of God, pray for Bali, the Agung volcano causes great fear.
As Prince of the Heavenly Legions I call you to prepare yourselves, to convert and to dispose yourselves to the inner change; otherwise the attainment of conversion is going to be difficult for you.
Pride leads human creatures to fall.... Be careful!
Children of God, do not fear, walk softly without hurting your fellow men.
Children of God, be humble servants of Our Queen and Mother so that under Her Shelter you may continue to be in Her likeness, creatures of Faith.
YOU HAVE NOT BEEN ABANDONED BY THE HAND OF GOD.
HAVE FAITH AND EXCHANGE FEAR FOR A FIRM PURPOSE OF AMENDMENT.
I bless you, People of God.
St. Michael the Archangel
HAIL MARY MOST PURE, CONCEIVED WITHOUT SIN
HAIL MARY MOST PURE, CONCEIVED WITHOUT SIN
HAIL MARY MOST PURE, CONCEIVED WITHOUT SIN
(2) On the spiritual combat, read...
COMMENTARY BY LUZ DE MARIA
Brethren:
We are continually alerted about the coming events.... Let us react!
At the moment when St. Michael the Archangel was speaking to me, he allowed me to look:
Numbers of human creatures sheltered by the Heavenly Legions were being taken out of places in great danger as a result of the action of nature.
I could see Celestial Legions taking human creatures by the hand and leading them to places where they would be safe.
Looking at these scenes I said to St. Michael the Archangel:
Only Merciful God saves His children, even if we do not deserve it.
And St. Michael answered me:
"Beloved of Our King and Lord Jesus Christ:
The human creature cannot imagine how far Divine Mercy reaches.
His faithful will be brought to safety so that nothing will touch them."
Amen.