Monday, November 1, 2021
Children of Our King, pray, darkness is imposed upon the Earth, darkness not from the Divine Hand
Message of Saint Michael the Archangel to His Beloved Luz De Maria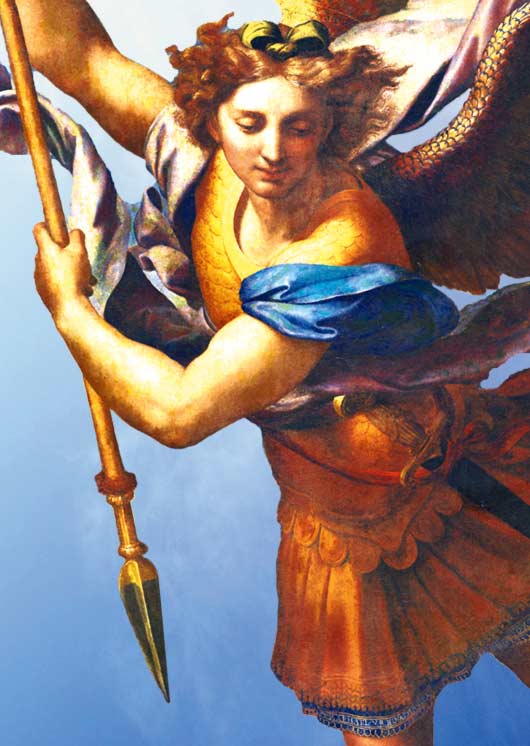 Beloved People of our King and Lord Jesus Christ:
THE WORD FROM ON HIGH IS THOU SHALT SEE.
As Prince of the Heavenly Legions, I defend you before evil, together with my Legions.
I STAND WITH SWORD HELD HIGH....
I HAVE MY ARM READY TO GIVE THE COMMAND TO MY LEGIONS AND ACT IN A SPECIAL WAY IN SAVING THE CHILDREN OF OUR LORD AND KING JESUS CHRIST.
As a generation you have allowed yourselves to be deceived, embracing that which is contrary to the Law of God; a Law which leads every human creature to stand in its center of gravity, with the aim that there should be no division between the natural and the spiritual of the human creature.
What is ordained in the Law of God must lead the human creature to be an expansion of the Divine Will, who governs everything. Therefore, he who knows the Law of God conducts himself righteously within the knowledge and fulfillment of the Commandments.
PRACTICE THE LAW OF GOD , do not mention it by heart, but behind each statement find how much of it is broken down and you do not yet fulfill.
KEEP BEING MORE SPIRITUAL , separate yourselves from the worldly so that you do not fall into ignorance and because of it be ruled by a personal criterion, not reaching to differentiate what is good from what is bad.
People of God:
There are so many false doctrines without spirituality, without leading to holiness and fraternity, where the objective is to form arrogant creatures, know-it-alls, who do not accept the Holy Doctrine and go from one place to another. These creatures without love in the heart are maintained by their own interests.
In Christianity, spirituality forms:
Human creatures guided by the Holy Spirit, in search of the virtues and gifts of the true Liturgy, the Sacraments and the Commandments.
Creatures overflowing in charity, understanding and love for their neighbor.
Creatures of firm Faith and of knowledge.
SPIRITUALITY LEADS TO THE PURSUIT OF HOLINESS.
To seek in other waters what you think you cannot find in Holy Scripture, is a sign that you are not creatures disposed to unity nor to the knowledge that leads you to Order, Love and Faith.
People of Our Lord and King Jesus Christ:
This is the time when the human creature will come to rebel against their rulers, those who have led them to suffer.
Uncertainty comes to humanity in the face of the death of so many brothers and sisters. Uncertainty before the coming famine, before the steps of war that will be more evident, as they will pass from threats to weapons, from provocations to action, agitated by the demons that prowl the Earth and against whom we have been sent to fight.
Children of Our King and Lord Jesus Christ, pray the Holy Rosary with the heart.
Receive Our King in the Holy Eucharist properly prepared so that you may not condemn yourselves by receiving Him in a state of sin.
Be creatures of peace so that the devil may not possess you. Satan's aim is to subdue you. As the People of God, do not admit it.
You will be partakers of signs in Heaven that you will not know how to explain.
You are called to love and to remain in the service of the Most Holy Trinity in search of souls so that they will not be lost.
Children of Our King, pray for America, the restlessness of creatures will lead to protest and covid regains strength.
Sons of Our King, pray, the great nation will call for the retirement of its ruler and ascend a woman.
Children of Our King, pray, volcanoes with great force continue to awaken, preventing air travel. The earth shudders causing greater distress.
Children of Our King, pray, darkness is imposed upon the Earth, darkness not from the Divine Hand.
People of Our King remain vigilant, communism advances and engages in battle using the arts of the devil to defeat your peoples who will claim freedom. All over the Earth there will be uprisings, therefore My Celestial Legions remain with you.
PAY ATTENTION! They have provoked shortages to create social chaos.
Hurry, do not wait for signs to act because you will fail to prepare.
Live in expectation, so go into Divine Love, ask for Divine protection and the protection of Our Queen and Mother of the End Times.
Treasure the medicines that Heaven has given you, do not despise them. (1)
Stand together, be fraternal, united, united, united.
CHRIST CONQUERS, CHRIST REIGNS, CHRIST RULES.
In fidelity and love to the Holy Trinity,
Saint Michael the Archangel
HAIL MARY MOST PURE, CONCEIVED WITHOUT SIN
HAIL MARY MOST PURE, CONCEIVED WITHOUT SIN
HAIL MARY MOST PURE, CONCEIVED WITHOUT SIN
(1) Medicines that Heaven Has Revealed... (Download PDF)
COMMENTARY BY LUZ DE MARIA
Brothers:
Tonight I was allowed to look at part of the Heavenly Legions.
I looked upon St. Michael the Archangel imposing with his armor and sword held high, yet His goodness and love remain in Him.
He allowed me to look at several countries in South America participating in social revolts, I also looked at Cuba.
I looked at the Earth in darkness and in the midst of darkness, I looked at human creatures attacking brothers, but the Heavenly Legions came to the rescue of the People of God.
I saw creatures praying in secluded places or in dwellings. However, the presence of the Heavenly Legions is felt by the People of God and by those who are converted, giving strength and hope to human creatures.
St. Michael the Archangel,
give me of Thy faithfulness to be faithful as Thou art.
Amen.