Thursday, November 4, 2021
Chaos is brought about by the majority of the leaders of the nations submitted to the powerful of the world, who have given themselves to the service of the Devil
Message of Saint Michael the Archangel to His Beloved Luz De Maria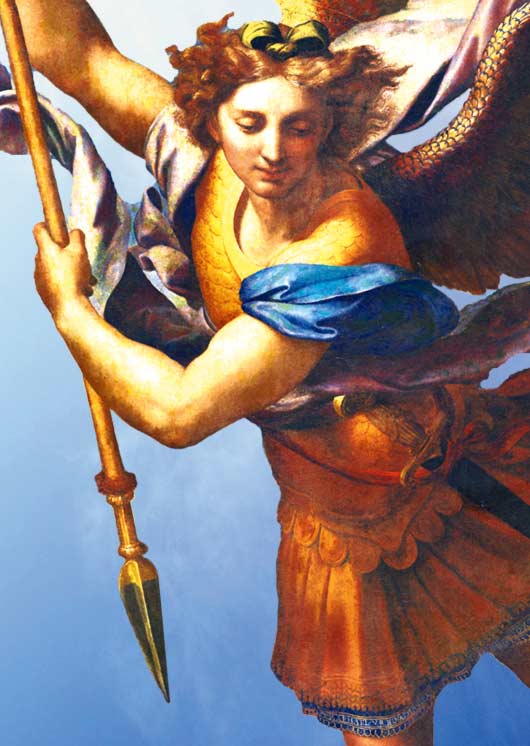 People of God, beloved People of God:
As Prince of the Heavenly Legions I call you to be all of Our King and Lord Jesus Christ, asking at the same time with reverence and humility Our Queen and Mother of the End Times for her constant protection.
Beloved ones:
THESE ARE DIFFICULT TIMES, VERY DIFFICULT TIMES FOR THOSE WHO WISH TO CONTINUE TO ACT AND WORK WITHIN THE GOOD.
Chaos is brought about by the majority of the leaders of the nations submitted to the powerful of the world, who have given themselves to the service of the Devil.
Humanity is confused as if it were at this moment in the Tower of Babel (Gen 11,1-9). They do not understand each other, their behavior and actions within the same household are totally different one from the other.
I bless those who with love, trust and hope keep the Faith in the Holy Trinity, finding in prayer and fraternal self-giving the strength that leads them to remain firm in the Faith.
I bless you in a special way, for recognizing this moment, you do not fall into fear or despair, but remain confident in the Divine Protection, despite the indifference of the human creature in whom the spirit of lukewarmness has taken root.
Go forward strengthened before the announcements of Heaven which enable you to mend yourselves and grow spiritually to face every adversity that will come your way.
BE ATTENTIVE HUMANITY! The minions of the Devil lure you to dominate you, leading you into slavery, accustoming you to be bearers of that which is prior to the seal of the antichrist.
Pray People of God, pray for one another with true brotherhood.
Pray People of God, pray for Serbia, pain will come to this land.
Pray People of God, pray for America, nature will scourge her.
Pray People of God, pray for Syria, it is a land of conflict.
Pray People of God, pray, summer is chaotic.
Beloved People of God, when you see that events are stronger, pray, pray in spirit and truth. Those who have despised the Holy Trinity, Our Queen and Mother, repent before it is too late.
PREPARE YOURSELVES! This generation will return forced to find in nature what it has destroyed and will need to survive.
Keep in mind that for skin disease geranium is a noble plant that you can use externally. Our Queen and Mother has already recommended it.
The human creature in his lust for power will pollute the earth, will put to death his brother without repentance, will rejoice in his wickedness and then suffer to his heart's content.
Beloved People of God :
NOT ONLY SORROW AWAITS THIS GENERATION, BUT THE FRUITS RECEIVED BY THOSE WHO REMAIN FAITHFUL TO DIVINE LOVE.
CHRIST CONQUERS, CHRIST REIGNS, CHRIST RULES
St. Michael the Archangel
HAIL MARY MOST PURE, CONCEIVED WITHOUT SIN
HAIL MARY MOST PURE, CONCEIVED WITHOUT SIN
HAIL MARY MOST PURE, CONCEIVED WITHOUT SIN
COMMENTARY BY LUZ DE MARIA
Brethren:
Before this Call I kneel because of so much Love of the Paternal House towards us, Her children.
I adore You, Father on behalf of all mankind.
Maternal Protection does not wait when it is needed. Therefore, brethren, without fear and with greater confidence. Without fear and more Faith let us continue without faltering.
Queen and Mother of the End Times,
from the clutches of evil, snatch me.
Amen.