Monday, December 27, 2021
Each of the Stars of My Mantle Multiply to Infinity to Illuminate the Path of Each of My Children
Message of the Most Holy Virgin Mary to Her Beloved Daughter Luz De Maria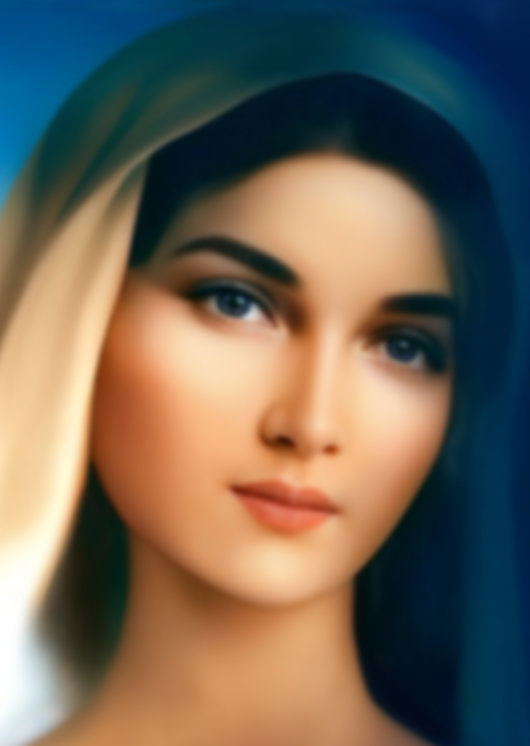 Beloved children of My Immaculate Heart:
UNITED TO MY CHILD JESUS, I CALL YOU TO CONTINUE TOWARD CONVERSION.
It is urgent that you understand that conversion is continuous:
It is of every moment.
It is to carry grafted My Son in the life of communion with Him.
It is to receive Him in the Eucharist, in the fulfillment and living of the Commandments and the Sacraments.
People of My Son, conversion is constant.
THE HUMAN CREATURE MUST RECOGNIZE THAT HE LIVES IN THE PROCESS OF CONVERSION.
Each step of the human creature walking toward conversion is one more step toward living the Sermon on the Mount.
The anxieties in the hearts of My children are constant. Because of this, deciding for a life in My Son gives them peace, gives them hope and increases their Faith because My Son is Love and that receives whoever decides to follow in His Footsteps.
CHILDREN, IF YOU FIND YOURSELVES IN A LIFE OF SIN:
REPENT AND CHANGE!
Call upon Me knowing that alone you will not succeed. I do not abandon you, I am your Mother to keep you by My Side and correct you when you are not on the right path.
Beloved People of My Son, obey the call to humility, to fraternity, to Faith. Faith that increases with the Eucharistic Food, Faith that increases with prayer born of the heart in recollection, without distractions, prayer born of a pure and peaceful heart.
KEEP YOURSELVES ON SPIRITUAL ALERT BECAUSE EVIL BESETS THE PEOPLE OF MY SON.
I invite you to unite as My Son's People and, in His likeness, give to the needy. I ask you for an ACT OF CHARITY with the fellow man by December 29.
I invite you as My Son's People to unite in an ACT OF FRATERNITY towards the neighbor and to help those in need on December 30.
I invite you to unite as the People of My Son and give joy to a child on December 31.
In this way you will begin with a heart centered on good deeds. These acts will manifest to evil that the People of My Son are not asleep.
This January 1st, I invite you to be one with your brother, to love your fellow man, to be grateful for the deeds and acts of your brothers and sisters towards you.
I invite you to be truly improving spiritually. You will improve in being better children of My Son and blessings will be drawn to you.
People of My Son, I look upon those who refuse to change. These children of Mine do not look to themselves and at this time that is very dangerous in the face of the wiles of the Devil.
I call you to pray in your morning prayers to the Holy Trinity to recognize My beloved Angel of Peace.
I call you to pray for the Church of My Son, this prayer is urgent.
Children of My Immaculate Heart I beg your prayer for peace in the world.
I call each of you, who make up the People of My Son, to personal prayer so that each of you may ask for discernment before going to what you are summoned to in general. You have been sealed with the Blood of My Son and need no other seal. Not everything that seems good is so for the human creature.
People of My Son, I love you, I protect you and I bless you.
Pray for your brothers who are blinded by the worldly.
Pray in peace. The salvation of the human creature you can attain at all times even in the last breath of life.
Have Faith. A people with Faith is necessary. Do not lose faith.
EACH OF THE STARS OF MY MANTLE MULTIPLY TO INFINITY TO ILLUMINATE THE PATH OF EACH OF MY CHILDREN.
Receive My special Blessing.
MY IMMACULATE HEART SHALL TRIUMPH.
Mother Mary
AVE MARIA MOST PURE, CONCEIVED WITHOUT SIN
AVE MARIA MOST PURE, CONCEIVED WITHOUT SIN
AVE MARIA MOST PURE, CONCEIVED WITHOUT SIN
COMMENTARY BY LUZ DE MARIA
Brethren:
Brethren, our Mother asks us especially for practices of mercy and to fulfill the Beatitudes as a means for us to learn that not everything is material gestures, but leads us to become aware of the value of works and acts done with love, with repentance, with fraternity, since of these spiritual goods we will need at later times.
Brothers, let us keep the candles lit, for Heaven has announced to us that it is being fulfilled. The true purpose of the reality we have been living is coming to light. Let us discern.
Amen.
Prayer to the Holy Trinity given by the Angel in Fatima
Salvation Prayer for the Catholic Church
Prayer for the Catholic Church