Tuesday, January 18, 2022
The Time is Now! Pay Attention to the Signs and Signals.... Do Not Be Spiritually Blind!
Message of Our Lord Jesus Christ to His Beloved Daughter Luz De Maria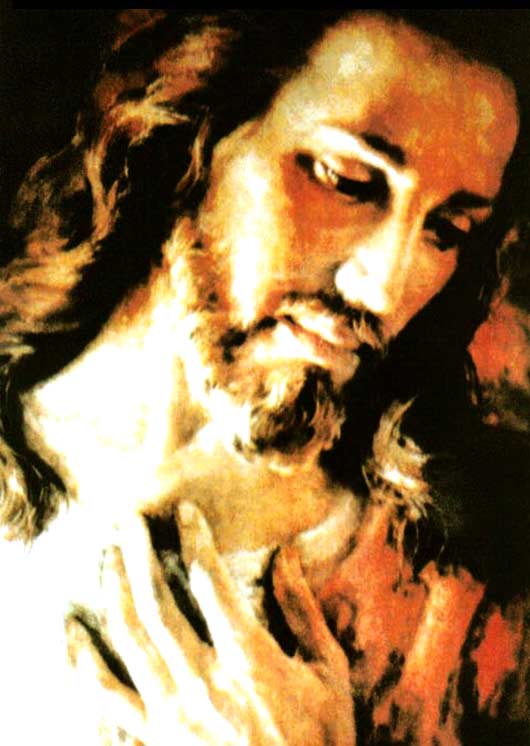 My Beloved People:
I LOVE YOU, I INVITE YOU TO REMAIN IN MY WILL, WORKING AND ACTING AS WHAT YOU ARE: MY TRUE CHILDREN.
Treasure each moment so that you may live it in fraternity, with a heart of flesh and with full consciousness. Fulfill by loving My Father above all things, without forgetting My Mother and My beloved Chief of the Heavenly Militias.
My Angelic Legions stand over mankind to come to the call of whosoever so requests.
YOU LIVE THE PURIFICATION AND NATURE IS CONVULSED. The elements are agitated by receiving some solar flares (1) that alter the magnetism of the Earth (2), propitiating that communications are impaired and tectonic faults are activated. The human body is altered when receiving what is not normal for its organism to assimilate.
The human creature lives moments of uncertainty. The time is approaching when science misused leads you to live in darkness, therefore I have called you to prepare.
Pray children, the war approaches and humanity suffers.
Pray children, volcanoes continue to activate and My children suffer.
Pray children, follow the True Magisterium of My Church.
DO NOT FEAR THE DARKNESS, FEAR LOSING YOUR SOUL.
Be vigilant, My children! The moon shows itself bloody (3) foreseeing the pain of Mine.
The so-called Ring of Fire in the Pacific shakes the earth from the depths of the sea with greater force, than in the past, under the incidence of the sun.
You will see a ring in the sun, a ring of fire, which will be seen from important countries and from one in particular.
I call you again, children, to prepare yourselves spiritually and with what My children can store. Look at the animals that foresee the weather and store food for when they cannot go out to find something to subsist on.
My People must be cautious when My House alerts you. Those who cannot store food will be helped by Me. Do not fear, do not fear, do not be distressed.
THE TIME IS NOW!
PAY ATTENTION TO THE SIGNS AND SIGNALS....
DO NOT BE SPIRITUALLY BLIND!
Hasten the pace, for the elite rises in haste taking greater power.
Keep in mind that "I AM WHO I AM" (Ex 3:14)
I guard you, I love you and announce you so that you will not be taken by surprise.
Come to Me, receive Me in the Eucharist, but before coming to Me, be reconciled with your neighbor. Do not judge (Mt 7:1), for that is My business.
Come to Me with a pure heart, in inner silence so that you will not be like the Pharisees.
KEEP INNER PEACE, GO INTO THE INNER CHAMBER AND FIND ME, I AM WAITING FOR YOU.
Be fraternal, do not use My Temples to destroy your brothers. Forgive and love each other as My People.
I bless you with My Heart.
I bless you with My Love.
Your Jesus
AVE MARIA MOST PURE, CONCEIVED WITHOUT SIN
AVE MARIA MOST PURE, CONCEIVED WITHOUT SIN
AVE MARIA MOST PURE, CONCEIVED WITHOUT SIN
(1) Prophecies about Solar Activity....
(2) Prophecies about Earth's magnetic change....
(3) Signs and Signs, the blood moons....
COMMENTARY BY LUZ DE MARIA
Brethren:
Our Lord Jesus Christ, calls us to be keepers of the First Commandment: "You shall love the Lord your God with all your heart and with all your soul and with all your strength." (Dt. 6:5)
He calls us to be fraternal so that we look at Him in our brother and this so that we understand that isolated we will not succeed in facing what is to come.
In this Call our Lord Jesus Christ is leading us to look at the purifying events of humanity, so subtly that He speaks to us of the great blackout, calling it science misused so that we understand it, likewise He speaks to us of the war so that we prepare ourselves spiritually and with what each one has according to his possibilities.
Then he details what we know as the blood moon of this year and solar eclipses that affect our planet. These astronomical phenomena should not be taken only as a spectacle, but as Signs and Signals of these times.
Keeping in mind that our Lord Jesus Christ is Merciful, let us maintain fraternity with our brothers, it is of utmost importance to be in the way of our Lord. This is the moment of unity to live the strength coming from above so that evil does not manage to divide and therefore to conquer.
This is a serious moment for this generation. The dehumanization of humanity is advancing and the Signs and Signals do not happen for the sake of happening, but for the sake of what comes from them.
Amen.