Monday, January 24, 2022
The disaster coming from armed conflicts will be the cause for humanity to be scourged to the point of exhaustion
Message of Saint Michael the Archangel to Luz De Maria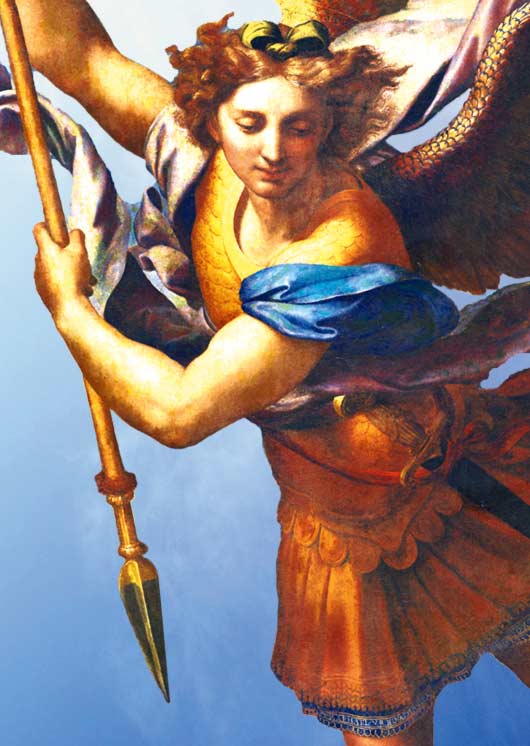 Beloved People of Our King and Lord Jesus Christ:
In the unity of the Most Holy Trinity, as Prince of the Heavenly Militias, I bless you.
Receive love and good. I am sent to share with you:
MY HEAVENLY LEGIONS STAND AT ATTENTION TO MY SIGN TO ASSIST YOU IN THE FACE OF THE PERSECUTION AND HARASSMENT TO WHICH YOU WILL BE SUBJECTED.
As humanity you will witness the misuse of the free will of those, who when they wish, will not be able to humanly turn back.
The decision of evil is to divide the People of God in all areas, this is how the serpent moves crawling so as not to be seen. Because of this I call you, I summon you to live in Divine Love, in fraternity, since before the Weapon of Love, the Devil flees. At the same time, invoke Our Queen and Mother of the End Times (1) to free you from the insidiousness of the Evil One.
The Earth is a receiver, not only of celestial bodies coming from Space, but also of what man himself has taken and placed in Space, without foreseeing that the effects of the solar storms that the astro-sun generates at this time, affect some of those satellites that will be one more danger for humanity.
Children of the Holy Trinity:
BE CONVERTED AND DECIDE FOR THE GOOD!
RATIFY FOR YOURSELVES THE BELONGING TO OUR KING AND LORD JESUS CHRIST AND TO OUR QUEEN AND MOTHER OF THE LAST TIMES BY PRAYING IN SILENCE AND MEDITATING THE CREEDAL PRAYER.
Beloved children of Our King and Lord Jesus Christ:
The abyss toward which humanity is advancing is saturated with the lust for power, with the desire to obtain world supremacy in order to deliver it to the one who NOW! is on Earth demanding for itself absolute domination over all that exists.
The disaster coming from armed conflicts (2) will be the cause for humanity to be scourged to the point of exhaustion.
Do not be surprised at the economic collapse (3) of great powers. You, as creatures of Faith, maintain the tranquility of those who know that they are protected by their Lord and their God.
AS PEOPLE OF GOD YOU WILL SEE GREAT MIRACLES ON YOUR BEHALF, THEREFORE I CALL YOU NOT TO FEAR.
CHILDREN OF GOD, DO NOT FEAR, BUT HOLD FAST THAT YOU WILL NEVER BE FORSAKEN.
Pray, O people of God, pray.
Nations will march against nations, and nature will cause those who think they are invincible to bend. Then allies will be no more, abandoning the one who summoned them to war, though later they will unite again, not before suffering is shaped upon mankind in one form or another. FEAR NOT, AT ALL TIMES WE ARE WITH YOU IF YOU ARE FAITHFUL TO THE HOLY TRINITY AND TO OUR QUEEN AND MOTHER.
Signs and Signs overabound to alert you, to move the hearts and minds of those who are skeptical at this time. The sun will be darkened by the force of a volcano. The earth continues to tremble as a harbinger of things to come.
Stand firm without forgetting that Our King and Lord Jesus Christ will send you His Angel of Peace (4), who will provide you with strength to continue on the safe path.
Beloved children of Our King and Lord Jesus Christ:
THE HUMAN CREATURE FORGETS THAT OUR KING IS COGNIZANT OF ALL HUMAN ACTING AND DOING. BE CREATURES OF GOOD SO THAT YOU MAY KEEP YOURSELVES FILLED WITH THE DIVINE SPIRIT.
"Blessed is he who comes in the name of the Lord." (Mt 21:9)
BE ON SPIRITUAL ALERT, PEOPLE OF GOD!
Do not fear, be persevering.
St. Michael the Archangel
AVE MARIA MOST PURE, CONCEIVED WITHOUT SIN
AVE MARIA MOST PURE, CONCEIVED WITHOUT SIN
AVE MARIA MOST PURE, CONCEIVED WITHOUT SIN
(1) On the Queen and Mother of the End Times, read....
(2) On the Third World War, read...
(3) Will the world economy fall. read...
(4) About God's Envoy, read...
COMMENTARY BY LUZ DE MARIA
Brethren:
Receive blessings along with this call from St. Michael the Archangel.
Being alerted that the Evil One has among his plans to divide the children of "the Woman clothed with the Sun with the moon under Her Feet" we have to drive away all feelings that are contrary to the Divine Will.
Before the events that are announced to us, the assurance of Divine Protection is always latent and we do not have to wait for dates to be given to us nor wait for events to happen to act.
The sun and the moon do not act as before and their effects on the Earth and on us alter, not only the Earth, but also human creatures and nature.
You may ask: why do we talk about economy in this Message? Because man is destabilized when he does not possess money and when this money falls, humanity will enter into very strong conflicts that will involve all of us, whether we want it or not. Therefore, at that time stay in your homes and do not go out.
Today, tomorrow and always let us work and act for the glory of God.
Amen.