Saturday, February 12, 2022
Faithful People, Much of the Powers of the World Engage in the Grievous Act of War
Message of Saint Michael the Archangel to Luz De Maria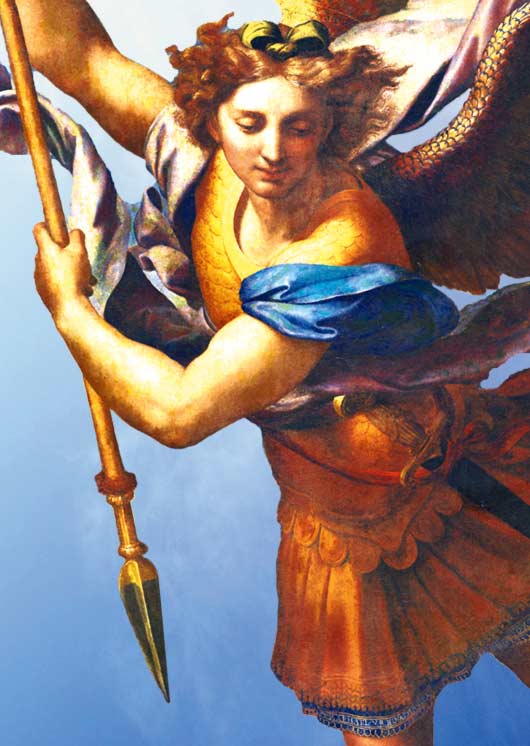 People of Our King and Lord Jesus Christ:
I COME WITH THE BLESSING OF OUR KING
TO ADDRESS EACH OF HIS CHILDREN.
Keep yourselves within peace, fraternity, unity and above all, within the Love that comes from the Sacred Hearts.
It is imperative that every human creature persevere in the Faith and be a creature of good, with a soft heart and initiate a radical change of life.
AS PEOPLE OF GOD YOU MUST ABANDON ALL DISCORD, OTHERWISE, BY HUMAN WILL YOU WILL ENTER INTO TEMPTATION AND FALL INTO NAUSEATING WATERS.
People of Our King and Lord Jesus Christ, I call you to conversion and instead human creatures harbor undue feelings in their hearts, which will not come out until they have a true encounter with Our King and Lord Jesus Christ.
People of God, receive Our King and Lord present in the Sacrament of the Eucharist, it is imperative.
THE ALLIES OF SATAN WISH TO PREVENT THE COMING OF OUR BELOVED ANGEL OF PEACE SO THAT AS PEOPLE OF GOD YOU WILL NOT BE SHELTERED BY HIM.
You must be true children and not bad copies of a true child of God.
Faithful people, much of the powers of the world engage in the grievous act of war. Allying themselves with the Eagle (1), some countries seek to be strong. The moment of betrayal will come and the Eagle will be abandoned by some of his allies, who unite and in a single act, abandon him, finding himself extremely wounded. Again they return to the Eagle's side when all is chaos and the power of the nations is strengthened.
Pray children of Our King and Lord Jesus Christ, the Devil prepares emissaries to prevent the arrival of Our beloved Angel of Peace.
Pray children of Our King and Lord Jesus Christ, offer your deeds and acts in fraternity to counteract the insidiousness of evil.
Pray children of Our King and Lord Jesus Christ, pray for mankind, it is struck by earthquakes that shake one place and another.
WITH THE SWORD OF FAITH HELD HIGH....
CONTINUE TO BE CONFIDENT OF THE POWER OF PRAYER.
THE PROTECTION OF MY LEGIONS ATTEND YOU.
I bless and shelter you.
St. Michael the Archangel
AVE MARIA MOST PURE, CONCEIVED WITHOUT SIN
AVE MARIA MOST PURE, CONCEIVED WITHOUT SIN
AVE MARIA MOST PURE, CONCEIVED WITHOUT SIN
(1) The eagle refers to the North American country.
COMMENTARY BY LUZ DE MARIA
Brethren:
The odyssey of this generation has been furrowed by mankind itself, by its disobedience and man continues to be unwilling to see and unwilling to hear...
Thus is fulfilled in them that which was announced by Isaiah:
They will hear, but they will not understand; they will look, but they will not see, for the heart of this people is hardened, their ears are dull of hearing, and their eyes are closed, so that their eyes do not see, their ears do not hear, their heart does not understand, and they do not turn to me that I may heal them. (Mt 13:14-15)
As humanity we find ourselves besieged by evil, which at its whim keeps in suspense the human creature who knows the consequences of a Third World War.
We are alerted of the plans of evil against the Angel of Peace to which we cannot remain inert. Therefore we are called to pray the Holy Rosary each one in family, in group or individually. The intentions are:
For peace, for the Angel of Peace so that God's Will may be fulfilled, for the perseverance of each one of us and for the countries that suffer from adversities due to natural phenomena.
Amen.