Wednesday, February 16, 2022
Keep the Faith, do not lose it even for an instant. Faith is gold in the heart, in the mind and in the thought of Mine. Without Faith you are nothing
Message of Our Lord Jesus Christ to His Beloved Daughter Luz De Maria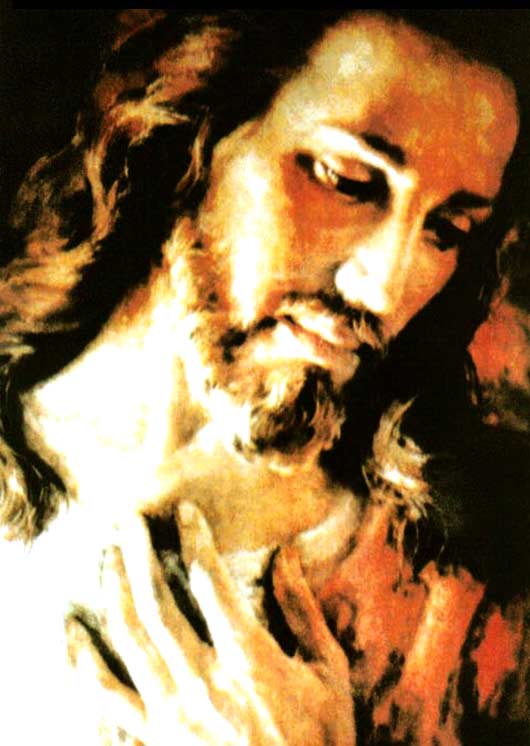 My beloved people, I bless you.
MY HEART KEEPS THE CONSTANT DESIRE TO HAVE YOU IN ME.
Children, I speak to you to keep you in permanent foresight, the folly of the man of power is extreme.
They do not analyze the consequences, but allow themselves to act on impulses so that their desires may be realized. They will know of an attack on a leader, of an attack without foundation and this will cause fire to fall upon the earth.
My children:
The sun in its extreme emanation of fiery streams comes to emanate great heat upon the earth. You will see nature dry up in the midst of extreme heat. Man will feel unable to sustain himself on earth.
It is at this time that ignorance goes before humanity, dominated by creatures in powerful hands, who will make My children succumb to the tragedy of the disastrous world war.
My children:
YOU MUST BE CREATURES WILLING TO CONVERSION BUT NOW! BEFORE IT IS TOO LATE...
Evil rises, they will think that I abandon them when they watch their brothers rise up in broad daylight against Me. The altars in My Temples will be destroyed and all that they contain will be eliminated. (*)
The human creature wishes to erase every trace of Me. It will not succeed, it would be as if it could live without air. It will be a time of pain and hope as I will send My beloved St. Michael the Archangel, guarding My beloved Angel of Peace to sustain you with My Word, to call you to continue resisting for the imminent arrival of My Mother who will fight evil.
My people, keep in mind My faithful Elijah. (King 10; 18 and 20)
BE CONVERTED, BE READY!
FAITH IS ESSENTIAL IN EACH OF MY CHILDREN SO THAT YOU MAY STAND WITHOUT DOUBTING MY LOVE FOR MY PEOPLE.
Pray My children, pray for My Church.
Pray My children, pray, the earth is shaken stronger.
Pray My children, pray and repent, confess sins and live in Grace.
Pray My children, pray, be at peace with your brothers.
Pray My children, pray from Space comes suffering for mankind.
Be cautious, My children, come to Me, though the majority of mankind declares itself against Me.
Keep the Faith, do not lose it even for an instant. Faith is gold in the heart, in the mind and in the thought of Mine. Without Faith you are nothing, without Faith every wind moves you to one side or the other.
I bless you My people, I bless you children.
My Peace be in each of you.
Your Jesus
AVE MARIA MOST PURE, CONCEIVED WITHOUT SIN
AVE MARIA MOST PURE, CONCEIVED WITHOUT SIN
AVE MARIA MOST PURE, CONCEIVED WITHOUT SIN
(*) Reference on the October 6, 2017 message of Our Lord Jesus Christ: My Beloved People, the relics that My Church possesses are going to be taken to profane them, because of this I have previously requested that the relics be rescued and treasured from this instant, otherwise you will have no trace of them.
COMMENTARY OF LUZ DE MARIA
Brethren:
We are looking at the power of the powers and as Our Lord Jesus Christ tells us, it is very painful what we will experience as a product of it. This is the madness of power, it is the immediacy of the plans of the world leadership.
As children of God we must remain focused on the Power of God over all that exists.
Without ceasing to benefit from the advancement of technology, science and its discoveries in all fields. It is also true that at this time we see how man threatens with the power of what Heaven calls, science misused, in order to maintain primacy over the nations.
Our Lord Jesus Christ calls us to conversion because it is necessary now! Living each day is difficult, we are tempted and besieged by the emissaries of evil, but we must not let our guard down, we must respond to God the Father as He expects.
Our Lord Jesus Christ spoke to me about Elijah's loyalty, about his Faith and his assurance in the Name of God who can do all things. And I can reaffirm for me, why Elijah is called the Prophet of the First Commandment: because of his unwavering Faith in God, for worshiping Him above all things.
Amen.