Thursday, March 3, 2022
Underhanded Death Arrives, a Creature of Influence Falls and Sustains the Actions of Other Nations. the Dreaded World War Emerges, Rides in the Middle East.
Message of Saint Michael the Archangel to Luz De Maria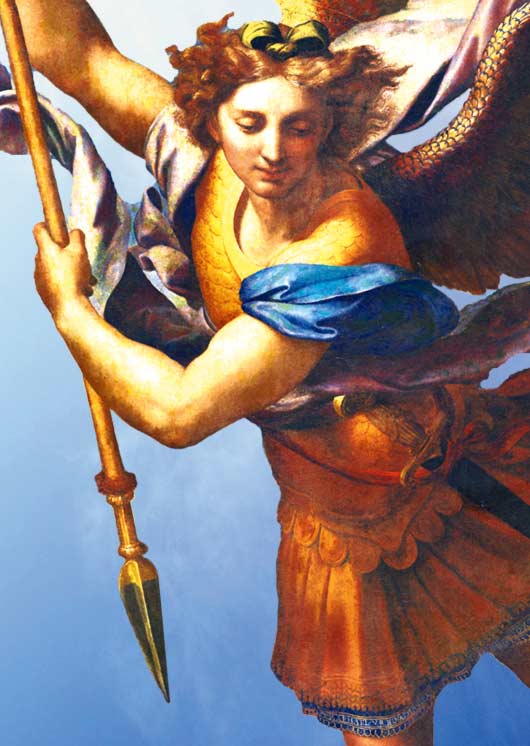 People of Our King and Lord Jesus Christ:
As Prince of the Heavenly Hosts I address each one in particular.
THE TRINITARIAN BLESSING BE ON EACH OF YOU IN THIS VERY SPECIAL TIME OF LENT.
I stand before human creatures with My Heavenly Armies desirous to stop the very great loss of souls who have joined the ranks of the Devil.
STAND HERE AND ALLOW US TO ACT IN YOU ....
Humanity lives through difficult times for those who possess consciousness and recognize the times and moments of mockery for those who have lost consciousness and have given themselves over to evil.
There comes a slight pause in this agony of war for the children of Our King and Lord Jesus Christ before they suffer for communism (1) throughout the world.
People of Our King and Lord Jesus Christ, dissent leads to social uprisings to take place in various countries and the transit of the human creature will be more painful on Earth.
WHATEVER HAPPENS LOOK AT IT AS AN OPPORTUNITY FOR PURIFICATION, NOT WITH TERROR, BUT WITH THE ASSURANCE OF DIVINE PROTECTION, WITH FAITH.
Underhanded death arrives, a creature of influence falls and sustains the actions of other nations. The dreaded World War emerges, rides in the Middle East.
People of Our King and Lord Jesus Christ have forgotten that the earth continues to shudder, be on alert.
THIS LENT ESPECIALLY:
Live it by going to the Sacraments.
Repent, make reparation, offer as much as you can.
Become new creatures of Faith, Hope and Charity. (Mt. 4:17; Mk. 1:15)
Pray with your heart for suffering humanity.
Pray for you that you may not allow evil to dominate your mind and make you prey to its wickedness.
Pray for France, it suffers from communism.
Pray for England, it is destabilized.
Pray for Spain, war comes to her.
Pray for Argentina, her people are inflamed.
THE ANGEL OF PEACE (2) WILL COME , he will succor you, he comes after the public presentation of the antichrist, though from now on he watches over you.
Without fear, trusting in the Holy Trinity, unite yourselves to Our Queen and Mother of the End Times (3) and make reparation for humanity.
My Legions stand before each of you.
Receive My Blessing of strength.
St. Michael the Archangel
AVE MARIA MOST PURE, CONCEIVED WITHOUT SIN
AVE MARIA MOST PURE, CONCEIVED WITHOUT SIN
AVE MARIA MOST PURE, CONCEIVED WITHOUT SIN
(2) On the Queen and Mother of the End Times, read...
(3) About the Angel of Peace, read...
COMMENTARY BY LUZ DE MARIA
Brethren:
Attentive to the Words of St. Michael the Archangel, in this moment of pain for humanity, let us devote ourselves to repair and struggle to be better children of God.
Let us pray for those who suffer and let us see in that suffering how much it can reach all humanity.
We possess the treasure of Faith that reinforces the Divine Protection towards His People, but let us prepare ourselves spiritually and with what is necessary to face what is coming.
Let us pray to the Angel of Peace to help us not to faint and let us strengthen our Faith in the Holy Trinity and in Our Blessed Mother.
Let us pray for humanity, for world peace, trusting that prayers mitigate what we are living.
Lent is a time of penance and conversion, let us fast, not only from food, but also from so many acts that plunge the human creature into the abyss of evil.
Brethren, united in prayer and penance.
Amen.