Monday, March 7, 2022
This Lent is Special... I Have Opened My Mercy to All My Children So That As Many of My Children As Possible May Enter into It, Because of What is Happening and Will Happen to Humanity
Message of Our Lord Jesus Christ to His Beloved Daughter Luz De Maria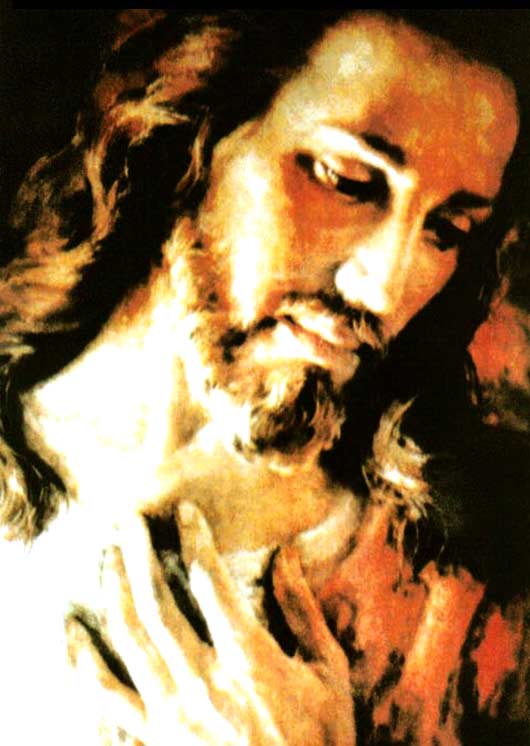 My beloved children:
RECEIVE MY BLESSING IN THIS TIME OF TURMOIL.
You are My People and I protect you all. I call you to remain vigilant, in a state of spiritual alertness to the snares of the Devil upon you.
PRIDE ACCOMPANIES THE HUMAN CREATURE AND DOMINATES HIM LEADING HIM TO FALL INTO GRAVE FAULTS, DISOBEDIENCE AND INJUSTICE TOWARDS HIS BRETHREN. That bad counselor annuls the fear of Me and elevates the human ego to unthinkable levels. If you wish to be love you must banish such a bad companion lest he turns your heart to stone.
During this Lent I call you to examine yourselves deeply so that you may place your actions and the reaction you receive from your brothers and sisters on a scale and thus be able to discern if you possess this evil. If you possess pride, you are not lost if you intend to convert.
THIS LENT IS SPECIAL...
I HAVE OPENED MY MERCY TO ALL MY CHILDREN SO THAT AS MANY OF MY CHILDREN AS POSSIBLE MAY ENTER INTO IT, BECAUSE OF WHAT IS HAPPENING AND WILL HAPPEN TO HUMANITY.
My Spirit remains attentive to the good will of mankind, whom I call to be spiritually pacified.
IN THE MIDST OF GREAT HUMAN EVILS, I DELIVER TO YOU GREAT ETERNAL GOODS IF YOU ARE MERCIFUL AND CREATURES OF FAITH.
Love for your neighbor is indispensable, (Mt. 22:37-39) perfect yourselves in humility. As much as you must make amends to your brethren, do it now, do not put it off until tomorrow.
My people:
THIS MOMENT IS OF STRONG SPIRITUAL BATTLE. You well know that this battle is of a spiritual order, (Eph. 6,12) it is between good and evil. You need to exhale as much good as possible so that evil does not eat away at you from within and incline you to vomit out the evil insidiousness of the oppressor of souls upon your brethren.
THEY LIVE THE FRUITS OF DISOBEDIENCE TO MY MOTHER'S REQUEST .
My hard-hearted children continued to overshadow My Mother and to ignore Her....
That is what the Devil desired and the human creature granted it to him.....
My people, know Me in Sacred Scripture. It is necessary for My people to know Me, to scrutinize My Word (Jn. 5:39) and thus subject every moment to the fulfillment of My Word and be witnesses of the Gospel.
Before what is approaching, it is necessary that the Faith of My People be strengthened by receiving Me in the Eucharist and through the prayer of the Holy Rosary be held by the Hand of My Mother.
MY PEOPLE WILL BE VICTORIOUS.
MY CROSS IS WHAT GIVES VICTORY TO MY CHILDREN, NOT WEAPONS.
Pray children, pray for France, she suffers from war.
Pray children, pray, you will live through the horrors of human meanness.
Pray children, pray Spain is taken by surprise.
Pray sons, pray for Italy, rivers of blood run through the waters of her rivers.
Pray sons, pray, China will rise against Russia to the amazement of the world.
MY MOTHER IS TREASURE FOR MY PEOPLE AND SHE WILL BRING YOU MY ANGEL OF PEACE.
My children:
RECEIVE MY BLESSING IN THE NAME OF THE FATHER, THE SON, THE HOLY SPIRIT. AMEN.
Your Jesus
AVE MARIA MOST PURE, CONCEIVED WITHOUT SIN
AVE MARIA MOST PURE, CONCEIVED WITHOUT SIN
AVE MARIA MOST PURE, CONCEIVED WITHOUT SIN
COMMENTARY OF LUZ DE MARIA
Brethren:
Let us see how from previous years Heaven announced to us what we are living today:
Children, prepare yourselves, be converted. What My Son and this Mother We have announced to you, will be given in the twinkling of an eye. "LENT IS A TIME OF ATONEMENT", DO NOT FORGET IT. I do not frighten you, I warn you so that you may remain awake, so that you may overcome temptation. THE MOST HOLY VIRGIN MARY, MARCH 3, 2010
Mine profane the faith they have promised Me in the Sacraments, and today they do not know Me. Human pride keeps them in unimaginable debauchery, the senses are used to sin constantly by free will. OUR LORD JESUS CHRIST, MAY 22, 2010
Though you live in the midst of war, though you feel hunger in your flesh, let not faith falter. THE MOST HOLY VIRGIN MARY, DECEMBER 8, 2010
Pray People of God, pray for the Balkans, strategies for war are being prepared. ST. MICHAEL THE ARCHANGEL, SEPTEMBER 26, 2021
VISION AFTER THE MESSAGE OF THE BLESSED VIRGIN MARY
DECEMBER 1, 2010
Mama Mary allowed me a vision:
I looked at many human beings fighting one another, blood runs in Rome, in France and in England, promptly. I look at the pain; like a shadow that brings to the world the lamentations and the killings for a little bread...
I look at the Blessed Virgin Mary dressed in mourning, (in black). She cries out to the Most Holy Trinity for all peoples. She fights against the forces of evil that approach man.
I look upon legions of demons. St. Michael the Archangel accompanies Mother Mary. I look at them at the end triumphant together with the Church, but after a long purification, which entails a great pestilence, which will go throughout the Earth. It is not just any plague, it is a plague of war, of sickness, of spiritual attack and suffering. The pain of Mother Mary, has penetrated my being....
Amen.