Sunday, March 13, 2022
Christians Will Return to the Catacombs Where There Will Be the True Light That the Devil Cannot Extinguish
Message of Saint Michael the Archangel to Luz De Maria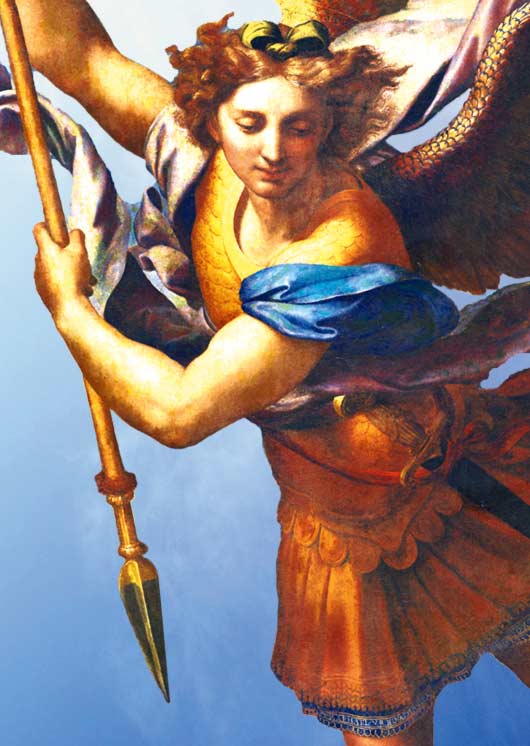 Children of Our King and Lord Jesus Christ:
AS PRINCE OF THE HEAVENLY LEGIONS I BLESS YOU AND SHARE WITH YOU THE DIVINE WORD SO THAT YOU MAY PREPARE YOURSELVES.
You are beloved of the Holy Trinity and of Our Queen and Mother of the End Times.
YOU WILL FACE TRIALS IN EVERY RESPECT,
BUT ABOVE ALL IN FAITH.
Children of Our King and Lord Jesus Christ, live this Lent with awareness as you have never lived it before. You have before you Divine Mercy so that you may amend yourselves.
People of Our King and Lord Jesus Christ:
AS A CHURCH YOU MUST STRENGTHEN YOURSELVES IN THE FAITH . The minions of Antichrist impose a new religion as the one and only true religion. I must manifest to you that it is not true nor does it come from Our King and Lord Jesus Christ, but is born of the bowels of Satan himself created for the Antichrist to dominate you. It is approaching saturated with imposition, persecution, discord, lies, hatred and betrayal. CHRISTIANS WILL RETURN TO THE CATACOMBS WHERE THERE WILL BE THE TRUE LIGHT THAT THE DEVIL CANNOT EXTINGUISH.
The unbelieving man prefers to deny the Prophecies (I Thess 5,20) than to accept what some human creatures are already living: the pain of war, unexpected death, injustice, terror.
As Prince of the Heavenly Legions, I must affirm to you that war is not words, but painful and bloody deeds, plans drawn up to invade Europe, part of America together with some islands and some countries of the East. So human creatures will be foreigners wandering from country to country. They will be surprised without even thinking about it. The persecutors will arrive without being expected and like a plague will invade by air and land in their desire to take over Europe they will reach several countries.
People of Our King and Lord Jesus Christ are heading down the road of famine as a result of the war, which like a plague spreads from country to country.
I INVITE YOU TO TAKE CURRENT EVENTS SERIOUSLY. These spread as treachery happens from place to place, especially in the Balkans, where treachery and death come.
The people of Our King and Lord Jesus Christ will be strangers, wandering from place to place as the tentacle of war advances unstoppably and relentlessly.
I SPEAK TO YOU IN CERTAIN WORDS: the time will seem long years before the human miseries with which you must live.
You must find yourselves prepared children of Our King and Lord Jesus Christ:
BE PREPARED TO FACE, NOT ONLY THE FURY OF NATURE, BUT THE SUDDEN FLIGHT OF THE NATION IN WHICH YOU LIVE IN THE FACE OF SUDDEN AND UNLOOKED-FOR INVASION.
Europe will be overtaken at various points. The invasion of the nations will be sudden, it will be unexpected, you will be going about your business when you will hear and see the planes overhead and the weapons of war entering your countries.
People of Our King and Lord Jesus Christ:
Pray, pray without ceasing for the salvation of souls, for the famine on the planet and for the innocent suffering.
Be creatures of good, go to the Eucharistic Celebration, honor Our Queen and Mother.
Be creatures of Faith, strengthen one another. Each one is a temple (I Cor 6,19) and it is a grave sin to act in a manner or verbally against a brother.
Be cautious so that at the Warning you will no longer suffer.
People of Our Queen and Mother, human creatures are judged in love. Therefore be love and the rest will be given to you in addition.
I bless you with the blessing which I receive from Our King and Lord Jesus Christ.
Saint Michael the Archangel
AVE MARIA MOST PURE, CONCEIVED WITHOUT SIN
AVE MARIA MOST PURE, CONCEIVED WITHOUT SIN
AVE MARIA MOST PURE, CONCEIVED WITHOUT SIN
COMMENTARY BY LUZ DE MARIA
Brethren:
We must remain attentive so as not to be confused. Let us pay attention to the religion that they are going to present to us as the only one and we must not embrace it because it is of evil.
SAINT MICHAEL THE ARCHANGEL
18.05.2020
THE NEW RELIGION ENTERS WITHOUT THE PEOPLE OF GOD LOOKING AT IT THAT WAY. A RELIGION WITHOUT SPIRITUAL NOURISHMENT WHERE GOD'S PEOPLE LIVE AS IF THEY WERE PRACTICING ANOTHER RELIGION. They pave the way of the "ONE RELIGION" usurping from our King and Lord Jesus Christ His Scepter.
MYSTICAL LIVING WITH THE MOST HOLY VIRGIN MARY
10.02.2015
MAN WILL LEAVE THE TRUE FAITH FOR IDEOLOGIES OR PRACTICES THAT WILL LEAD HIM TOWARD EVIL, DOMINATING THE MIND WITH FALSEHOOD, ON THE WAY TO A UNIQUE RELIGION THAT THE RUTHLESS FOLLOWERS OF THE ANTICHRIST WILL DEMAND.
St. Michael the Archangel invites us to take current events seriously, let us continue to prepare ourselves spiritually and materially as Heaven has directed. All has been revealed in advance.
THE MOST HOLY VIRGIN MARY
17.07.2016
Heaven alerted you that you were at war, for this war was not presented taking the previous pattern of other wars that History reminds you of.
This Third World War consists of an escalation of violence in different forms, within which men will go to extremes unthinkable for human thought.
OUR LORD JESUS CHRIST
05.05.2010
The Earth is no longer the same, the fruit ripened. You let it age, now it's rotten. Man in his desperate competition for power, precipitated the foretold. Economic crises will lead the powerful to unite, and then to disintegrate, causing war.
THE HOLY VIRGIN MARY
23.12.2010
Darkness rears its face and men shall weep and mourn. War waits no more.
Pray for Europe. It will weep. The innocent are maimed.
Pray for America. Mourning will envelop you.
Pray for the Middle East.
PRAY. PRAY.
Amen.