Thursday, March 17, 2022
This Generation Is in Need of the Love Emanating from the Sacred Hearts to Soften the Hardened Hearts of Men
Message of Saint Michael the Archangel to Luz De Maria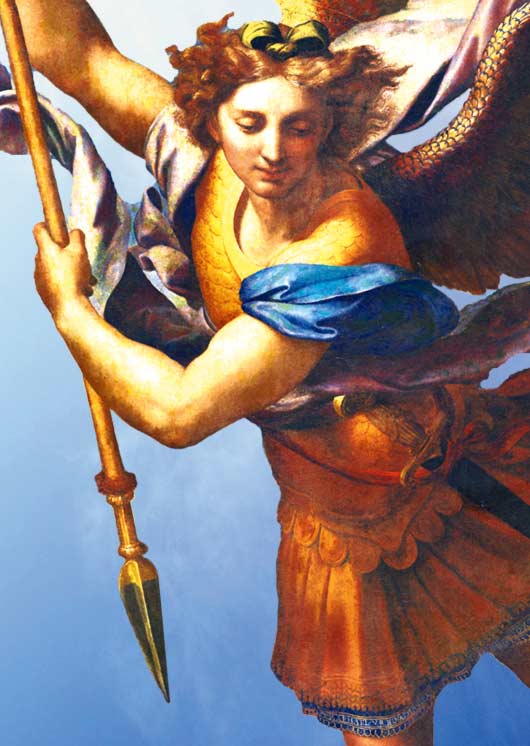 Beloved People of Our King and Lord Jesus Christ:
As Chief of the Heavenly Armies I bless you with the Blessing of My King and Lord Jesus Christ.
I CALL YOU TO URGENT CONVERSION, NOW!
IN HASTE, "IPSO FACTO" BEFORE YOU BECOME MORE CONFUSED.
As the Mystical Body you must obey and adhere to Holy Scripture.
Pay attention, do not stray into paths contrary to the Divine Will.
Fulfill the Sacraments is necessary and be reconciled with your brethren.
Be love, peace, mercy and receive the Holy Eucharist properly prepared. Offer to Our Queen and Mother the Holy Rosary prayed with the heart.
IT IS IMPERATIVE THAT YOU BE LOVE....
BEFORE LOVE THE DEVIL FLEES.
Judge not others and you will not be judged yourselves. For as you judge, so you will be judged, and the same measure you use for others will be used for you. (Mt. 7:1-2)
I see human creatures turning away from Our King and Lord Jesus Christ and Our Queen and Mother. I see them joining the ranks of evil, ready to tear down their brothers and sisters without mercy or remorse.
Humanity submerged in the ideology of communism (1), which together with Freemasonry (2), keep in distrust and division the People of Our King and Lord Jesus Christ and the children of Our Queen and Mother of the End Times.
People of Our Queen and Mother be afraid of falling and rising no more.
CONVERSION, CONVERSION AT ONCE!
How stubborn they are in deciding to continue to impart evil, cooperating with communism and spreading its ideology, whose aim is to seize territorial power and dominion in every respect over the peoples.
The disease appears again (3)....
Hunger (4) spread over the Earth prior disposition of the powerful of the powers, which lead them towards the abyss, prior pact with evil, which will succeed in leading humanity to suffer as never before.
People of Our Queen and Mother, pray, supplicate, cry out that Our Queen welcomes sincere and heartfelt supplications.
You must keep yourselves with inner peace so that you may share peace with your brethren. This generation is in need of the love emanating from the Sacred Hearts to soften the hardened hearts of men.
Bend pride and thinking so that they may be worthy of the Motherly Protection, to whom the Most Holy Trinity entrusted these moments of this generation.
People of Our Queen and Mother:
Without separating yourselves from the blessed Hand of her who is the Mother of Our King and Lord Jesus Christ and Generalissima of the Heavenly Armies you are and will be protected by Our Queen, TO WHOM THE HOLY TRINITY COMMANDED HER INTERCESSION FOR THE GOOD OF HUMANITY AND CHOSE HER TO CRUSH AND CHAIN THE INFERNAL DRAGON.
What is to come for mankind finds the Queen and Mother of Heaven and Earth before Her children whom She defends and delivers from all evil, IF THEY WORSHIP HER HOLY SON AND ARE FULFILLERS OF THE DIVINE WILL.
You shall see every knee bow before Our Queen, every creature exclaim:
"Hail Mary Most Pure, Hail Mary Most Pure, Hail Mary Most Pure."
Faithful people, steadfast, without renouncing your calling.
Faithful people steadfast in the battle against evil in the Name of Our King and Lord Jesus Christ.
We protect you, I bless you.
St. Michael the Archangel
AVE MARIA MOST PURE, CONCEIVED WITHOUT SIN
AVE MARIA MOST PURE, CONCEIVED WITHOUT SIN
AVE MARIA MOST PURE, CONCEIVED WITHOUT SIN
(3) On medicinal plants, read... (Download PDF)
COMMENTARY BY LUZ DE MARIA
Brethren:
This is an urgent call of St. Michael the Archangel for the People of God, whom he urges to awaken and to be love so that they give love. He commands us not to be judges because that is how we will be judged. This is a time when we are put to the test in terms of personal virtues, especially in charity (love), the center of the Christian's life.
I share with you the following Calls from Heaven:
OUR LORD JESUS CHRIST
SEPTEMBER 18, 2016
This generation commits great abominations against Our Will, commits sacrileges such as never before human beings have committed, they demerit My Mother by denying Her Virginal Purity and Her Maternity towards all Humanity. This generation constantly sins against My Holy Spirit, forgetting that the life of man hangs on Our Will.
THE MOST HOLY VIRGIN MARY
MAY 13, 2020
Beloved children, communism seems asleep, but the world will watch the awakening of it when it is already scourging Europe.
SAINT MICHAEL THE ARCHANGEL
FEBRUARY 9, 2021
Some human creatures feel disillusioned before the wait to which the Church is subjected, that wait shortened before the force of evil over the world, but they forget that God does not abandon His People and allows what has been announced to happen. That is: impiety, heresies, disrespect to all that God represents, sacrileges, coming persecutions, pestilences, plagues, war, famines, great earthquakes and effects in nature.
Amen.