Thursday, March 31, 2022
Satan Is Found Propitiating the Division of My Son's Church, Do Not Fall into His Traps: Join Together, Pray, Discern!
Message of the Most Holy Virgin Mary to Her Beloved Daughter Luz De Maria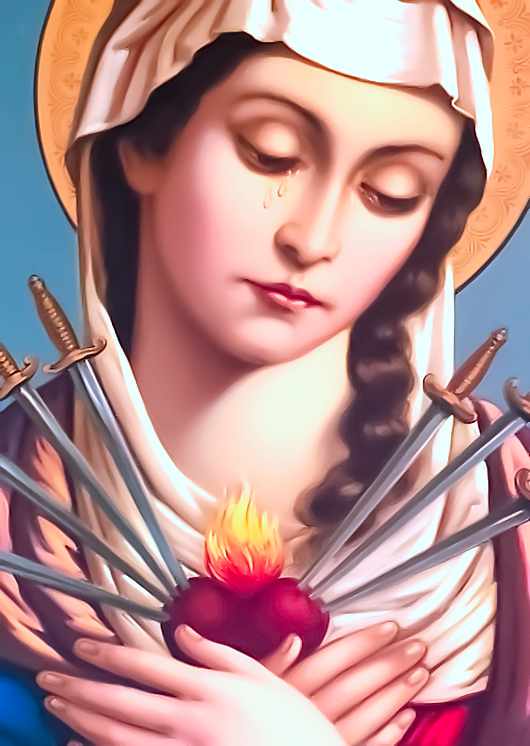 Beloved children of My Immaculate Heart:
People of My Divine Son:
RECEIVE MY MOTHERLY BLESSING. RECEIVE MY WORD AS BALM FOR EACH OF YOU, CHILDREN OF MY DIVINE SON.
My children:
I shed My Tears of sorrow for this generation that continues to be mired in sin and disobedience.
I shed My Tears for the pains, sacrileges, heresies with which you offend My Divine Son and for the interrupted life of the innocent, giving them death.
I shed My Tears of sorrow for what is coming for all mankind, for the sufferings, persecutions, revolts, social uprisings, diseases and famines.
I shed My Tears for the temples closed by order of those who come to dominate humanity and prevent My children from worshipping My Divine Son.
I shed My Tears over the earth and water for the elements that rise up and cause harm to the human creature.
Beloved children:
THE PAINS WHICH YOU ARE FACING AND WILL FACE WILL SURPASS MANKIND; therefore the calls to conversion, to the urgency that the human creature not allow himself to live in ignorance of the Law of God, of the Sacred Scriptures, of the Sacraments, of the Works of Mercy and in the practice of lovelessness and impiety.
Children, stay away from whoever makes rash judgments.... "for as you judge, so will you be judged, and the same measure you use for others will be used for you." (Mt. 7:2)
SATAN IS FOUND PROPITIATING THE DIVISION OF MY SON'S CHURCH, DO NOT FALL INTO HIS TRAPS: JOIN TOGETHER, PRAY, DISCERN!
Pay attention to the elements, these agitated ones rush against the human creature. At this time the human creature lives saturated by the worldly and hastens to work and act against his brethren.
Pray children, pray, the earth trembles and My children suffer.
Pray children, pray for the Middle East.
Pray children, pray for the advancement of world power over mankind.
Pray children, pray for the Church, pray and face with firm Faith what desires to confuse you.
Pray children, pray for Argentina.
Pray children, war comes where it is not expected.
I love you little children.
EACH ONE WITHIN YOUR MISSION FULFILL WHAT MY SON HAS ENTRUSTED TO YOU.
I invite you to be more of My Son. I am with you, do not fear, I protect you. My Motherly Love lingers over each of My children.
Live in the Peace of My Son. I love you.
Mama Mary
AVE MARIA MOST PURE, CONCEIVED WITHOUT SIN
AVE MARIA MOST PURE, CONCEIVED WITHOUT SIN
AVE MARIA MOST PURE, CONCEIVED WITHOUT SIN
COMMENTARY BY LUZ DE MARIA
Brethren:
Based on your comments, I have felt the need to take expressions that are unanimous. Expressions of love, of repentance and of unity towards our Mother. I must not allow such great sentiments born from the depths of your hearts to remain without bearing fruit. Thus we can offer to our Mother the following prayer:
QUEEN AND MOTHER
Don't cry Mother don't cry,
I want to be with you Queen and Mother.
Mother, You guide us on the way
of Truth and Salvation.
We bend our knees to wipe away
Your Holy Tears, Dearest Mother.
Touch the hearts of stone,
give light to mankind.
Give peace to our hearts,
help the youth to transform
their lives so indifferent
to the love of our Savior.
We implore you for all mankind
for true and sincere conversion.
Blessed by Your humility,
Holy for Thy burning Charity.
Blessed for Thy Virginity intact.
Blessed by Your Motherhood.
Do not weep my beautiful Lady, clothed with the sun,
we continue in prayer.
Tears of the loving and sweet eyes of Mama Mary.
Tears of blood of a true and cruel pain,
let us see how we do not repent
nor turn away from sin.
Do not weep blessed Lady do not weep, forgive us.
Reach for this generation Your humility,
to see with Thine Eyes
and to love with Thy pure and merciful Heart.
Give us knowledge of sin, repentance,
of conversion and Salvation.
Good Jesus, I wish to take the Teachings contained in the Tears of blood of Jesus
in the Tears of blood of Thy Most Holy Mother
to fulfill Your Will,
so that one day we may be worthy to praise You,
glorify and adore You for all eternity.
Beautiful Mother of Heaven,
pray to Jesus for our consolation
and may Your Tears bring the light of love and peace.
Amen.
Thank You, brethren for creating this offering of love for Our Lord Jesus Christ and for our Blessed Mother.
Luz de María