Monday, April 4, 2022
This Present War Keeps at Its Core Religion, Man's Desire for the Expansion of His Religion, Which Is Not the One My Son Founded
Message of the Most Holy Virgin Mary to Her Beloved Daughter Luz De Maria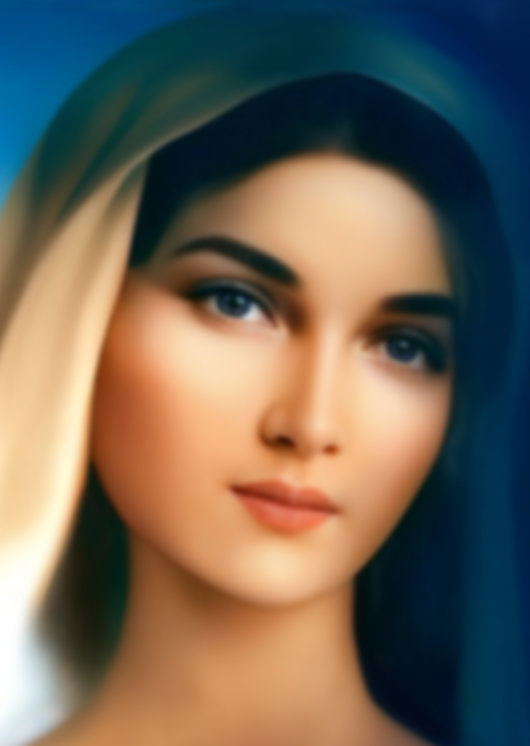 Beloved children of My Immaculate Heart:
RECEIVE THE BLESSING OF THIS MOTHER WHO LOVES YOU.
COME TO ME TO LEAD YOU TO MY DIVINE SON JESUS CHRIST.
Each one knows the good he has done and the evil he has caused. I invite you to repent NOW! so that you may not live in sin, otherwise, sin inclines you more and more towards evil and confusion.
My Son's People must allow themselves to be free from the bondage of sin at this most delicate time for human creatures.
The Devil not only lurks, (Cf. I Pet. 5, 8-9) but lashes out against My children and leads them seduced into the sea of the most abominable sins before a generation disposed to sin.
In this battle between good and evil (cf. Rev. 12, 7-17) the People of My Son are mutilated. This leads My Divine Son to suffer continuously, before the lack of spiritual defenses of His children. They advance, yes, but towards horror and terror, where they are directed.
Human acts and actions are insecure in the face of the wavering Faith they possess, because of this, "they are neither cold nor hot" (Rev. 3:16).
Children of My Immaculate Heart:
THIS PRESENT WAR KEEPS AT ITS CORE RELIGION, MAN'S DESIRE FOR THE EXPANSION OF HIS RELIGION, WHICH IS NOT THE ONE MY SON FOUNDED.
Children of My Immaculate Heart:
Pray the Holy Rosary, it is urgent before the coming suffering.
I mourn for so much sin with which My Son is so offended.
I as a Mother warn you and I am not heard....
Nor in the face of another pestilence.
Nor before the food shortage.
Nor before the specter of war that advances without stopping.
I AM NOT HEARD! One and another call has been fulfilled before you, but you do not wish to believe, on the contrary you rebel and will suffer in the face of so much contempt.
Pray children, pray for Europe, the war will advance upon her and more upon Italy.
Pray children, pray the Devil within My Son's Church wreaks havoc, pray.
Pray children, pray children, you must convert in the face of so much suffering approaching.
Pray children, pray, how many souls will be lost by leaving aside Faith in My Divine Son!
Pray children, pray, pray, pray, pray.
My children, the war seems static, but it is not so, it advances, it does not stop. Pray with the heart, pray.
Be more spiritual and pray. The elements are pouncing with greater force upon humanity.
Pray, children, pray the Holy Rosary.
Children, walk in good, desire good for your brothers. Practice good, before good evil flees.
Be creatures of unwavering Faith in the protection of My Divine Son; His Most Precious Blood protects you. May Faith not diminish in you, but be strengthened.
People of My Son:
YOU ARE NOT ALONE.
PRAY WITH YOUR HEARTS AND OUR SACRED HEARTS WILL PROTECT YOU AT ALL TIMES.
Be creatures of adoration, be creatures of hope in the promises you have received.
I bless you My children, I cover you with My Motherly Mantle.
Mama Mary
AVE MARIA MOST PURE, CONCEIVED WITHOUT SIN
AVE MARIA MOST PURE, CONCEIVED WITHOUT SIN
AVE MARIA MOST PURE, CONCEIVED WITHOUT SIN
COMMENTARY BY LUZ DE MARIA
Brethren:
Every Word that Heaven has revealed is the manifestation of Divine Mercy that in the face of the situation facing His People, illuminates the path and alerts us to react and act according to the Divine Will....
OUR LORD JESUS CHRIST
16.01.2019
Diseases from the past are back in full force and this is because in some laboratories they have brought them into the present.
OUR LORD JESUS CHRIST
JANUARY 12, 2020
MY PEOPLE MUST BE STRONG, RESIST AND NOT LOSE FAITH.
OUR LORD JESUS CHRIST
JANUARY 7, 2022
You are in transition from what you have been as humanity and what you will be as part of a "so-called order" that is not My Will.
THE MOST HOLY VIRGIN MARY
AUGUST 29, 2021
Humanity is heading towards where they will be left without freedom, without movement, without self-thought and the human creature will access everything to subsist.