Wednesday, June 29, 2022
This Is the Age of the Third Fiat, the Age Where Evil Is in Battle against the Children of My Mother
Message of Our Lord Jesus Christ to His Beloved Daughter Luz de Maria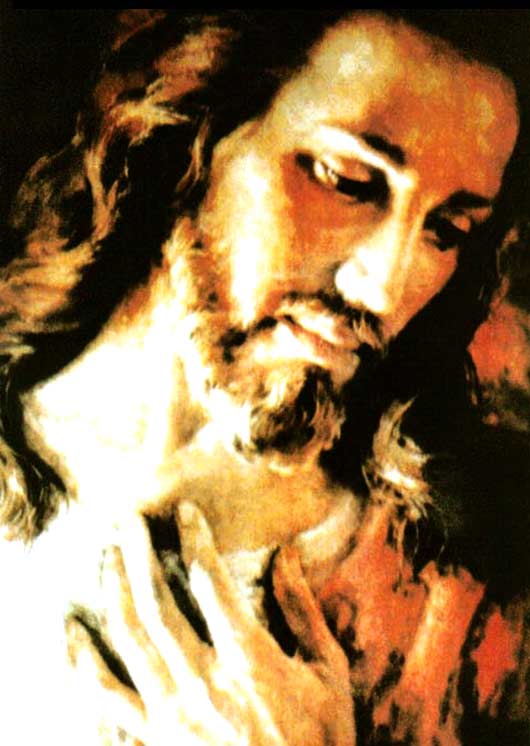 My Beloved People:
I BLESS YOU WITH MY HEART, I BLESS YOU WITH MY LOVE.
My people, you are My beloved Children and I share with you My Word so that you may prepare yourselves in the spirit. I desire that you become converted and fraternal; that is what I desire, that you be one heart united to that of My Mother.
My people, at this moment, ask the Holy Spirit for discernment at every moment. Many human creatures confused by the human ego that is filled with pride, wish to move away from where I have called them and it is not right.
THIS MOMENT IS OF PREVENTION AND AT THE SAME TIME OF CHOICE:
Prevention so that you do not stray into other paths and of choice so that with My Holy Spirit you may succeed in discerning and stand firmly with Me. You need to work in My Vineyard (Mt. 20:4) so that, with My same Love, you may wait for My Angel of Peace, who is in My House waiting for Me to send Him with My People. That is why no creature has ever seen him face to face. My Angel of Peace will arrive after the Antichrist appears and I do not wish you to confuse him with him.
My People, it is very important that you be cautious....
MY ANGEL OF PEACE (1) IS NEITHER ELIJAH NOR ENOCH, HE IS NOT AN ARCHANGEL, HE IS MY MIRROR OF LOVE TO FILL WITH MY LOVE EVERY HUMAN CREATURE IN NEED.
The Devil has left very few of his own in hell. Most are on Earth, doing his work against souls, his warfare is spiritual against those who remain with Me.
THE WAR IS SPIRITUAL , but at the same time it harms them, elevating and sickening their human ego, making them feel proud, haughty, that they know everything, that they are indispensable where they are so that their brethren admire them and that is not right. When you are not humble, the Devil declares himself the winner.
My people, listen to Me! It is important for you to sow humility in the heart so that the mind and thought speak of what you carry within.
THIS IS THE AGE OF THE THIRD FIAT, THE AGE WHERE EVIL IS IN BATTLE AGAINST THE CHILDREN OF MY MOTHER.
The fire of ungodliness advances, the powers go on to show their power and their fury against the little ones, whom My beloved Saint Michael the Archangel will defend.
My Children must remain prepared to face the famine that already lingers over humanity. Shortages will be severe, the climate in some countries will be extremely hot and in others extremely cold. Nature rebels against the sin of the human creature. The climate varies constantly and the elements rush against human creatures.
Without fear, confident in My Protection, continue to abide by what I ask of you so that you may be victorious. Without fear! I AM YOUR GOD. (Ex. 3:14)
I carry you in My Sacred Heart and you are My great Treasure. I bless you.
Your Jesus
AVE MARIA MOST PURE, CONCEIVED WITHOUT SIN
AVE MARIA MOST PURE, CONCEIVED WITHOUT SIN
AVE MARIA MOST PURE, CONCEIVED WITHOUT SIN
(1) Revelations about the Angel of Peace, read...
COMMENTARY BY LUZ DE MARIA
Brethren:
Keeping us in obedience to the Divine Calls, Our beloved Jesus details to us the happenings of humanity.
Always with the call to unity as brethren and being of one heart as the People of God we know that we are not indispensable, but only God is indispensable to us.
Let us live centered in reaching the final goal, resisting within the Divine Love and Faith that dictates the presence of God in every moment of humanity.
Our Lord tells us that we will face a darkness, but He does not refer to the Three Days of Darkness. Therefore, let us not let our Faith waver, but grow in each one, let us wait confident in the Divine Protection and that the People of God are loved and defended by their Creator.
Amen.