Saturday, July 30, 2022
Be love, fraternity, charity, forgiveness, hope and each one be the support of the brethren
Message of Our Lord Jesus Christ to His Beloved Daughter Luz De Maria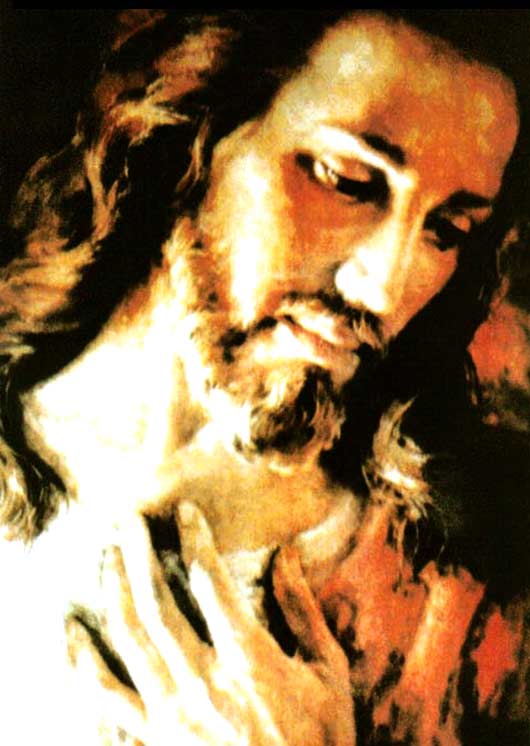 My Beloved People:
I LOVE YOU, I GUIDE YOU AND GATHER YOU AS A SHEPHERD OF SOULS
Beloved people of My Heart:
I COME WITH MY LOVE TO BLESS YOU AND OFFER YOU MY CROSS OF GLORY AND MAJESTY.
My children, I continue to suffer for each one of you, I see you moving further and further away from My Fold immersed in false doctrines because you do not recognize Me.
My People accept the sinful, false and shameful; they embrace the improper and become familiar with evil.
I CALL YOU TO CONVERSION!
It is the exact time for you not to be guided by your interests, but by the interests of My House.
It is the time of the Signs that anticipate the Warning and My People continue without examining themselves, without going within themselves and without looking at themselves without masks.
My children act outside of My Love. Far from the actions and actions of a true Christian, they allow themselves to be attracted by those who, knowing Me, despise Me and seek their own interests and not Mine. Human miseries have led them to taste of the sinful, loving earthly power, going so far as to submerge My Church in darkness and silencing with a sledgehammer the altars of the Eucharistic Sacrifice.
OH MOMENT OF PAIN! I SUFFER AGAIN AND AGAIN...
And My blinded People look at themselves, despise humility and with great pride feed their conceited and spoiled "ego".
I HAVE GIVEN YOU SO MUCH, CHILDREN!...
SO MUCH HAVE YOU LOST BY PRIDE until without finding contentment or spiritual fullness you prostrate yourselves again before Me, so that I may free you from so much gangrene that you have let fall upon that which is Mine!
Pray My People, pray, My Justice comes for that which is My Property.
Pray My People, pray the city of lights is extinguished, the din hushed and My children cry out.
Pray My people, pray for Argentina, it suffers before the astonished humanity.
Pray My People, pray, nature acts with greater strength.
My enemies rise up against My children. Without fear continue with Faith, My Angelic Legions shall make the oppressors flee.
My people, human pride and foolishness must be banished in preparation for putting to flight the detents that live within each of you.
SURRENDER YOURSELVES TO ME WITHOUT HUMAN RESISTANCE, SO I WILL BE ALL IN YOU AND YOU WILL BE MY CONTENTMENT.
Make haste children, detach yourselves from so much rag that prevents you from walking towards Me....
Be love, fraternity, charity, forgiveness, hope and each one be the support of the brethren.
Fulfill the Commandments, love the Sacraments, be reconciled with Me and receive Me with love for those who do not love Me. This is how you will be My Contentment, this is how My children work and act in order to taste My Love and for My Love to be in you a sign of My Presence.
I bless you and strengthen you.
MY PEOPLE, WITHOUT FEAR CONTINUE BY MY HAND AND BY THE HAND OF MY MOTHER.
My Heart beats for each one of you. I love you.
Your Jesus
AVE MARIA MOST PURE, CONCEIVED WITHOUT SIN
AVE MARIA MOST PURE, CONCEIVED WITHOUT SIN
AVE MARIA MOST PURE, CONCEIVED WITHOUT SIN
COMMENTARY BY LUZ DE MARIA
Brethren:
Divine Love embraces all permeating in whoever surrenders to be more of Christ and less of the world.
This is a very profound word, let us ponder it again and again.
Our Lord Jesus Christ reminds us that we are going to be examined by our own conscience. To continue to prepare, to repent, to confess sins and to keep in a constant act of reparation and love, love and prayer is necessary.
He calls us to leave the rags of human foolishness, that pride that damages the soul and prevents us from seeing ourselves as we are.
Brethren, these are urgent moments since Our Lord Jesus Christ tells us that this is the exact moment for those who have not sought Him, to seek Him.
We can understand that it is urgent for the human creature to seek conversion, to seek that personal encounter with Christ so that he may be a creature where that Divine Love to which we are all called dwells.
Attentive and spiritually alert, let us remain so before the Divine Words that tell us: it is the time of signs and fulfillment . That is why we are called to prepare ourselves, because every day that passes is a day closer to the Warning or a day in which we may be called before the Divine Presence.
Brethren, Christ suffers continually and each one of us can be a soul repairer of the pain of our beloved Lord Jesus Christ.
Brethren, the purification of the human creature is necessary as Our Lord has mentioned to us, but let us remember that in the midst of the purification there always remains the Divine Help. That Help with which the People of God has continued and will continue until the consummation of time.
The Church may be beaten, but she remains as Christ remains.
Amen.