Thursday, August 11, 2022
The Present War Generates a Great Disaster and Will Generate the Great Disaster of Humanity and of the Earth Leaving It Inert
Message of the Most Holy Virgin Mary to Her Beloved Daughter Luz de Maria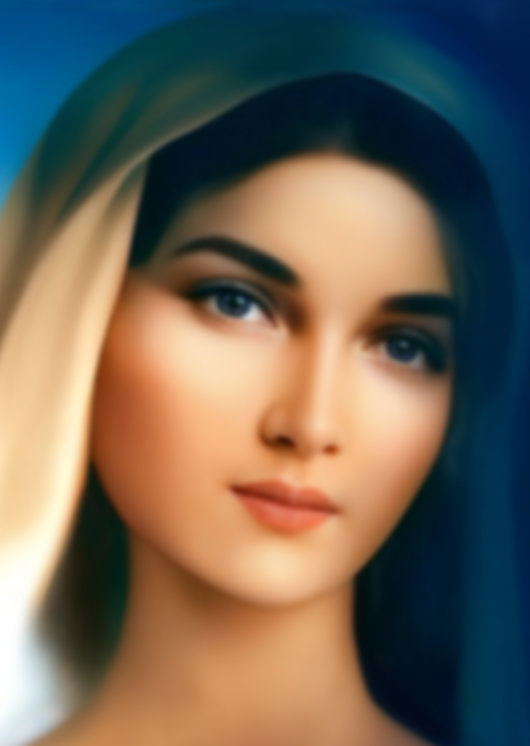 Beloved Children of My Immaculate Heart:
YOU ARE MY GREAT TREASURE AND MY HEART BEATS FAST WITH LOVE FOR EACH ONE OF YOU.
As the river that follows its course and is driven at some point to its mouth, so each of you Children have been created by the Eternal Father to be co-heirs with My Son of Eternal Life.
Children of My Son, the worldly contaminates you constantly, therefore you must continually strengthen yourselves with Sacred Scripture, by going to the Sacrament of Reconciliation and by going to receive My Divine Son in the Eucharistic Sacrament.
AT THIS TIME MANKIND IS PREOCCUPIED WITH THE CARE OF THE PHYSICAL BODY, NEGLECTING THE CARE OF THE SPIRIT.
They render so much worship to the physical body and they have set aside My Son, they have banished Him, they despise Him:
They do not know Him and they do not love Him....
They fabricate a personal relationship, without the consent of My Son, separating themselves from the Church....
They fabricate their own spirituality and in their own way, they fabricate a personal relationship with My Divine Son to hide the rebellion and pride that some of My Children hide.
The human creature must be fraternal and live in community, as My Son commands. Fraternity would achieve less strife, envy, discord, selfishness, less desire for appropriation by the great powers and there would be less fighting.
Children, it is human foolishness that at this moment is leading all mankind to fall into the precipice of oblivion; yes, the oblivion that is leading mankind to where it will not be able to stop the war.
The advanced arms race is at this moment the major objective of the powers and the possession of armaments is the objective of some small nations, which are satellites of communism and at this moment are preparing to be delegates of communism in their regions. Just as other powers embrace a number of countries and supply them with armaments for the supposed purpose of defense in countries that do not possess weapons. MY DIVINE SON CONDEMNS BOTH POSITIONS.
The present war generates a great disaster and will generate the great disaster of humanity and of the Earth leaving it inert. This is how a great part of My Children live, with their hearts empty of God, in total aridity, being aimless wanderers in an agonizing state and refusing to be healed. Thus, those who do not convert even at the last moment, will be copies of the devastation in which the Earth will be left, after the determination of some power to initiate the devastation of humanity by launching weaponry out of hell itself. THE PEOPLE OF MY CHILDREN MUST NOT BE COMPLAINERS OF THESE ACTS SO CONDEMNED BY MY DIVINE SON.
Pray My Children, pray, self-interests of the nations generated the war and continue to generate it.
Pray My Children, pray, do not see that nature manifests its strength never seen as a preamble of what is to come.
Pray My Children, pray, you are children of the same Father, do not ignore the suffering of your brethren at this time.
Pray My Children, pray, the Church of My Son is deceived, without losing faith continue.
Pray My Children, pray, they engage in war one nation and another.
Beloved Children of My Heart be doers of the Father's Will, nothing is yours, all is God's.
Scarcity increases, what you possess you will then crave as the moment passes. You are astonished to know how nations that seem neutral maintain commitments with powers that, taking advantage of the territory of those countries, control their opponents in war.
The folly of man increases the danger of human and natural destruction.
Humanity suffers and will suffer. Each country will protect itself by protecting its borders and almost no country will protect the spiritual salvation of its people.
A BOMB HAS DETONATED...
THE CONSEQUENCES ARE NOT LONG IN COMING, WITHOUT BEING INDIFFERENT, BE CAUTIOUS.
FROM ONE MOMENT TO THE NEXT MANKIND WILL BE PLUNGED INTO THE DREADED THIRD WORLD WAR.
My Children, prepare yourselves, keep yourselves in prayer for your brethren, who with the passing of the moment, will leave for the countries of South America to be welcomed.
My Children, live increasing inner peace so that the Devil does not use you as creatures of scourge for your brethren. It is not enough to appear to be good, you must act and act as My Son commands you and live being witnesses of Love, Charity, Forgiveness, Hope and Faith.
Without fear always seek the good, bear witness to the Love of My Children, be creatures of good and preach before you cannot do it.
Pray for and protect the elderly, give them love in the families and be lamps that light their way.
THIS IS THE MOMENT. Without fear for what is happening and will happen, surrender yourselves to the Holy Trinity that His children will not be forsaken.
Let Me guide you on the right path, come to Me and be meek, be humble and be those confident Children that you will never be forsaken.
DO NOT FEAR: "AM I NOT HERE WHO AM YOUR MOTHER".
My beloved Children, I bless you.
Mama Mary
AVE MARIA MOST PURE, CONCEIVED WITHOUT SIN
AVE MARIA MOST PURE, CONCEIVED WITHOUT SIN
AVE MARIA MOST PURE, CONCEIVED WITHOUT SIN
COMMENTARY BY LUZ DE MARIA
Brethren:
Upon receiving this Message from our Blessed Mother I have looked at Her sad countenance and She has manifested to me the human foolishness out of ambition for world power. She has shared with me Her sorrow for the lives that will be lost in a war that is increasing, in the face of the moment that is becoming more difficult for us as the threats become a reality.
Our Blessed Mother has shown me the senselessness of those who continue to move to other countries for pleasure, at a time when we are facing serious threats that are increasing in tenor and reality. Weapons are being taken from one country to another under the guise of military exercises.
Our Blessed Mother is pained to see that many human creatures continue to deny the world danger and the danger in countries where serious social chaos is about to occur. But, above all, Our Blessed Mother has shared with me the pain of Her Divine Son for the ingratitude of the human creature who refuses to approach Christ and refuses conversion.
Brethren, conversion is a process, it is not achieved as a magical result, but is the result of continuous efforts to be pleasing to God. Faith leads us to this process of conversion and if we do not keep ourselves in community, in fraternity and if we do not obey and love the Commandments, the Sacraments, if we do not know God in the Sacred Scriptures... How are we going to love those we do not know?
Brethren, let us continue in the effort to be more of Christ than of the worldly. Let us look inwardly to repent of what each of us should repent of that offends God. Let us continue to ask the Holy Spirit to nourish us and help us to be more of God.
We have to change our lives. Let us keep in mind that God had decreed the destruction of Nineveh, but the King and the people believed in Jonah's announcement, with fasting and wearing sackcloth, the Ninevites converted and were pleasing to God and the destruction was stopped. (Jonah 3:1-10)
We live in a different society, where it is more difficult to be believed in matters from above, but we have hope that every moment more brethren will look to God as the prodigal son.
Brethren, the year is advancing and with it, the events. It is urgent that we turn our gaze towards the Holy Trinity and pray, but it is important that each one of us makes the resolution to be better and cooperate in the great Plan of Salvation that God has for each one of us.
Let us keep present in our minds at every moment and engraved in our hearts, the Love towards our elders who are the reflection of our tomorrow.
Amen.