Monday, August 22, 2022
Prepare for the Warning, Examine Yourselves Inwardly, Be Humble, Fulfill What I Call You to Fulfill and Accept with Love My Word
Message of Our Lord Jesus Christ to His beloved Daughter Luz de Maria.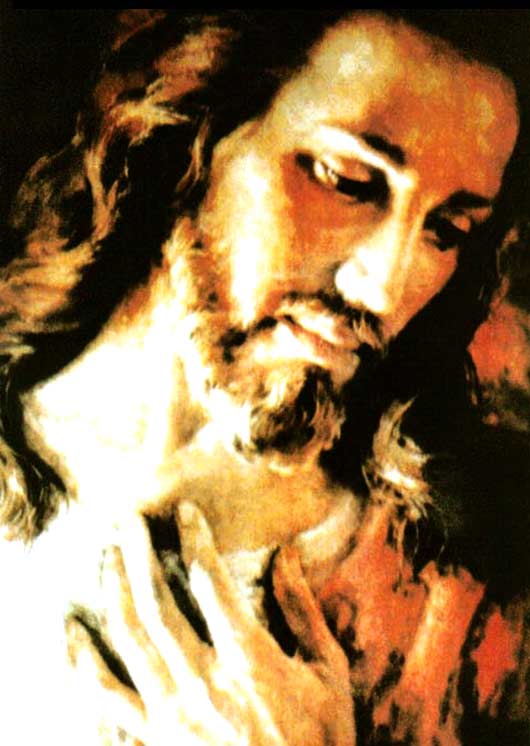 My beloved Children:
RECEIVE MY BLESSING FROM MY MOST SACRED HEART.
YOU ARE MY PEOPLE... WHOM I LOVE AND DESIRE TO RESCUE.
My beloved People, I invite you to come with Me. Just as the river is one flow and all the tributaries that derive from the main river carry the same water giving life to all that is beside it, so My Children must give what they carry within: love for Me and carry it to their brethren every moment of life.
WITHOUT FEAR, BE UNTIRING AND CONTINUE ON THE SURE PATH THAT LEADS YOU TO ME.
THE PERSONAL ENCOUNTER WITH ME IS A PRIMARY NEED FOR EACH OF MY CHILDREN.
My Children do not disperse, keep yourselves in unity. Events set you the course for what is to come.
YOU MUST KEEP IN MIND THAT SEVERAL EVENTS CAN HAPPEN IN ONE DAY AND THUS SHORTEN THE LINE OF THE MOMENT.
PREPARE FOR THE WARNING, (1) examine yourselves inwardly, be humble, fulfill what I call you to fulfill and accept with love My Word.
The advance of the war continues, that war which you do not see, that war which has awakened the moment of the great blackout, that war which brings the world economy to fall soon. (2) That war which has been planned and directed by the interests of the elite and which will then go out to impose its laws, its government, its economy, its religion and its education on the peoples.
Pray My Children, pray for Central America, the suffering comes with the shaking of the earth.
Pray Children, pray, pray, the new disease is very serious and contagious until it becomes deadly. Protect your immune system and have calendula cream and moringa ready for them to take. (3)
Pray Children, pray the Vatican marks the time that is coming.
My beloved, My People, the volcanoes enter into greater activity, the intensity is strong and My Children suffer.
MY PEOPLE, THE CONVULSION GROWS.
See how much humanity is agitated, motivated by evil and creating conflicts.
See how My people suffer as they become attached to false gods made by man.
Children, a leader holds world aspirations to preside over the one government and for this reason there will be a strong and great battle.
MY HOUSE IS COMPROMISED...
MY CHILDREN FEEL DESPERATE, YET IT IS NOT SO, "I AM THAT I AM" (Ex.3,14) AND I WILL NOT LEAVE THEM ALONE.
HAVE FIRM FAITH. MY LOVE IS FOR EACH ONE OF YOU.
MY CHILDREN, YOU FIND YOURSELVES IN TIMES WHERE THE DEVIL IS POUNCING AGAINST MY PEOPLE. YOU WILL SUFFER, BUT YOU WILL NEVER BE OVERCOME FOR I AM WITH MY PEOPLE. (Mt.28:16-20)
I bless you, My Love is powerful. Without fear love My Mother.
My Blessing is in each one.
Your Jesus
AVE MARIA MOST PURE, CONCEIVED WITHOUT SIN
AVE MARIA MOST PURE, CONCEIVED WITHOUT SIN
AVE MARIA MOST PURE, CONCEIVED WITHOUT SIN
(1) Revelations on the WARNING, read....
(2) Global economic downturn, read...
(3) Medicinal plants, read... (Download PDF)
COMMENTARY BY LUZ DE MARIA
Brethren:
The love of Our Lord Jesus Christ is matchless and filled with portents. It is offered to us with great Divine Love and we must welcome so much Grace at this time, treasure it so that our Faith may lead us to be strong and true.
Brethren, as if nature had become tired of giving what is necessary for the human creature, we are facing a great shortage of food, water and what is necessary to supply technology, hospital supplies and others. This is due to the crisis that is increasing with the Asian country. It is not possible to ignore the great shortages that the expansion of the war unleashes globally.
Several countries are named. It is not that only these countries will have to suffer, it is for all of us to remain in a state of spiritual alertness and not to be ashamed of our Faith.
Let us heed the spiritual calls and be brethren united in Faith.
Our Blessed Mother is with us, as Mother of the Church who is: Queen and Mother of the End Times.
Amen.