Wednesday, September 21, 2022
Maintain the Necessary Serenity and Faith without Defecting
Message of the Most Holy Virgin Mary to Luz De María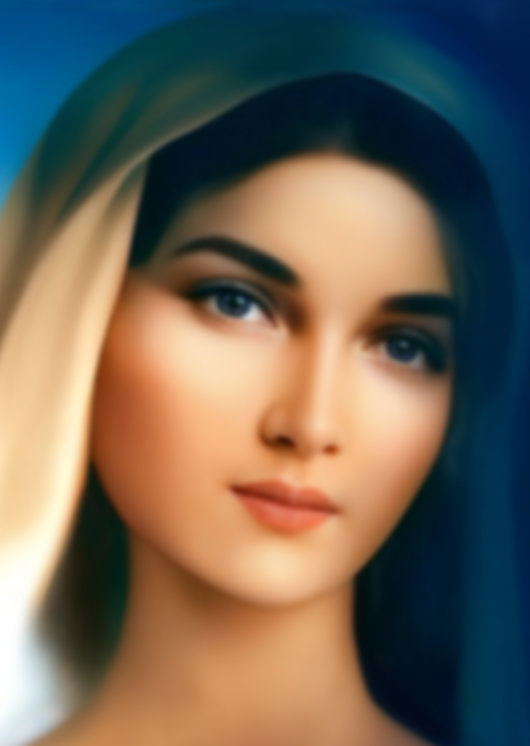 Beloved Children of My Immaculate Heart:
RECEIVE MY BLESSING JOINED WITH MY DESIRE THAT ALL MAY COME TO THE KNOWLEDGE OF THE TRUTH. (I Tim. 2,4)
As Children of God you possess the ability to ask the Divine Spirit for the Gift of Wisdom, so that you may understand what is favorable to you in God's Project and what is detrimental to you in God's Plan in each one. The Divine Spirit prepares you so that you may decide to convert, maintaining the charity that leads you to love your neighbor.
Keep very much in mind what My Divine Son said:
"But when you are delivered up, do not worry about how or what you will speak. What you have to speak will be communicated to you at that time. For it will not be you who will speak, but the Spirit of your Father who will speak in you." (Mt 10:19-20)
Beloved Children of Mine:
THE CHRISTIAN'S LIFE MUST BE CHRISTOCENTRIC...
I AM HIS MOTHER, BUT MY SON IS GOD: CENTER OF LIFE.
The true Christian founds his faith, he does not follow My Son by tradition, but because he knows and loves Him in Spirit and Truth. (Jn 4:23-24)
The Christian quenches his thirst in the knowledge of Divine Love for humanity, in the knowledge of the Law of God, in the knowledge of the Sacraments and the Works of Mercy, loves to delve into Sacred Scripture and knows that God is Love and Justice at the same time.
The true Christian makes his life a constant practice of all that is duty, charity, obedience, respect, humility, tolerance; and whatever he must do to be in the manner of My Divine Son.
Beloved Children of My Immaculate Heart:
KEEP YOURSELVES ON SPIRITUAL ALERT SO THAT YOU ARE NOT CONFUSED, BE CAUTIOUS IN SPEAKING SO THAT YOU DO NOT SIN. Each one knows himself and knows in what he must change, how he must act and act. Do it promptly! My Son knows everything and you must not delay.
BEWARE CHILDREN, THE TENSION IS RISING! Those who lead nations speak of nuclear energy as if they speak of protecting the Gift of life. For some who are leaders or representatives of nations, talking about the use of nuclear energy is business as usual.
MAINTAIN THE NECESSARY SERENITY AND FAITH WITHOUT DEFECTING.
WITHOUT FEAR CONTINUE TO KNOW THAT MY SON STANDS WITH HIS PEOPLE, THAT SAINT MICHAEL THE ARCHANGEL DEFENDS YOU AND THAT I PROTECT YOU WITHOUT REST.
Pray My children, pray, the earth trembles strongly leading to volcanoes becoming active and My children suffer.
Pray My children, pray, in the depths of the Earth, it has fractured by the movement of tectonic faults, accelerating the continuity of earthquakes.
Pray My children, pray, the Earth is in danger, the sun emanates strong solar winds (1) affecting the means of communication.
Children, stop and look at how at this moment the water rushes over the earth, the sun emanates with greater force its heat, the fire spreads in various countries, the air blows stronger and the earth continues to sink in various places... These are signs of how much is going to happen.
As the Mother of Humanity I must constantly warn My Children of how much may cause them pain....
I KEEP WATCHING YOU, PROTECTING YOU AND INTERCEDING FOR YOU BEFORE MY DIVINE SON TO LESSEN SOME EVENTS OF NATURE.
Some of My Children who inhabit the Earth will move especially to South America in search of protection. Before this they must know that the lands of blessing must be purified beforehand.
Be Children of adoration before the Blessed Sacrament of the Altar. My Divine Son hears the prayers offered with contrite hearts and returns them in blessings for all mankind.
Pray, offer, prepare, be a blessing to your brethren, give the best that you keep in your heart.
Beloved Children:
THE KATECHON SUFFERS AND BELIEVERS WEEP AND WAIT FOR WHAT PRECEDES THIS DIRE SIGN.
Without losing the Faith, go forward, pray, make reparation, offer and be fulfillers of the Divine Will. Be fraternal.
I protect you, My Mantle covers you so that you may not be seen. I love you.
Mother Mary
AVE MARIA MOST PURE, CONCEIVED WITHOUT SIN
AVE MARIA MOST PURE, CONCEIVED WITHOUT SIN
AVE MARIA MOST PURE, CONCEIVED WITHOUT SIN
(1) Revelations about solar activity, read...
COMMENTARY BY LUZ DE MARIA
Brethren:
Our Blessed Mother alerts us in one way and another to understand that we are going to Her Children if we are primarily fulfillers of the Law of Love, for if we fulfill this Law, the rest is given to us in addition. (Mt. 6:23)
Brethren, in this Call our Blessed Mother alerts us to the Katechon, quoted by St. Paul in Sacred Scripture in II Thessalonians 2:3-13. I invite you to meditate on this biblical quotation.
Amen.
2 Thessalonians 2:3-13
Let no one deceive you in any way; for that day will not come unless the rebellion comes first and the lawless one is revealed, the one destined for destruction. He opposes and exalts himself above every so-called god or object of worship, so that he takes his seat in the temple of God, declaring himself to be God. Do you not remember that I told you these things when I was still with you? And you know what is now restraining him, so that he may be revealed when his time comes. For the mystery of lawlessness is already at work, but only until the one who now restrains it is removed. And then the lawless one will be revealed, whom the Lord Jesus will destroy with the breath of his mouth, annihilating him by the manifestation of his coming. The coming of the lawless one is apparent in the working of Satan, who uses all power, signs, lying wonders, and every kind of wicked deception for those who are perishing, because they refused to love the truth and so be saved. For this reason God sends them a powerful delusion, leading them to believe what is false, so that all who have not believed the truth but took pleasure in unrighteousness will be condemned. But we must always give thanks to God for you, brothers and sisters beloved by the Lord, because God chose you as the first fruits for salvation through sanctification by the Spirit and through belief in the truth.