Wednesday, September 28, 2022
Empty Faith Is Dead and the Human Creature without Love Is an Empty Creature
Message of Saint Michael the Archangel to Luz De María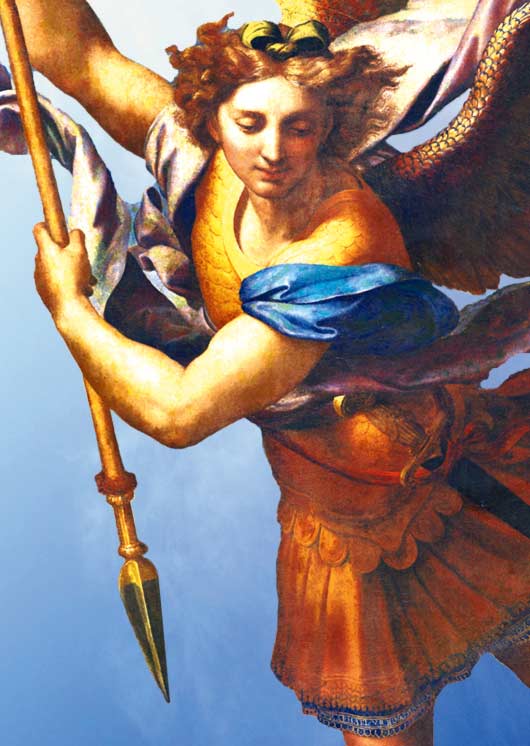 Beloved People of our King and Lord Jesus Christ:
IN ADORATION OF THE HOLY TRINITY, IN HONOR AND REPARATION FOR ALL HUMAN CREATURES, I COME TO YOU BY DIVINE COMMAND.
I COME TO ASK YOU FOR MORE DEDICATION TOWARDS THE HOLY TRINITY so that prayers made "in spirit and truth" may acquire the necessary strength to touch souls, who at this moment need more than before, to be touched by prayer made with the heart.
I COME TO CALL YOU TO CONSECRATE YOURSELVES TO OUR QUEEN AND MOTHER so that consecrated you may be constant adorers of the Most Holy Sacrament of the Altar.
You need to be love towards your brethren:
By respecting the life of your fellow man.
By helping your neighbor with whatever he/she needs, especially spiritually.
By entering into the way of Eternal Salvation based on the knowledge of the Sacred Scriptures so that you may be observers of the Law of God and what the Law includes.
By being fulfillers of the Sacraments and of Divine Love, from which you receive the Graces to continue.
The human creature has not come to understand how in every action he performs, in every work he executes and with every thought, he is a generator of good or evil.
THE AWARENESS THAT PRAYER IS TO BE "PRAYED" AND AT THE SAME TIME PUT INTO PRACTICE (S. 1:22-25) IS INDISPENSABLE AT THIS TIME.
The human creature who sets aside fraternity enters into the danger of being a stumbling block for his fellow human beings.
BE AWARE THAT YOU HOLD ON TO THE MOMENT TO REPENT AND TURN TOWARD GOD THANKSGIVING HIM. Thus the chains that bind you will be broken and you will be new creatures, converted and convinced.
Who does not possess Faith, does not succeed in preaching.
Who does not possess Hope, does not preach hope.
Who is not Charity, does not preach with charity.
Who is not Love, does not preach with love.
The People of the Most Holy Trinity must know that prayer is concluded with the praxis of what is prayed so that it may bear fruits of Eternal Life. Empty Faith is dead (Jas. 2,14-26) and the human creature without love is an empty creature.
WHO WISHES TO BECOME PART OF THE PEOPLE OF GOD MUST BE WILLING TO RISE, IF NECESSARY, UPON HIMSELF to be in the Divine way and leave the rags of human follies to live in the constant practice of love for the Will of God.
THEY HAVE DISCARDED THE SPIRITUAL STATE, they have minimized it and do not wish to renew themselves nor to be possessors of a generous spirit. Materialism has invaded them so much that they do not distinguish when they act out of interest or out of love.
Humanity is going to be informed of the dreaded nuclear bomb and then silence?
They will be informed of the collapse of the economy and food shortages.
Humanity will suffer and the suffering will be heard by all creation until the Divine Hand stops what the human creature has executed and they will feel the weight of the Divine Hand and the sin they have committed against God.
THE EARTH BURNS AND WILL BURN...
The human creature does not cry out to God, but does evil to his fellow man, revolts in the streets and makes of himself a creature unknown by his aggressiveness.
Pray People of God, pray for Italy and France, they suffer from nature.
Pray People of God, pray, Argentina weeps and in her lamentation look at Our Queen and Mother of Lujan as she is and has been offended.
Pray People of God, pray for Spain, the people rise up and nature scourges them.
Pray People of God, pray for Mexico, it trembles, its people suffer and weep.
Beloved People of the Most Holy Trinity:
WILL THE ENVOY ARRIVE (1) AND WILL HE RECOGNIZE THEM? He will look upon so much tyranny in the human heart and suffer as Christ did. He will feel the hypocrisy in the human creature and call them all together to Himself.
BE CONVERTED!
I bless you with My Sword. I protect you.
St. Michael the Archangel
AVE MARIA MOST PURE, CONCEIVED WITHOUT SIN
AVE MARIA MOST PURE, CONCEIVED WITHOUT SIN
AVE MARIA MOST PURE, CONCEIVED WITHOUT SIN
(1) Revelations about God's Envoy, read
COMMENTARY BY LUZ DE MARÍA
Brethren:
It is never enough to be reminded by Heaven, again and again, of the duties involved in prayer.
Prayer is more than repeating, it is more than memorizing, it is going deeper into Divine Love, it is staying close to Our Blessed Mother and learning from Her in order to be disciples of Our Lord Jesus Christ.
We live in a serious moment as humanity and it is not believed. Union with Christ has been relegated to emptiness, the human creature has been dominated by materialism and all that surrounds it.
Brethren, we need Our Lord Jesus Christ, Our Blessed Mother and we need to be more of God.
Let us love Christ who willingly gave His life for each one of us.
Amen.